Beyond Sausage & Rice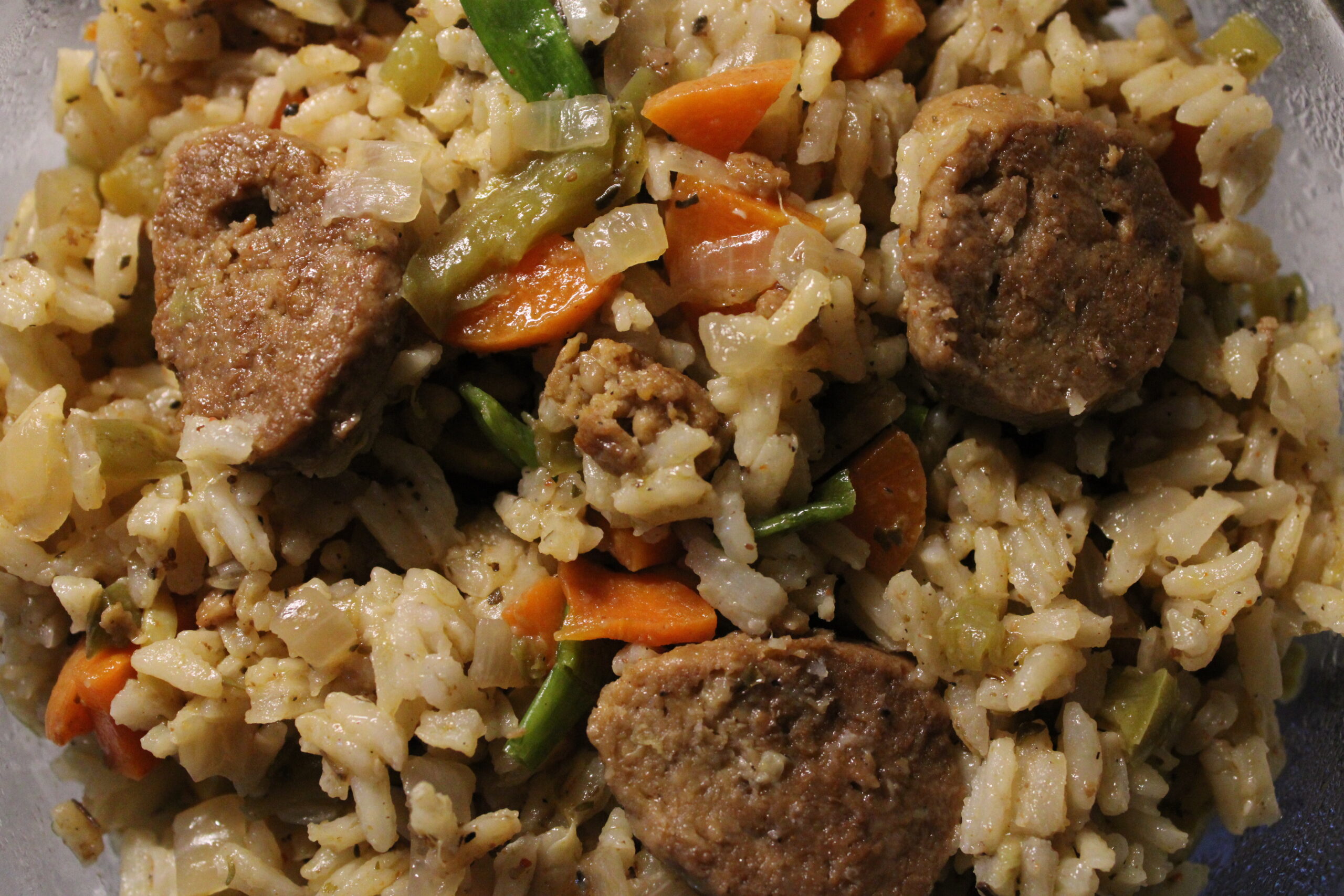 Beyond Sausage & Rice is a hearty fix for dinner that is rich in protein and nutrients but is 100% plant-based. We use the Beyond Meat brand sausage for this recipe, however, if you don't use vegan meat alternatives, you can substitute for regular sausage and also substitute the vegetable broth for chicken stock.
Beyond Meat's sausage is low in sodium, fat, and cholesterol and completely soy-free. This protein is pea and bean-based. You can read more about their ingredients here.
Ingredients
Serves: 4-5 Time: 45-50 minutes
Beyond Sausage & Rice
1 package beyond sausage, cooked & sliced
1 cup uncooked rice
2 cups vegetable broth
1/2 yellow onion, diced
2-3 carrots, diced
1 small bell pepper, diced
1/2 cup mushrooms, chopped
2 garlic cloves, minced
2 bay leaves
1/2 tsp black pepper or cayenne pepper
1 tsp Italian seasoning
1/2 tsp dried oregano
1 tsp paprika
Green onions for serving
Directions
In a pan, cook the sausage according to the package on the stovetop. Continually flip the sausage until evenly cooked. Remove from heat, allow to cool, and slice once cooled.
Transfer the cooked fat from the sausage to a larger skillet and heat it on high heat. Once hot, sauté the onions, garlic, pepper, and carrots.
Cook the vegetables for 5-7 minutes or until onions are translucent.
Meanwhile, in a saucepan, bring the vegetable broth to a boil.
Add the seasoning to the vegetables. Add in the mushrooms.
When the vegetable broth has reached a boil, add to the skillet with the vegetables.
Then, add in the rice and bay leaves.
Stir the mixture well and cook on high for 3-4 minutes.
Then, cover with a lid and reduce heat to low. Simmer for 25-30 minutes or until rice is cooked.
During the last 5-10 minutes of cooking, mix in the sausage.
Once done, remove the bay leaves, serve with freshly chopped green onions and enjoy.
Store leftovers in the refrigerator for up to 3-4 days.
More Deliciousness
If you're looking for even more tasty recipes, keep browsing around Hearty At Home! And don't forget to share your favorite recipes with your friends, family, and loved ones.
For instance, if you find a recipe you like, pin it to your dinner inspiration board!
We share our recipes and recipe videos on Pinterest, Yummly, Youtube, Vimeo, and Facebook.
---