Sweet Potato & Cauliflower Curry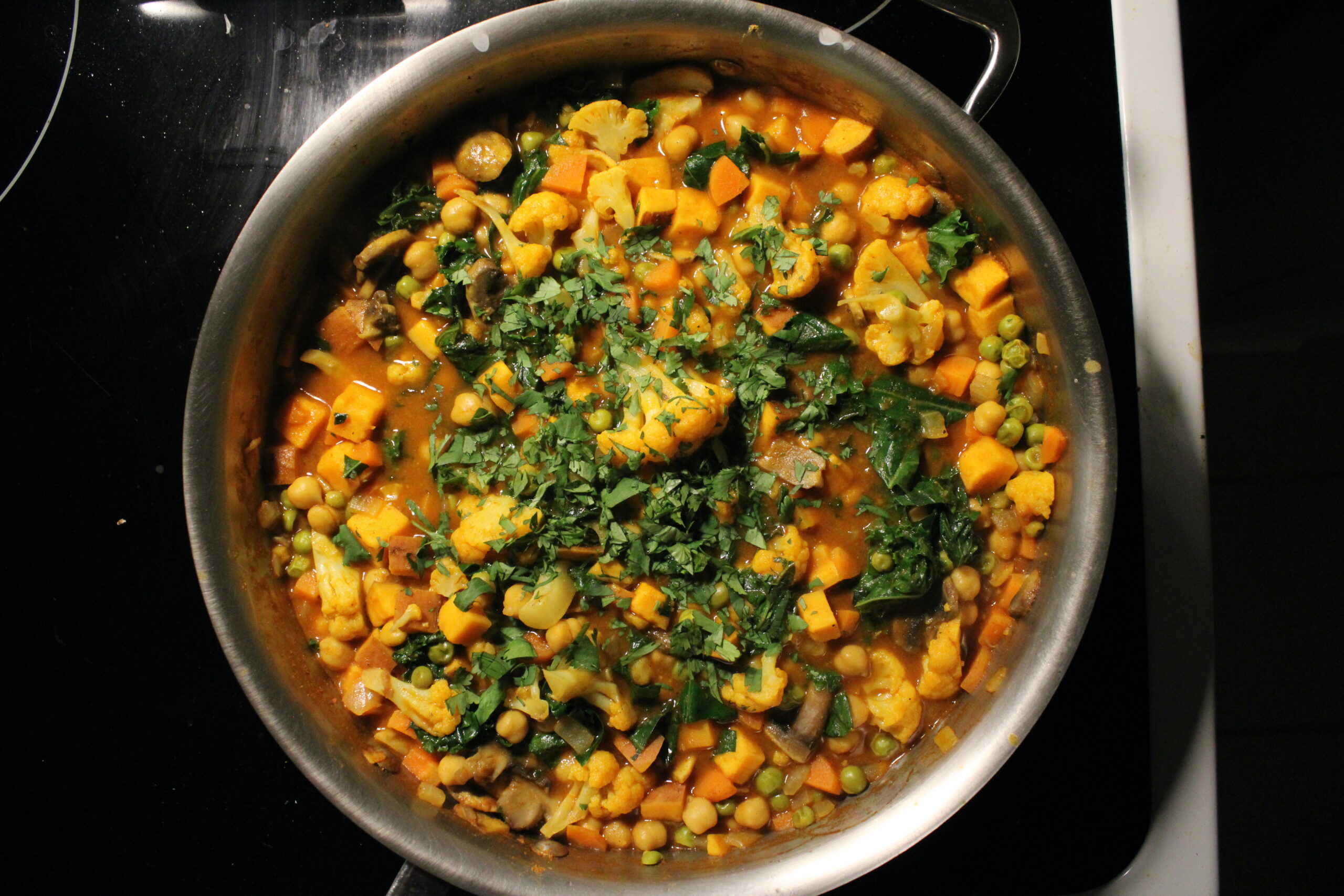 Sweet Potato & Cauliflower Curry with chickpeas, green peas, kale, onion, carrot, and mushrooms served over rice. This delicious plant-based dish is rich in nutrients and protein and is easy to prepare! See below the ingredients for substitutions. For a grain-free option, serve with shredded red cabbage or lentils instead of rice.
Ingredients
Serves: 4-5 Time: 45 minutes
Sweet Potato & Cauliflower Curry
1 large sweet potato
1/2 yellow onion, diced
2 medium carrots, diced
1 cup cauliflower, chopped
2 cups kale, shredded
1/2 cup green peas
3-4 mushrooms, sliced
1 (14 oz) can lite coconut milk*
8 oz. tomato sauce
1 can chickpeas, drained & rinsed
1 Tbs red curry paste
1/4 tsp red chili flakes (optional)
1 tsp ground ginger
1/2 tsp garlic powder
Salt and black pepper to taste
1-2 Tbs olive oil
Optional toppings: chopped cilantro, lime/lemon juice, sriracha, chopped dry roasted peanuts
*Lite coconut milk is a low-fat alternative. You may also substitute for unsweetened, unflavored soy or nut milk, cow's milk (for non-vegan), or you may dilute regular coconut milk with water (i.e. 2/3 cup coconut milk + 1/3 cup water for a recipe that calls for 1 cup)
Directions
Begin by preparing your vegetables
In a large skillet, set heat to medium-high. Once hot, add the olive oil.
Begin sautéeing the sweet potato once you see vapors from the pan, indicating the oil is hot enough. Cook for 5 minutes.
Next, add the onion and cook for 3-5 minutes before adding the carrots.
Cook the vegetables together for 5-7 minutes, then add the green peas, chickpeas, and mushrooms. Continue stirring together until all the vegetables are lightly tender.
Next, add the seasonings and curry paste and stir for 1 minute before adding the tomato sauce and coconut milk.
Bring the mixture to a simmer, covering with a lid and turning heat to low for 10 minutes.
Then, add the kale and cook until lightly wilted. Remove the pan from heat.
Serve over rice; if desired, top with a squeeze of lime or lemon juice and minced cilantro.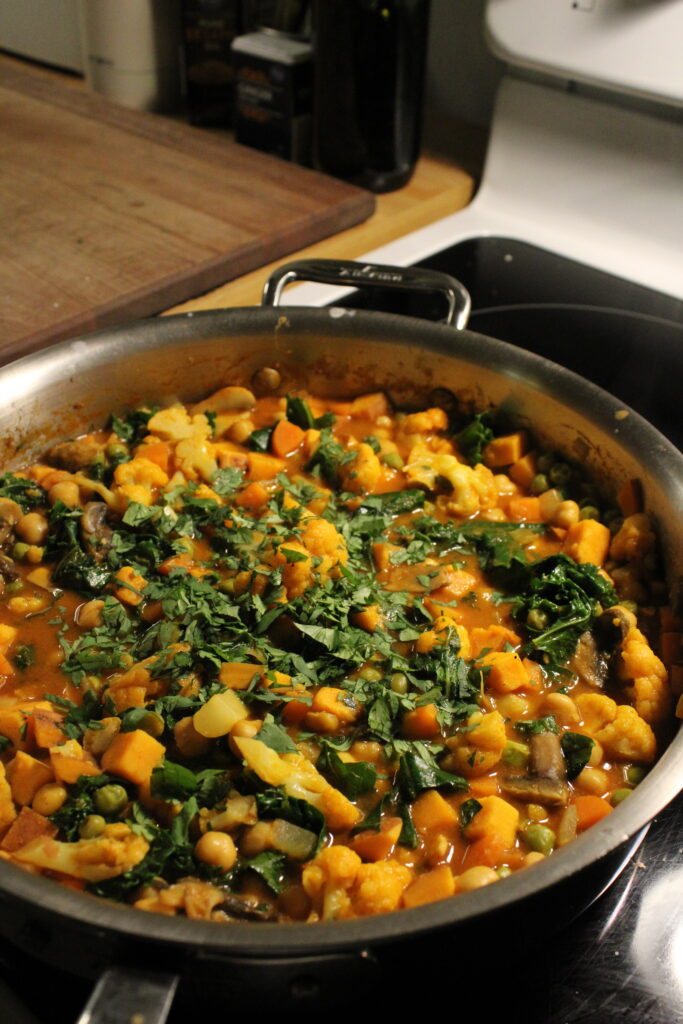 More Deliciousness
If you're looking for even more tasty recipes, keep browsing around Hearty At Home! And don't forget to share your favorite recipes with your friends, family, and loved ones.
For instance, if you find a recipe you like, pin it to your dinner inspiration board!
We share our recipes and recipe videos on Pinterest, Yummly, Youtube, Vimeo, and Facebook
---