Coconut Curry Sweet Potato Soup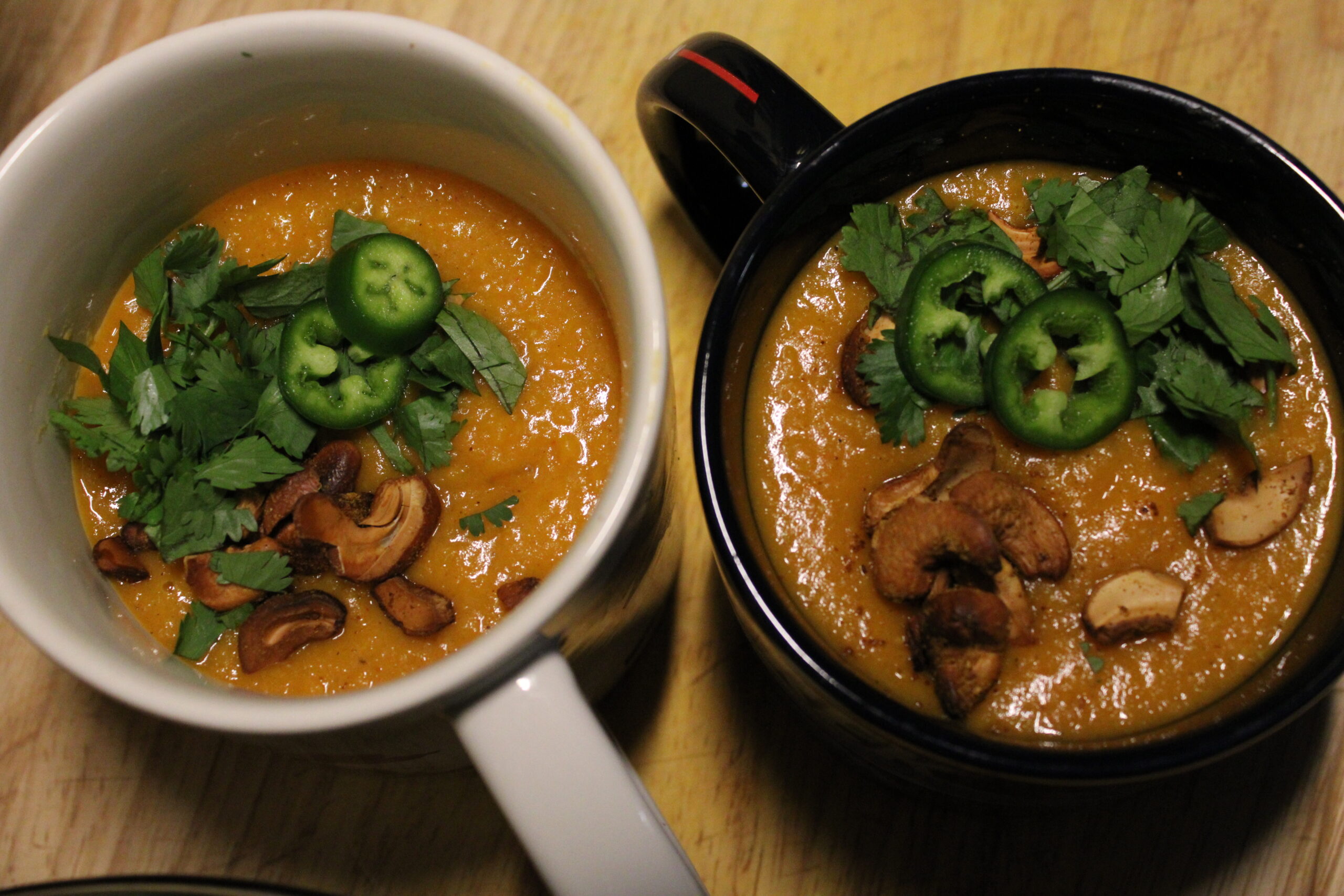 Coconut Curry Sweet Potato Soup is rich, creamy, and loaded with flavor & nutrients. This soup is excellent for the colder months. Sweet potatoes have been found to reduce the risk of one cancer, in particular, colorectal cancer. They are also rich in vitamin A which is beneficial for individuals with that deficiency.
Ingredients
Coconut Curry Sweet Potato Soup
2 large sweet potatoes, peeled & diced
1 can lite coconut milk*
1/2 yellow onion, diced
3 garlic cloves, minced
1 Tbs red curry paste
1 Tbs curry powder
1/2 tsp ground cumin
1 Tbs olive oil
1/2 tsp ground turmeric
1 tsp black pepper
1 vegetable bouillon cube
1/4 tsp thai chili flakes or cayenne
1/2 lime, juiced
Optional toppings: chopped cilantro, curry toasted cashews, jalapeno
Curry Toasted Cashews
Mix 1/4 cup chopped, raw cashews in a bowl with a splash of olive oil and a generous pinch of curry powder. Bake in the oven at 400ºF for 5-6 minutes or until golden.
*Light coconut milk is a low-fat alternative. You may also substitute for unsweetened, unflavored soy or nut milk, cow's milk (for non-vegan), or you may dilute regular coconut milk with water (i.e. 2/3 cup coconut milk + 1/3 cup water for a recipe that calls for 1 cup)
Directions
After your vegetables have been prepped, in a large stovetop pot heat the olive oil on high heat.
Then, once the oil is hot, sauté the onion and garlic for 2-3 minutes.
Next, add the curry paste, seasonings and vegetable bouillon. Stir together for another 3 minutes, reducing the heat to medium-high.
Add the sweet potato and stir in for 1-2 more minutes.
Then, add the coconut milk and lime juice.
Bring the mixture to a low boil and then reduce heat to low.
Cover the pot with a lid and simmer for 10-20 minutes or until sweet potato is soft.
Once the sweet potatoes have softened, blend your soup by transferring it to a blender in batches or using an immersion blender.
Serve the soup after it has been blended.
Top with optional toppings and enjoy!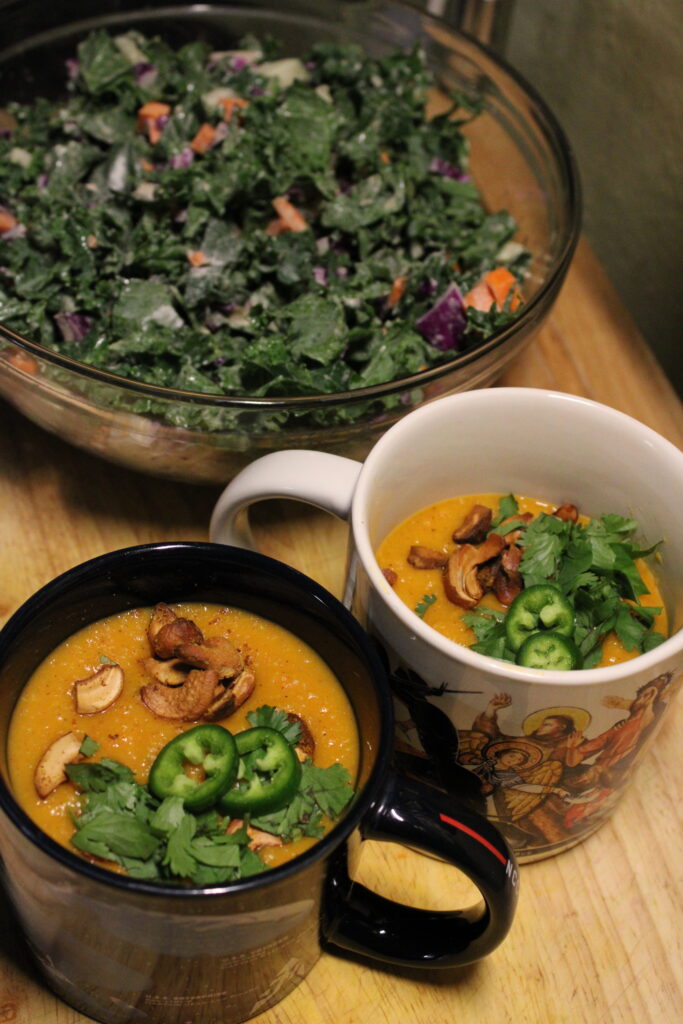 More Deliciousness
If you're looking for even more tasty recipes, keep browsing around Hearty At Home! And don't forget to share your favorite recipes with your friends, family, and loved ones.
For instance, if you find a recipe you like, pin it to your dinner inspiration board!
We share our recipes and recipe videos on Pinterest, Yummly, Youtube, Vimeo, and Facebook.
---