Brussels & Bulgar Bowl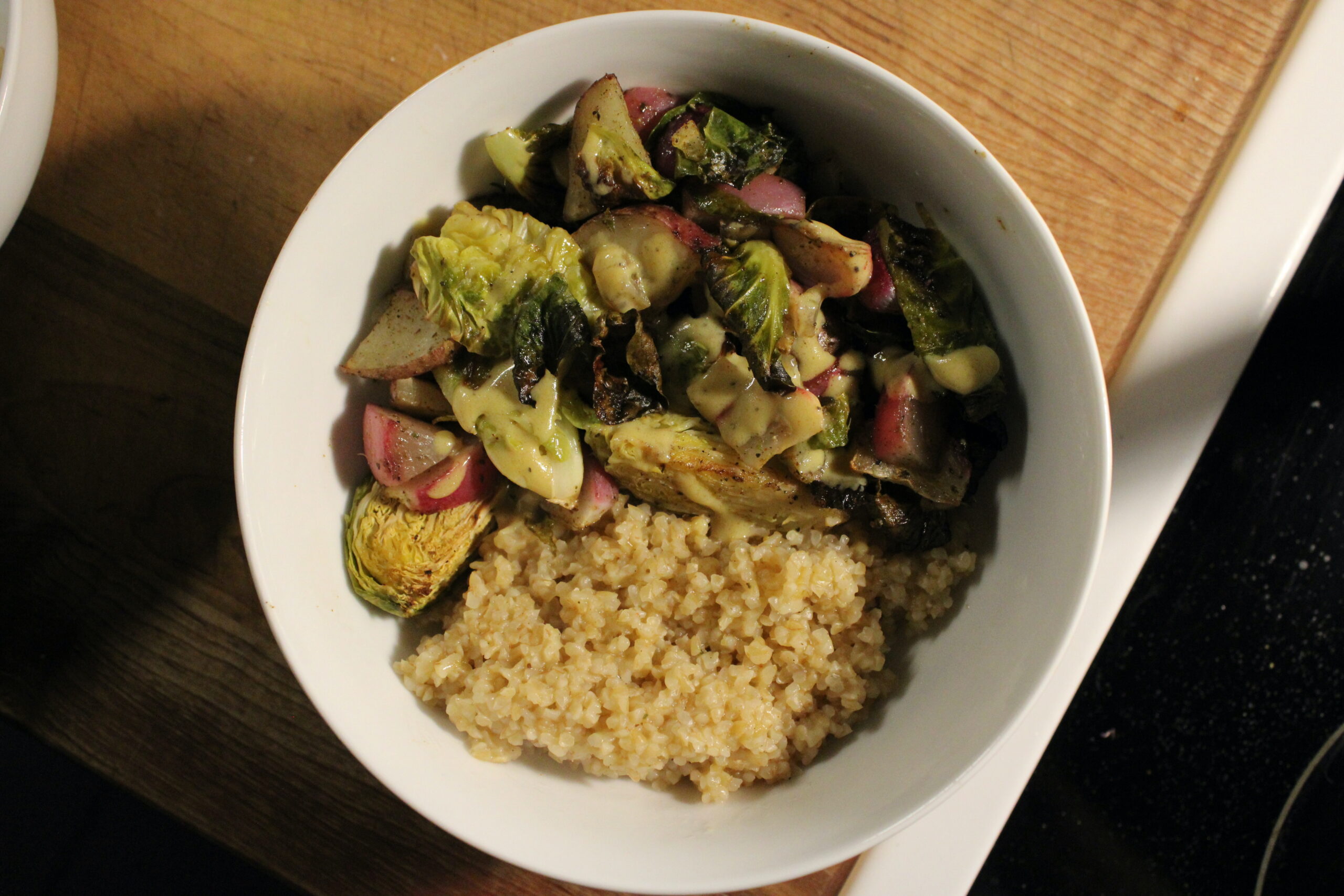 Brussels & Bulgar Bowl with roasted potatoes, brussels sprouts, onion, and radishes served over bulgar wheat. A simple but delicious grain bowl! Try serving this grain bowl with a protein such as chickpeas, chicken, or tempeh.
Ingredients
Serves: 3-4 Time: 30 minutes
Brussels & Bulgar Bowl
1/2 lb brussels sprouts, quarter cut
2 medium red potatoes, thinly sliced
1/3 yellow onion, small dice
3-4 garlic cloves, peeled
8-10 small radishes, quarter cut
1 tsp paprika
1/2 tsp ground thyme
1/2 tsp black pepper
Pinch of salt
1-2 Tbs olive oil
1/2 tsp dried oregano
1 1/2 cup vegetable broth
1 cup bulgar wheat
Mustard Dressing
2 Tbs dijon mustard
1/2 Tbs olive oil
1/2 Tbs apple cider vinegar
1/4 tsp black pepper
1/2 tsp salt
Splash of water as needed to thin the dressing
Directions
Preheat the oven to 400ºF and prepare your vegetables, placing the brussels sprouts, onion, potatoes, garlic, and radishes into a large bowl once cut.
Drizzle the vegetables in olive oil and toss with seasonings.
Spread the vegetables onto a baking tray and bake in the oven for 15-20 minutes or until the vegetables have lightly crispened and browned.
During the vegetables, last 5-10 minutes of cooking, bring the vegetable broth to a boil in a small stovetop pot.
Once boiling, stir in the bulgar wheat with a whisk and continue to whisk on medium-high heat. The liquid should absorb quickly.
Continue stirring until the liquid is absorbed, and remove the grains from the heat.
Serve the grains with the roasted vegetable, top with optional mustard dressing, and enjoy!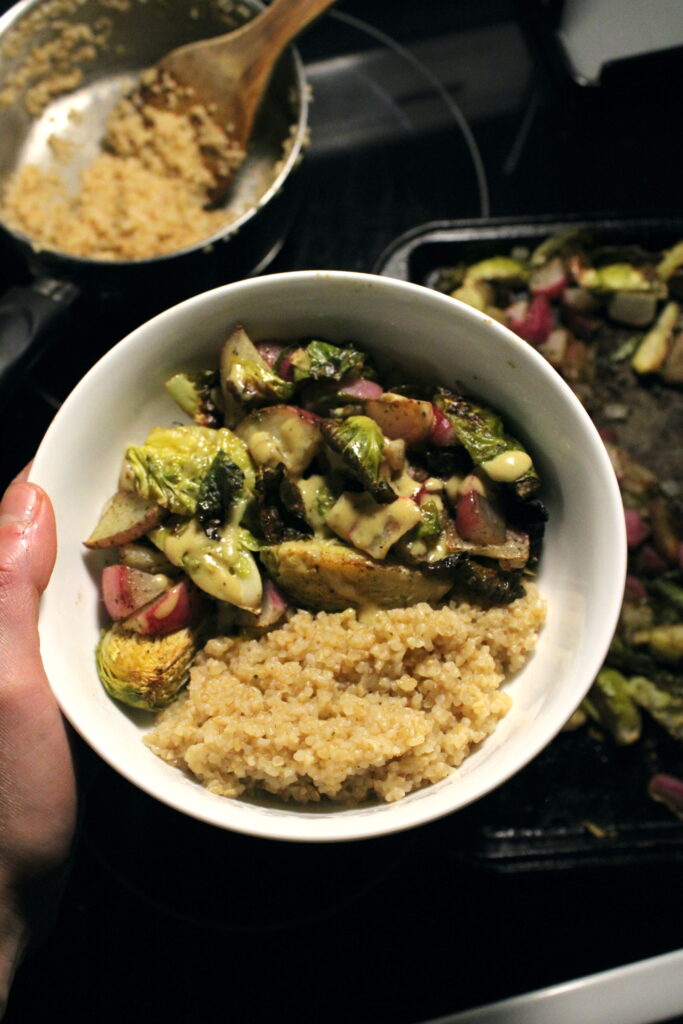 More Deliciousness
If you're looking for even more tasty recipes, keep browsing around Hearty At Home! And don't forget to share your favorite recipes with your friends, family, and loved ones.
For instance, if you find a recipe you like, pin it to your dinner inspiration board!
We share our recipes and recipe videos on Pinterest, Yummly, Youtube, Vimeo, and Facebook
---