Tempeh Scramble Grit Bowl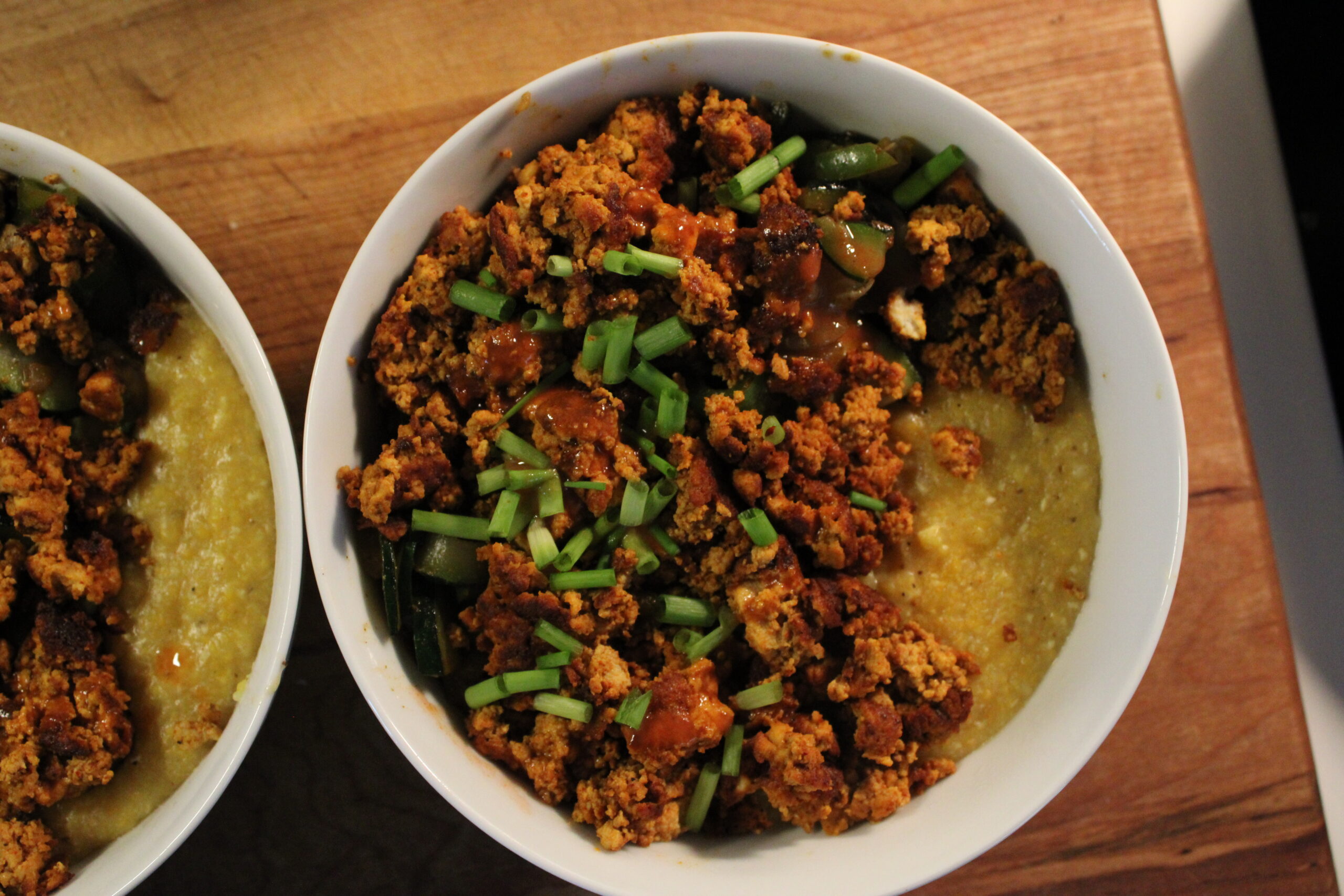 Tempeh Scramble Grit Bowl, a hearty breakfast or brunch that can fuel your day. This dish is lovely to make on the weekend when you have a little extra time to prepare.
Ingredients
Serves: 2-3
Tempeh Scramble Grit Bowl
1/2 cup yellow grits
2 cups water
1/2 yellow onion, diced
1 small bell pepper, diced
1/2 small zucchini, thinly sliced
2-3 mushrooms, sliced
Half extra firm tofu block, drained & crumbled
1 tsp paprika
1/2 tsp chili powder
2 Tbs nutritional yeast
1 Tbs soy sauce
1/2 Tbs tahini
1 tsp ground mustard
1/2 tsp black pepper
1 tsp garlic powder
Olive oil
Directions
To prepare the tofu, crumble half a block into a bowl
Add in the soy sauce, tahini, mustard, paprika, chili powder, pepper, and garlic powder, and mix with a fork. Set aside.
Then, prepare your vegetable hash.
In a medium stovetop pot, add the 2 cups of water and bring to a boil, lightly seasoning with salt.
Once boiling, add in the grits and stir. Quickly set the heat to low and cover with a lid.
Stir the grits occasionally until cooked, about 10-15 minutes.
Meanwhile, in a large skillet, add about 1 Tbs of olive oil on medium-high heat.
Sauté the onion for 2-3 minutes, then add the bell pepper and zucchini, cooking for 5 minutes.
Add in the mushrooms and cook on medium until the vegetables are softened and tender. Season with a dash of the same seasonings used on the tofu, including a dash of salt.
Simultaneously, add a dash of olive oil to a smaller skillet on medium heat.
Add the tofu to the pan once hot and allow the tofu to cook for 5-7 minutes, flipping with a spatula and repeating until each side is lightly browned and slightly crisp.
Transfer the tofu to the vegetables once both are cooked.
Serve the vegetables and tofu over the grits, top with chopped scallions and hot sauce if desired, and enjoy!
More Deliciousness
If you're looking for even more tasty recipes, keep browsing around Hearty At Home! And don't forget to share your favorite recipes with your friends, family, and loved ones.
For instance, if you find a recipe you like, pin it to your dinner inspiration board!
We share our recipes and recipe videos on Pinterest, Yummly, Youtube, Vimeo, and Facebook
---