Chickpea & Lentil Stuffed Spaghetti Squash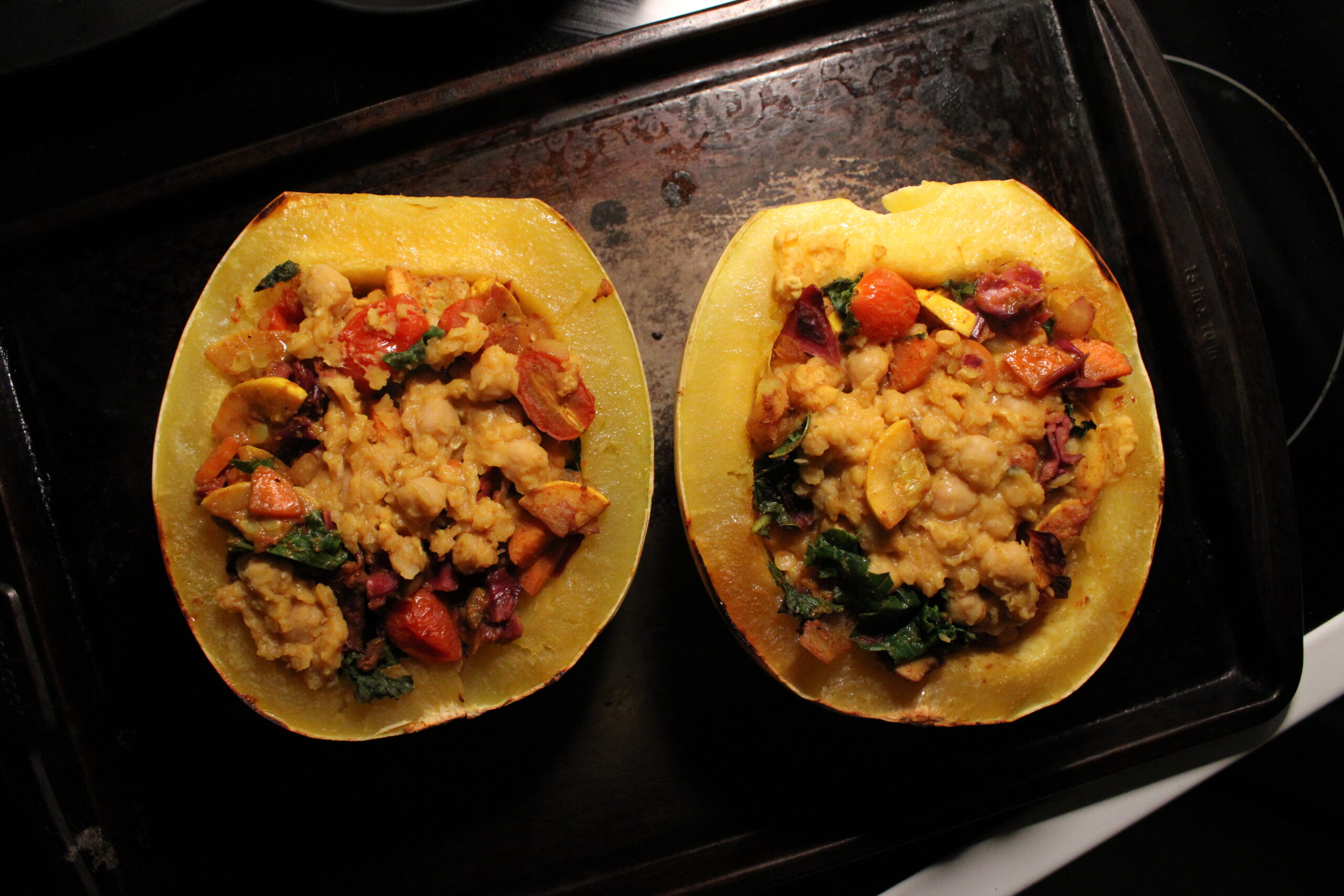 Curried Chickpea & Lentil Stuffed Spaghetti Squash with cherry tomatoes, cabbage, kale, onions, and carrots makes for a hearty meal that is great in the fall and winter. Spaghetti Squash is a nutrient-dense food that is low in calories and is a great source of fiber, vitamin C, manganese, vitamin B6, and niacin.
Ingredients
Time: 1 hour Serves: 4-6
Chickpea & Lentil Stuffed Spaghetti Squash
1-2 spaghetti squash, halved & seeds removed
Olive oil
1 can chickpeas, drained
2 cups vegetable broth
1 cup red lentils, rinsed
1/2 yellow onion, diced
1/4 cup cherry tomatoes, halved
1-2 carrots, diced
1/2 cup red cabbage, chopped
1 yellow squash, chopped
1 cup kale, chopped
1/2 cup white mushrooms, sliced
1 Tbs red curry paste
1/2 tsp turmeric
2 tsp garlic powder
1/2 tsp ground ginger
1 tsp ground cumin
1 Tbs curry powder
1/2 tsp black pepper
1/4 tsp chili flakes (optional)
Salt to taste
Directions
Preheat the oven to 410ºF and prepare your spaghetti squash by scooping out the seeds and tendrils.
Lightly coat the squash with olive oil (the interiors, not the skin) and wrap the top halves with foil.
Place the squash, foil side down, on a baking tray and place in the oven. Bake for 40-60 minutes or until tender and easy to cut through all the way around.
Meanwhile, in a medium stovetop pot, add a splash of olive oil on medium heat.
Once hot, add the lentils and chickpeas and stir together for 1 minute.
Then, add the curry paste and vegetable broth. Cover with a lid and bring to a boil.
Once boiling, reduce heat to low and simmer for about 20-30 minutes or until lentils are softened. Stir occasionally.
As the lentils and squash cook, prepare the remainder of the filling with the remaining vegetables.
In a sauté pan, add another splash of olive oil and set heat to medium-high.
Once hot, add the onion and cook for about 5 minutes.
Then, add the carrots and squash and cook together for another 5-7 minutes.
Reduce heat to medium and add the mushrooms and cabbage.
Stir in the curry powder and other spices along with a dash of salt. Cook together until the vegetables are cooked and slightly tender. Add the kale in at the end just long enough for it to wilt.
Taste and adjust seasoning of the veggie filling as desired.
Once the squash and lentils are done, remove the squash from the oven and combine the lentils and chickpeas with the vegetable sauté.
Turn off the oven and turn on the broiler.
Fill the squash with the veggie lentil filling.
Add the squash back in the oven to the broiler with the veggies facing up and broil for 3-5 minutes or until the top of the squash browns lightly.
Remove from the oven, serve and enjoy!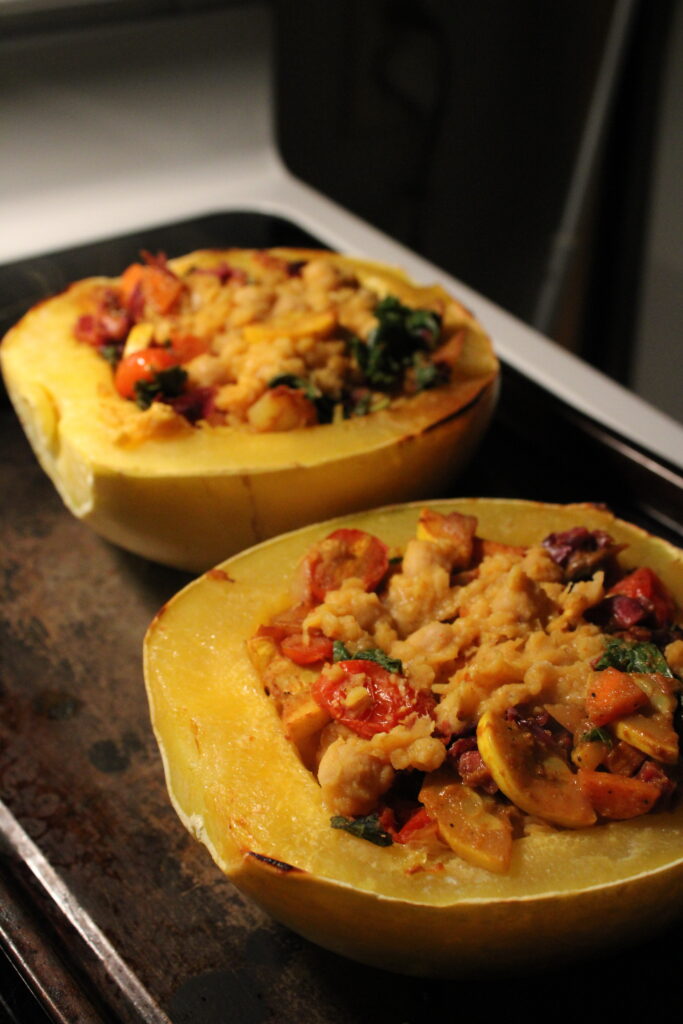 More Deliciousness
If you're looking for even more tasty recipes, keep browsing around Hearty At Home! And don't forget to share your favorite recipes with your friends, family, and loved ones.
For instance, if you find a recipe you like, pin it to your dinner inspiration board!
We share our recipes and recipe videos on Pinterest, Yummly, Youtube, Vimeo, and Facebook
---