Cilantro Lime Rice & Spicy Roasted Veggies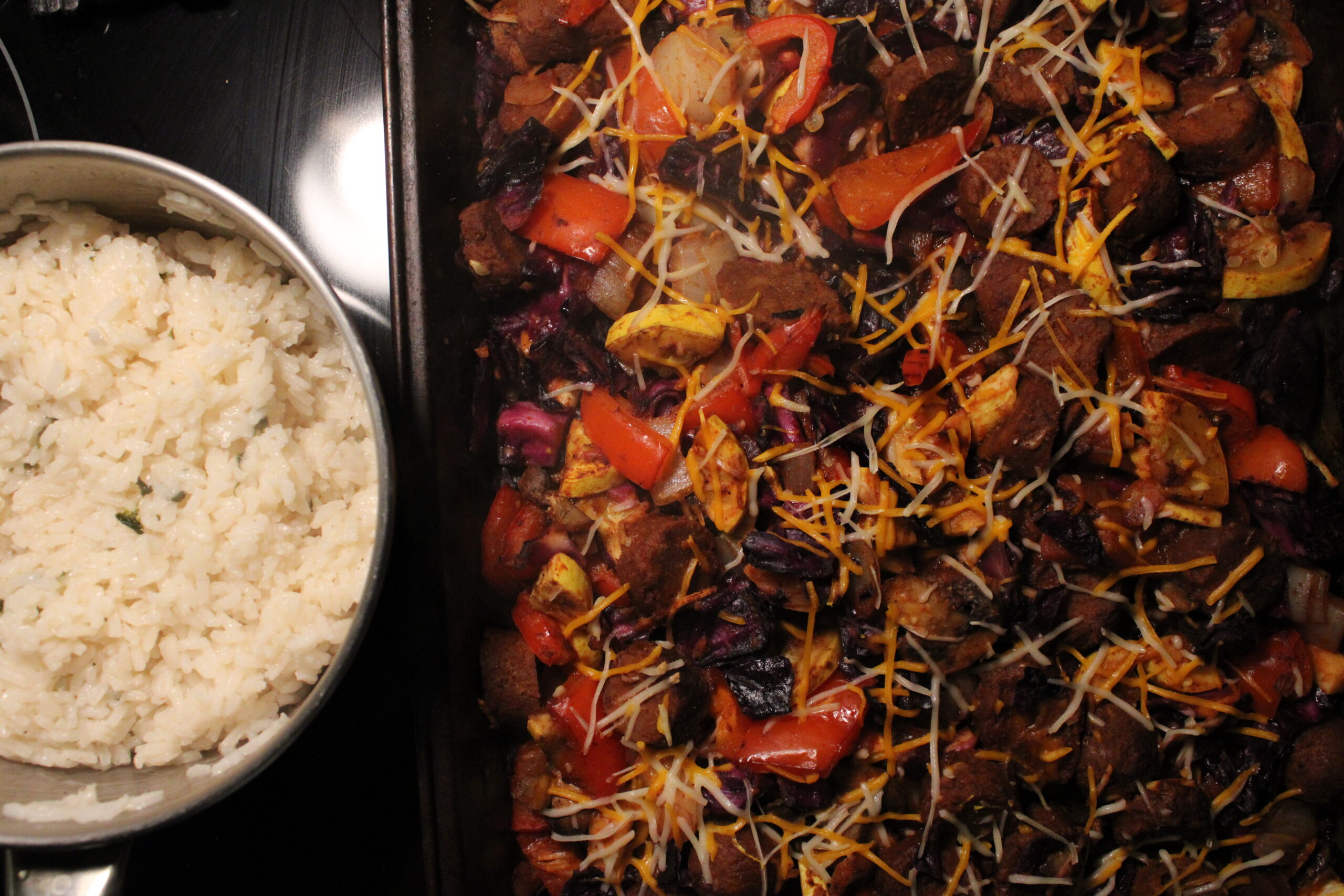 Cilantro Lime Rice & Spicy Roasted Veggies makes for an easy dish that you can customize to fit your dietary preferences. We used a plant-based chorizo-flavored sausage and non-dairy Mexican-style cheese, but you can also try this recipe with chorizo and dairy cheese. If using chorizo, saute the meat on the stovetop and serve at the end with the roasted veggies. For a low-fat option, leave out the meat and cheese.
Ingredients
Serves: 4-5 Time: 35-40 minutes
Cilantro Lime Rice
1 cup uncooked rice
2 cups vegetable (or chicken) broth
1/2 lime, juiced
1 Tbs chopped cilantro
1/2 Tbs olive oil
Spicy Roasted Veggies
1 cup red cabbage, chopped
1/2 yellow onion, chopped
1 large red bell pepper, chopped
1/2 cup mushrooms, sliced
1 large zucchini or squash, chopped
(1) 8 oz. can el pato hot tomato sauce
1/2 cup Mexican-style shredded cheese, divided
1 tsp garlic powder
1/2 tsp black pepper
1 tsp salt
2 tsp chili powder
1 Tbs olive oil
Optional: 1 package Meatless chorizo sausage, sliced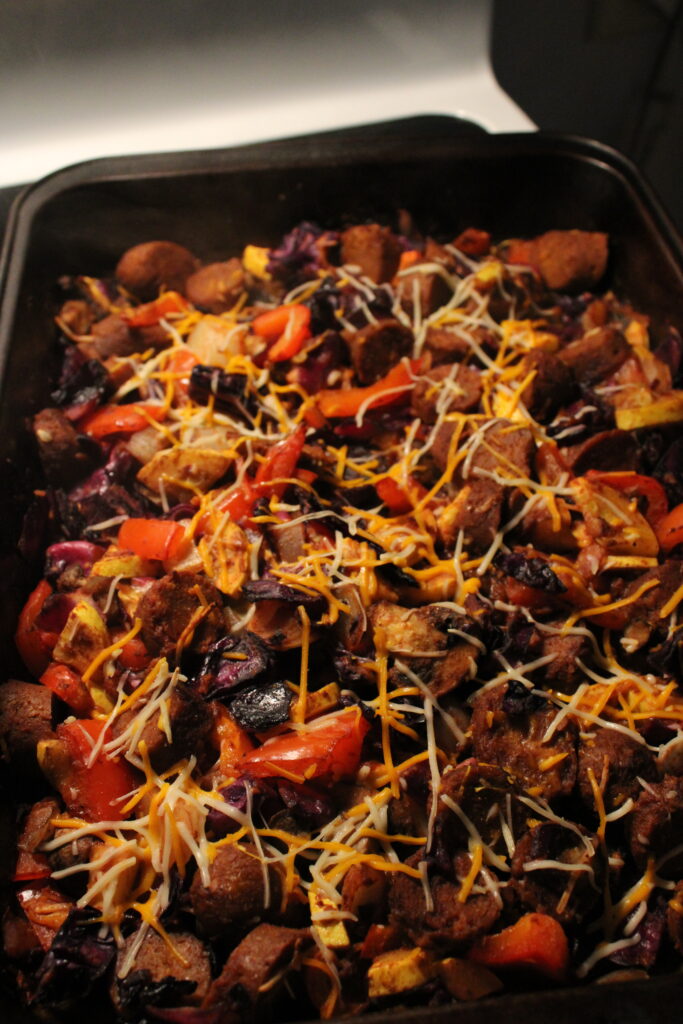 Directions
Preheat the oven to 400ºF and begin preparing your vegetables.
Once your vegetables are chopped, place them in a roasting pan and mix them with the hot tomato sauce, olive oil, and seasonings (include the plant-based chorizo if using).
Top the veggies with half of the cheese, place in the oven, and roast for 20 minutes.
Meanwhile, in a medium stovetop pot, add 1/2 Tbs olive oil and set heat to high.
Once hot, add the rice and stir for 1 minute.
Quickly add the lime juice and stock to the rice and stir.
Then, add in the cilantro. Cover the rice with a lid and bring it to a boil.
Once boiling, reduce heat to low and simmer for about 20-25 minutes, stirring occasionally.
The rice will be done when it is softened and fluffy.
After the veggies have cooked for about 20 minutes, remove them from the oven, stir, top with the remainder of the cheese, and bake for another 15-20 minutes or until the veggies are roasted and tender.
Serve the rice with roasted veggies, and/or chorizo. Top with additional cilantro and enjoy!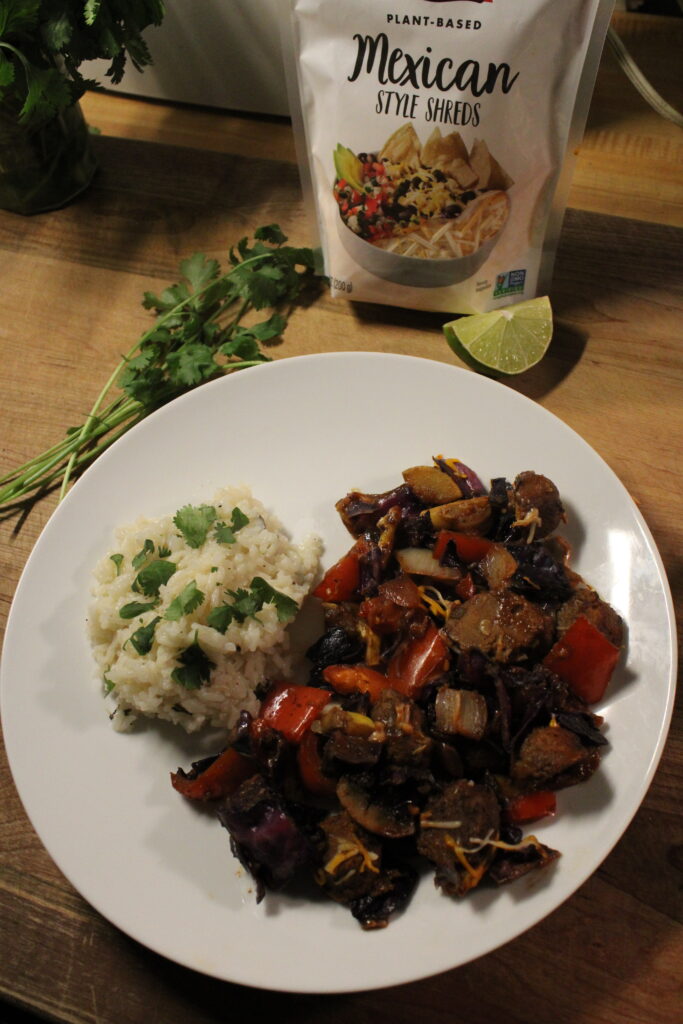 More Deliciousness
If you're looking for even more tasty recipes, keep browsing around Hearty At Home! And don't forget to share your favorite recipes with your friends, family, and loved ones.
For instance, if you find a recipe you like, pin it to your dinner inspiration board!
We share our recipes and recipe videos on Pinterest, Yummly, Youtube, Vimeo, and Facebook
---