Acorn Squash & Tofu Ratatouille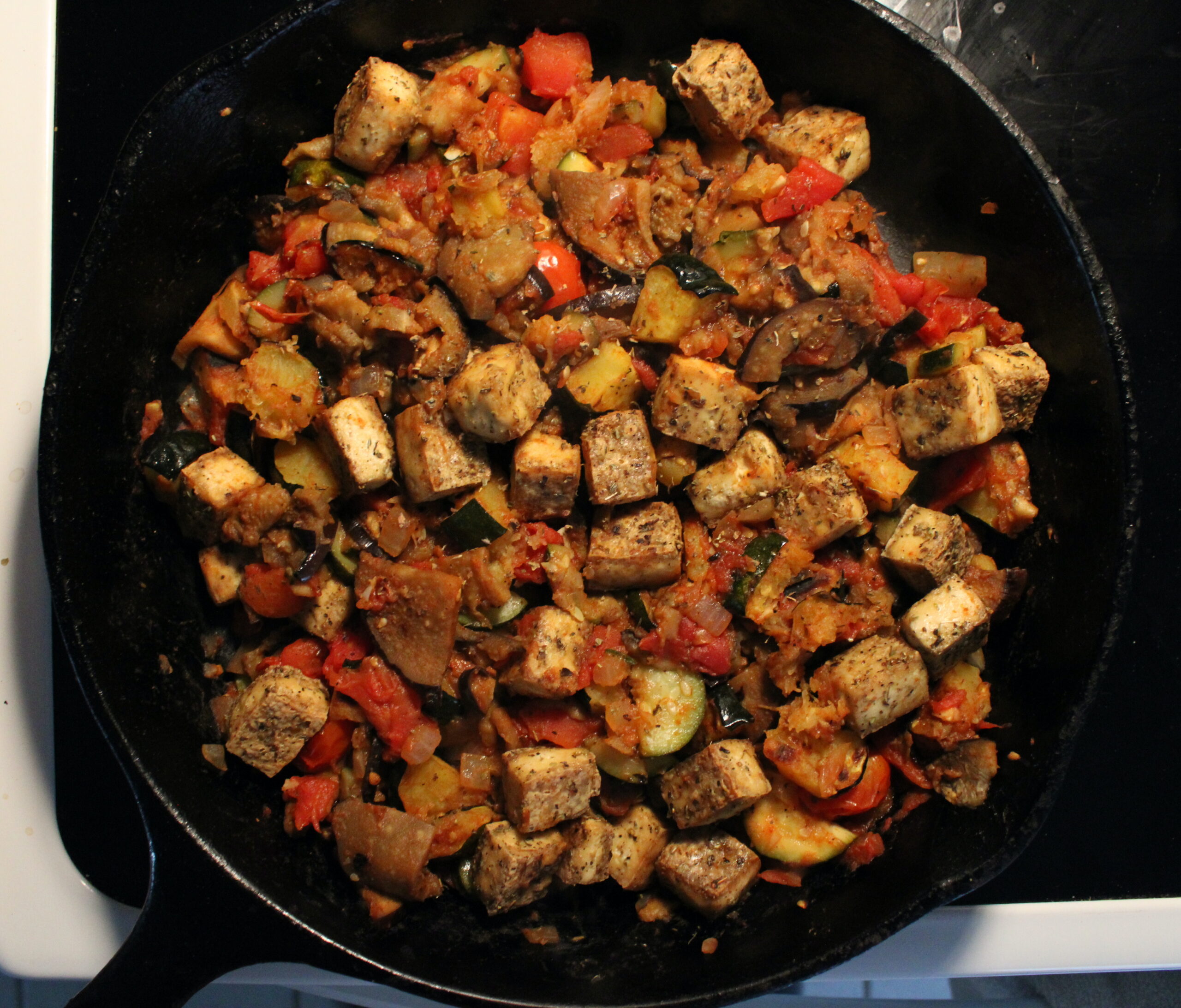 Acorn Squash & Tofu Ratatouille with eggplant, zucchini, onion, garlic, and tomatoes. A delicious spin on the classic ratatouille. While we oven-roasted our tofu, you can try broiling or steaming it if preferred!
Ingredients
Serves: 4 Time: 50-60 minutes Culinary Skill: Intermediate
Acorn Squash & Tofu Ratatouille
1 medium acorn squash, chopped
Package of firm or extra-firm tofu, drained
1 medium eggplant, sliced
1/2 yellow onion, diced
1 small zucchini, sliced
2 garlic cloves, minced
4-5 cherry tomatoes, halved
1 can diced tomatoes
Olive oil
Italian seasoning
Salt
Black pepper
Paprika
Fresh basil (optional)
Directions
Prep (~20-30 minutes)
For your prep, begin by draining the liquid from the tofu package, and press the tofu by cutting it into cubes, lay them out on a plate lined with paper towels.
Cover the tofu with another layer of paper towels and place a baking sheet over the tofu with a heavy pan, pot, or cookbook on top of the sheet.
Next, slice the eggplant into about 1/4 inch thick slices and place them on a tray. Generously sprinkle salt over all the eggplant and cover with a kitchen towel. Allow them to rest for about 20 minutes.
Meanwhile, you can preheat the oven to 400ºF and prepare your acorn squash by de-seeding it and peeling the skin if desired (we left the skin on). Chop the acorn squash into small 1/2-inch chunks
Then, prepare and aside the onion, zucchini, garlic, and cherry tomatoes
Cook (~30-40 minutes)
After your tofu has been pressed for at least 20 minutes, drain the excess liquid and place the cubes in a mixing bowl.
Next, add about 1 Tbs of olive oil and a generous dash of Italian seasoning, and a pinch of salt, black pepper, and garlic powder (optional).
Carefully fold the ingredients with the tofu and then lay out the tofu on a baking sheet and place it in the oven.
Roast for about 40 minutes, checking on it halfway through and flipping. Save the remaining oil and seasonings in the mixing bowl.
Meanwhile, rinse and drain the eggplant in a colander and toss it into the mixing bowl from the previous step along with the acorn squash. Season with about 1 tsp of paprika and an extra shake of salt and pepper.
Then, lay out the eggplant and squash onto a separate baking sheet. Place in the oven and roast for about 25-30 minutes.
In a large skillet, set heat to high and heat about 1/2 Tbs of olive oil.
Begin sautéeing the onion and garlic for about 4-5 minutes.
Next, add the zucchini and cook for another 5 minutes. Then add the diced tomatoes and sliced cherry tomatoes.
Season with a dash of salt, black pepper, and a light sprinkle of Italian seasoning.
Continue to cook on high for about 5-7 minutes, then reduce heat to low and cover with a lid, allowing the ingredients to simmer.
When your eggplant and squash are slightly browned and softened, remove them from the oven and add them to the tomato onion mix on the stove.
Then, when the tofu is at your desired level of crispness, remove it from the oven and pat dry excess oil with a paper towel. Fold in with the eggplant and squash.
Once the tofu, squash, and eggplant have been thoroughly mixed into the tomato base, remove from heat.
Top with chopped fresh basil if desired, serve and enjoy!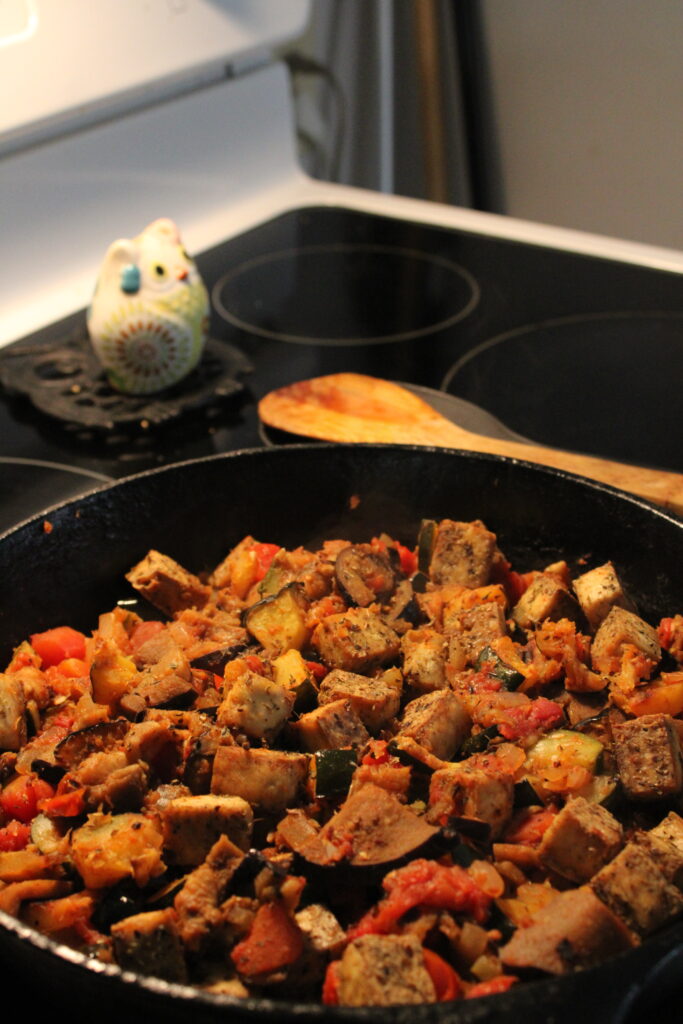 More Deliciousness
If you're looking for even more tasty recipes, keep browsing around Hearty At Home! And don't forget to share your favorite recipes with your friends, family, and loved ones.
For instance, if you find a recipe you like, pin it to your dinner inspiration board!
We share our recipes and recipe videos on Pinterest, Yummly, Youtube, Vimeo, and Facebook.
---