Broccoli & Bok Choy Noodle Bowl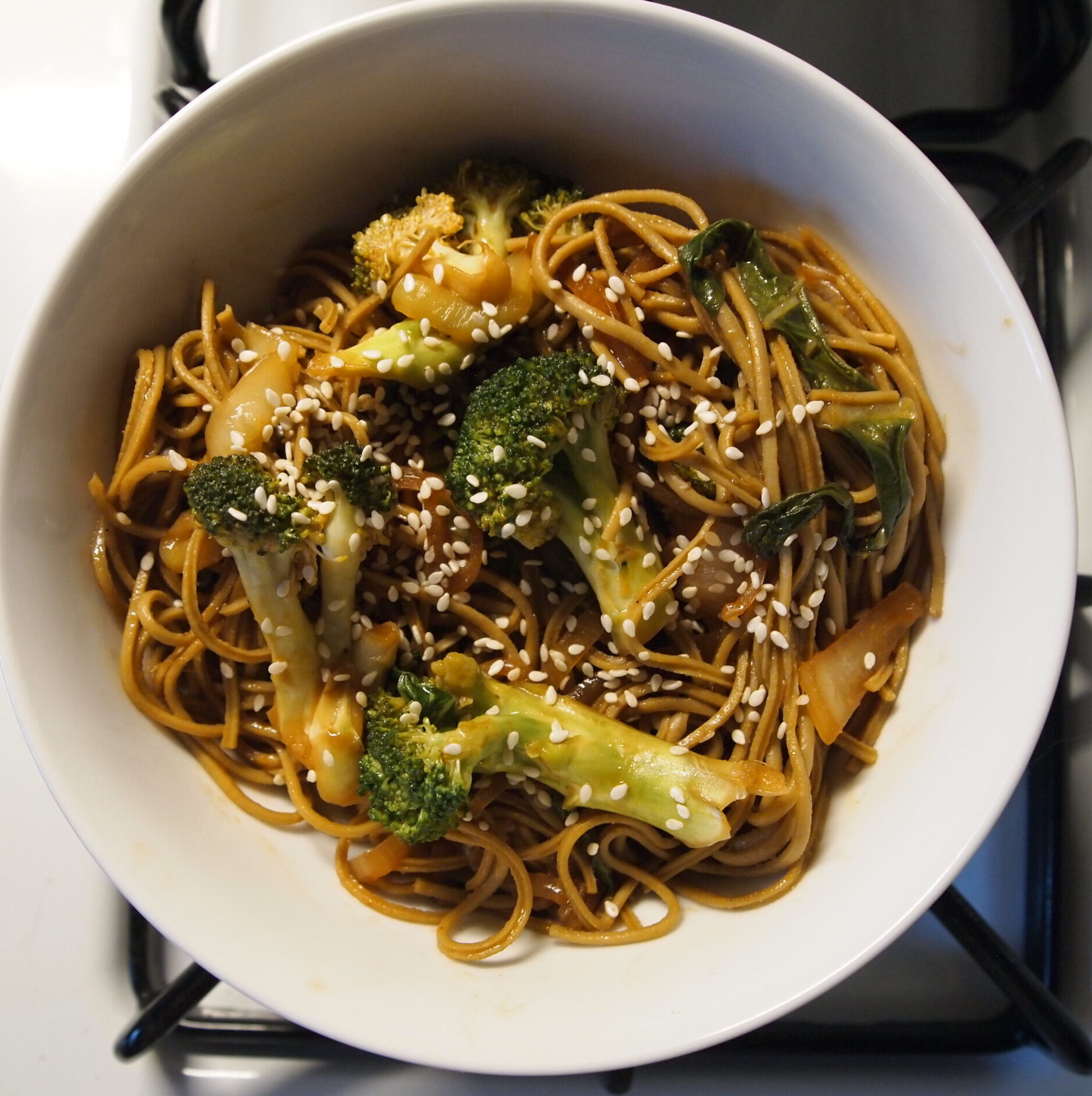 This Broccoli & Bok Choy Noodle Bowl is the perfect post-workout dish. We use edamame spaghetti which is high in protein and low in carbs and calories. These noodles are also vegan and gluten-free friendly. Serve it hot or cold.
Ingredients
Broccoli & Bok Choy Noodle Bowl
8 oz. edamame spaghetti
2-3 cups broccoli florets, chopped
2 medium shallots, thinly sliced
1-2 garlic clove, minced
2 heads bok choy, chopped
3 Tbs Soy Sauce
1 Tbs Sesame Oil
Rice Vinegar
Sesame Seeds
Sriracha (optional)
Directions
Begin by preparing your vegetables and measuring out your spices, set aside.
Then, in a large pot, bring 8 cups of water to a boil. Once boiling, add edamame noodles to the water and cook for 3-5 minutes. Drain noodles and set them aside.
Next, in a large skillet, set heat to high and add sesame oil.
Once hot, begin cooking shallots and minced garlic. Cook until the shallots are translucent. Add 2 tsp sesame seeds.
Afterward, add the broccoli and the white part of the chopped bok choy. Save the leafy green ends for later.
Add 1 Tbs of Soy Sauce and the ground ginger, stir well. Add a splash of rice vinegar as needed to prevent sticking. Cook for 5-7 minutes.
Then, add the leafy greens and reduce heat to medium-low. Cook for 5 minutes.
Once the greens have wilted slightly, add the edamame noodles to the pan, add the remaining soy sauce and another splash of rice vinegar and incorporate the vegetables into the noodles. Adjust flavor as desired with soy sauce, ginger, and add sriracha for an extra kick.
Top with extra sesame seeds, serve and enjoy. Other optional toppings could include lime juice, minced cilantro, sriracha, or chopped peanuts. This dish could also be served cold.
More Deliciousness
Finally, if you're looking for even more tasty recipes, keep browsing around Hearty At Home! And don't forget to share these recipes with your friends, family, and loved ones.
For instance, if you find a recipe you like, pin it to your dinner inspiration board!
We share our recipes and recipe videos on Pinterest, Youtube, Vimeo, and Facebook.
---