Pesto-Spinach Spaghetti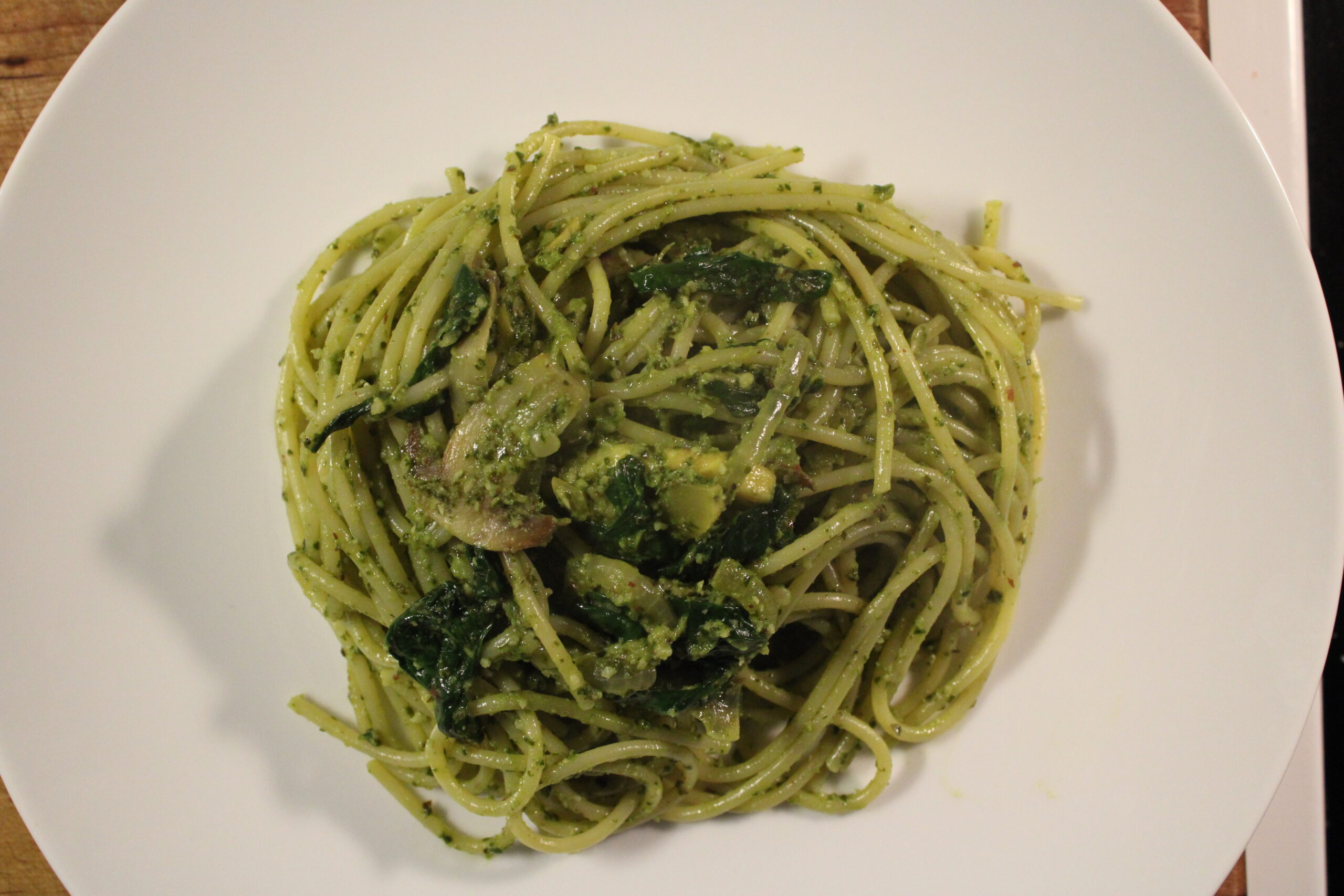 Pesto-Spinach Spaghetti, a quick and easy dinner to make that is light but full of flavor. You may also substitute the kale in the pesto for spinach. Try cooking this dish with tomatoes as well or using gluten-free pasta if desired.
Ingredients
Serves: 4 Time: 35 minutes
Pesto-Spinach Spaghetti
Pesto
1 cup kale, stems removed
1/4 cup fresh basil leaves
1/4 cup fresh cilantro
1/2 cup sliced almonds
3 garlic cloves, peeled & smashed
2 Tbs olive oil
1 Tbs lemon juice
Spaghetti
4 cups spinach
1/2 cup mushrooms, sliced
1/2 yellow onion, diced
1 small yellow squash or zucchini, thinly sliced
1/2 box spaghetti
Optional toppings: parmesan or vegan parmesan cheese, sliced cherry tomatoes
Directions
Add the pesto ingredients to a food processor or blender and blend until smooth. Set aside.
Then, prepare your vegetables for cooking and begin boiling water for the pasta.
In a large skillet, set heat to high and begin sautéeing the onion, squash, and mushroom. Cook together for 5-7 minutes. Lightly season with salt & black pepper.
Once the onion is translucent, add in the spinach and pesto. When your water reaches a boil, begin to cook pasta to desired doneness.
Cook the spinach/pesto mix until the spinach has wilted and the veggies are cooked all the way through. Turn off the heat and cover with a lid until the pasta is done.
Drain the pasta and then add to the spinach pesto mix until fully combined.
Serve & enjoy!
More Deliciousness
If you're looking for even more tasty recipes, keep browsing around Hearty At Home! And don't forget to share your favorite recipes with your friends, family, and loved ones.
For instance, if you find a recipe you like, pin it to your dinner inspiration board!
We share our recipes and recipe videos on Pinterest, Yummly, Youtube, Vimeo, and Facebook
---