Vegan Green Bean Casserole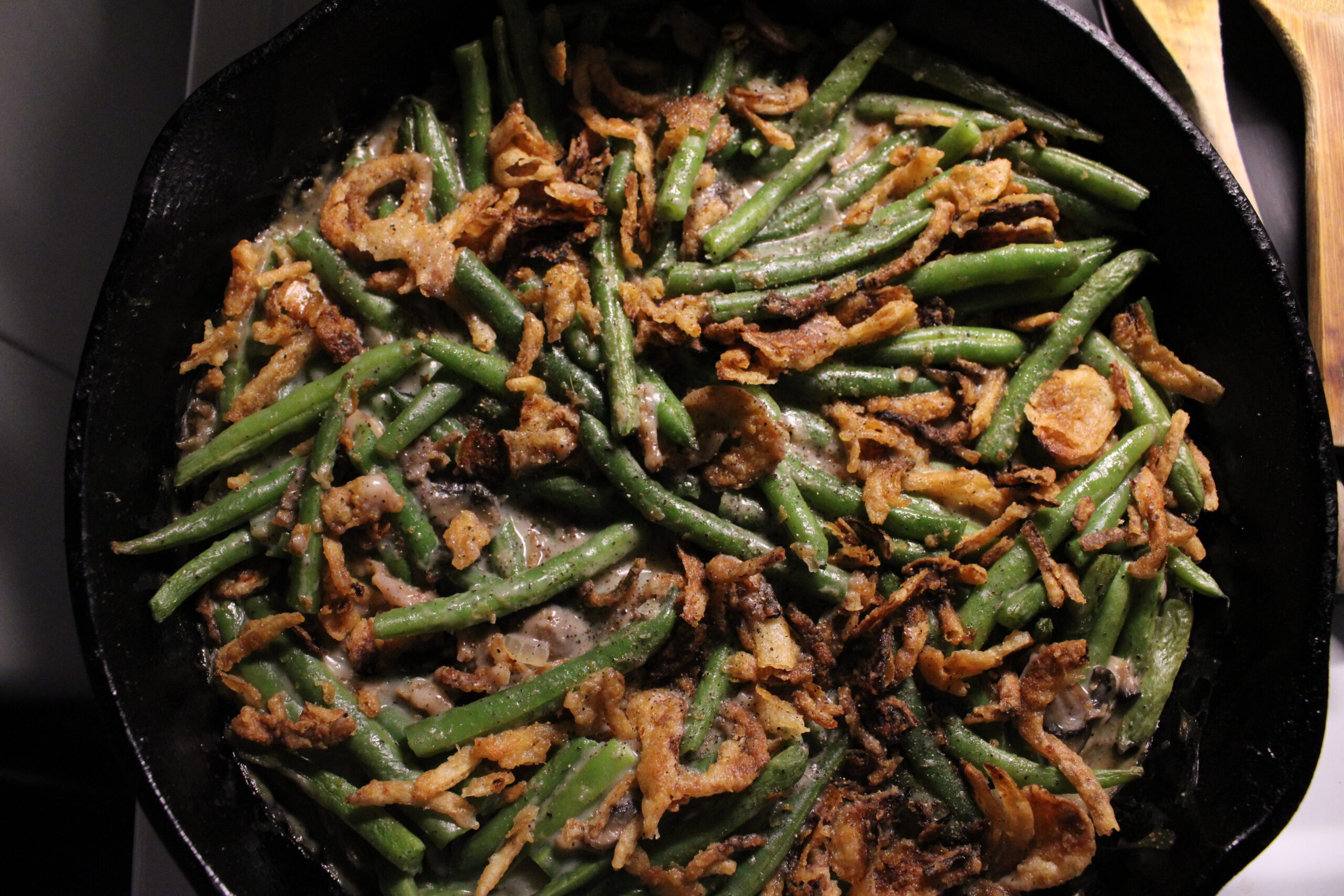 Vegan Green Bean Casserole is so delicious and perfect for the holiday season. This casserole is a strong competitor against the traditional dish with its cream of mushroom soup and canned green beans because this recipe uses fresh ingredients while still capturing all the flavors and memories of the classic casserole. Try it out this holiday season for a workplace holiday party or family get-together!
Ingredients
Serves: 7
Vegan Green Bean Casserole
1 pound green beans, rinsed trimmed & cut in half
Sea salt and black pepper to taste
2 Tbsp vegan butter or olive oil
1/2 yellow onion, minced
2 cloves garlic, minced
1 cup mushrooms, finely chopped
2 Tbsp all-purpose flour
3/4 cup vegetable broth
1 cup unsweetened, plain non-dairy milk (we used Oat)
1 1/2 cups crispy fried onions
Directions
Begin by preheating the oven to 400 degrees F
Start prepping the onion, garlic, and mushrooms for your roux, set aside.
Then, bring a large pot of water to a boil and add in a generous dash of salt to help season the green beans.
Once the water begins boiling, add the green beans and cook for 5 minutes.
Quickly drain and set aside the green beans.
Then, in a large, oven-safe skillet (cast-iron preferrably) set heat to medium high and add vegan butter or olive oil.
Once hot, add the garlic and onion, lightly season with salt and black pepper.
Cook the onion and garlic for 4-5 minutes or until lightly browned. Then add in the mushrooms and stir for another 2 minutes. Add another light dash of salt and pepper.
Next, sprinkle in the flour and use a whisk to coat the vegetables.
Gradually add in the vegetable stock, incorporating it a whisk.
Reduce heat to low and allow the mixture to simmer and thicken for about 5-7 minutes. Taste and adjust seasonings as needed.
Remove the mixture from the heat and add in about 1/2 of the fried onions into the roux.
Add in the cooked green beans, tossing and coating well. Top with the remaining fried onions.
Place skillet in the oven and bake for 15 minutes until bubbbly and lightly browned on top. (make sure your skillet it oven safe, otherwise transfer to a casserole dish)
Remove from oven, serve and enjoy!
Store leftovers in the refrigerator for up to 3-4 days.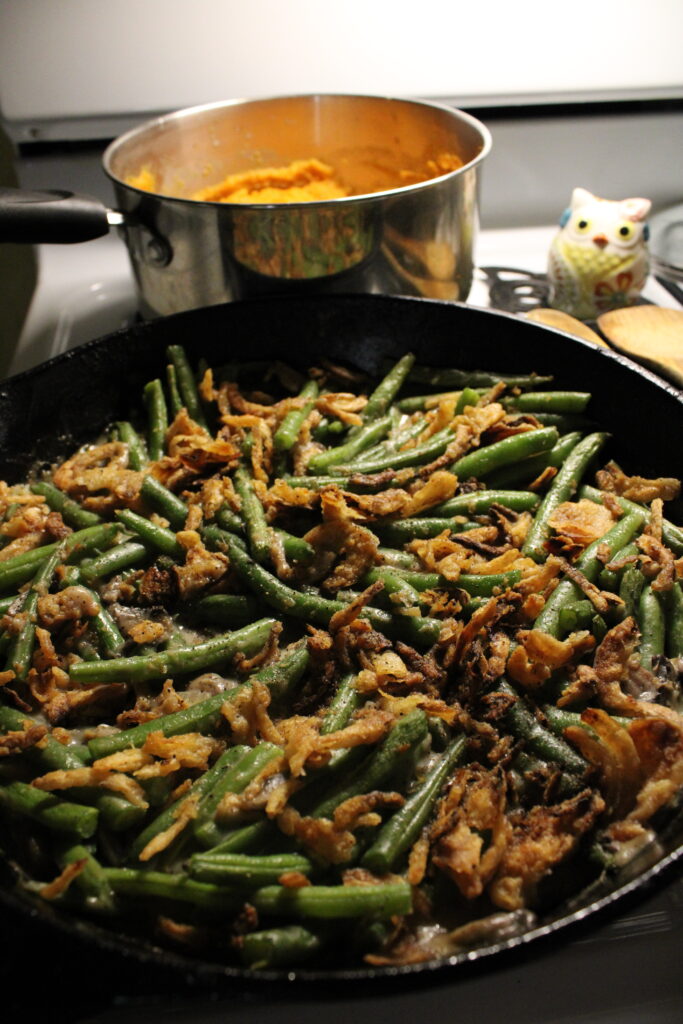 More Deliciousness
If you're looking for even more tasty recipes, keep browsing around Hearty At Home! And don't forget to share your favorite recipes with your friends, family, and loved ones.
For instance, if you find a recipe you like, pin it to your dinner inspiration board!
We share our recipes and recipe videos on Pinterest, Yummly, Youtube, Vimeo, and Facebook.
---