Ethiopian-Spiced Lentil Vegetable Platter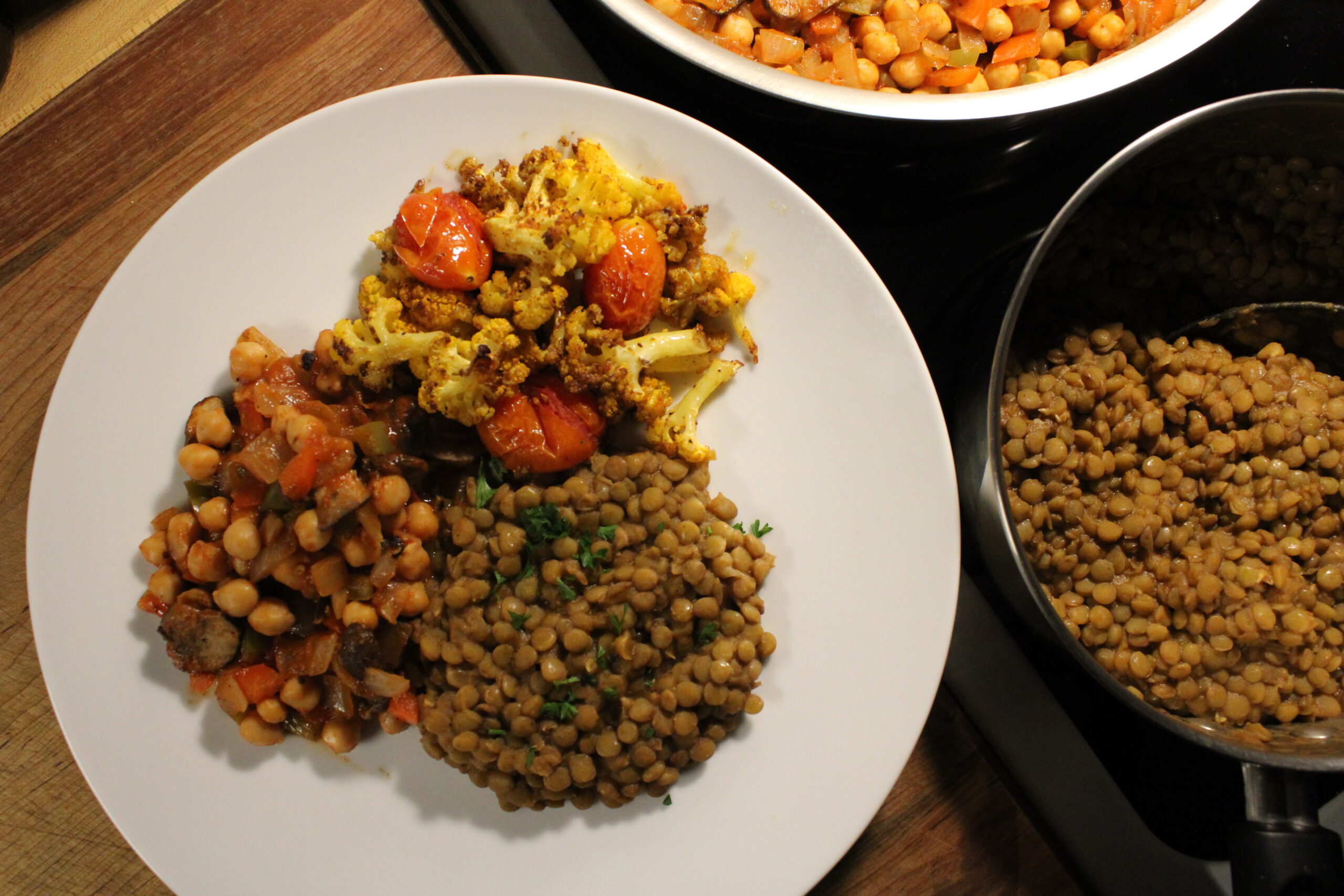 Ethiopian-Spiced Lentil Vegetable Platter with roasted cauliflower & tomatoes, sautéed mixed vegetables with chickpeas, and creamy, spicy lentils. This well-balanced dish is rich in flavor, aromatics, and spice.
We tried our hands at making Berbere using Holy Cow Vegan's spice blend recipe, and used that in this recipe, but you can try purchasing some if you live near any international food markets or see what vendors at your local markets may have.
Ingredients
Ethiopian-Spiced Lentil
1 1/2 cup lentils, washed
1 can lite coconut milk*
1/4 cup water
1 vegetable bouillon cube
1 oz. tomato sauce
1/2 tsp white pepper
1 tsp berbere spice
For a low-fat option you can substitute the coconut milk for 2 cups vegetable broth
Roasted Cauliflower
10 oz cherry tomatoes
1 head cauliflower, chopped
1 Tbs olive oil
1 tsp berbere spice
1/2 tsp salt & black pepper
Mixed Vegetables & Chickpeas
1/2 yellow onion, diced
4-5 mushrooms, sliced
1/e bell pepper, diced
1 garlic clove, minced
1 can chickpeas, drained & rinsed
Remaining 7 oz. tomato sauce
1 tsp berbere spice
1/2 tsp paprika
1 tsp ground ginger
Directions
Preheat the oven to 400º F.
In a mixing bowl, combine the cauliflower ingredients and toss them evenly.
Spread the cauliflower mix onto a roasting pan and place in the oven. Bake for 25-30 minutes.
Meanwhile, prepare the lentils and mixed vegetables.
Set heat to medium-high in a medium stovetop pot and add a touch of oil.
Stir in the lentils for 2 minutes, then add the coconut milk, vegetable bouillon, tomato sauce, and seasoning.
Bring to a boil, then cover with a lid, reduce heat to low, and simmer for 20-30 minutes or until the liquid is absorbed.
Then, in a large skillet, set heat to medium-high. Once hot, add a drizzle of olive oil to coat the pan's bottom.
Begin sautéeing the onion and garlic, stirring for 5 minutes.
Then, add the bell pepper and mushroom. Stir for another 5-7 minutes.
Next, add the chickpeas and seasoning to the skillet and stir for 5 minutes before adding the tomato sauce. Reduce heat to low, cover and simmer until the lentils and roasted cauliflower are done.
Serve the lentils with the cauliflower and veggie mix, and enjoy!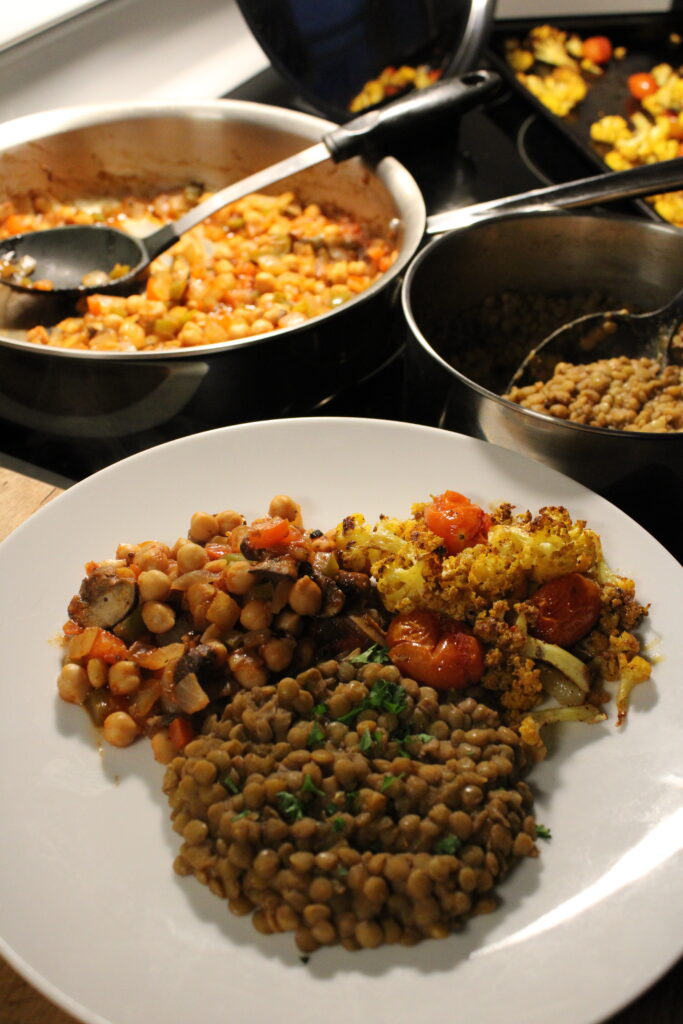 More Deliciousness
If you're looking for even more tasty recipes, keep browsing around Hearty At Home! And don't forget to share your favorite recipes with your friends, family, and loved ones.
For instance, if you find a recipe you like, pin it to your dinner inspiration board!
We share our recipes and recipe videos on Pinterest, Yummly, Youtube, Vimeo, and Facebook
---