Dairy-Free Chocolate Orange-Spice Cake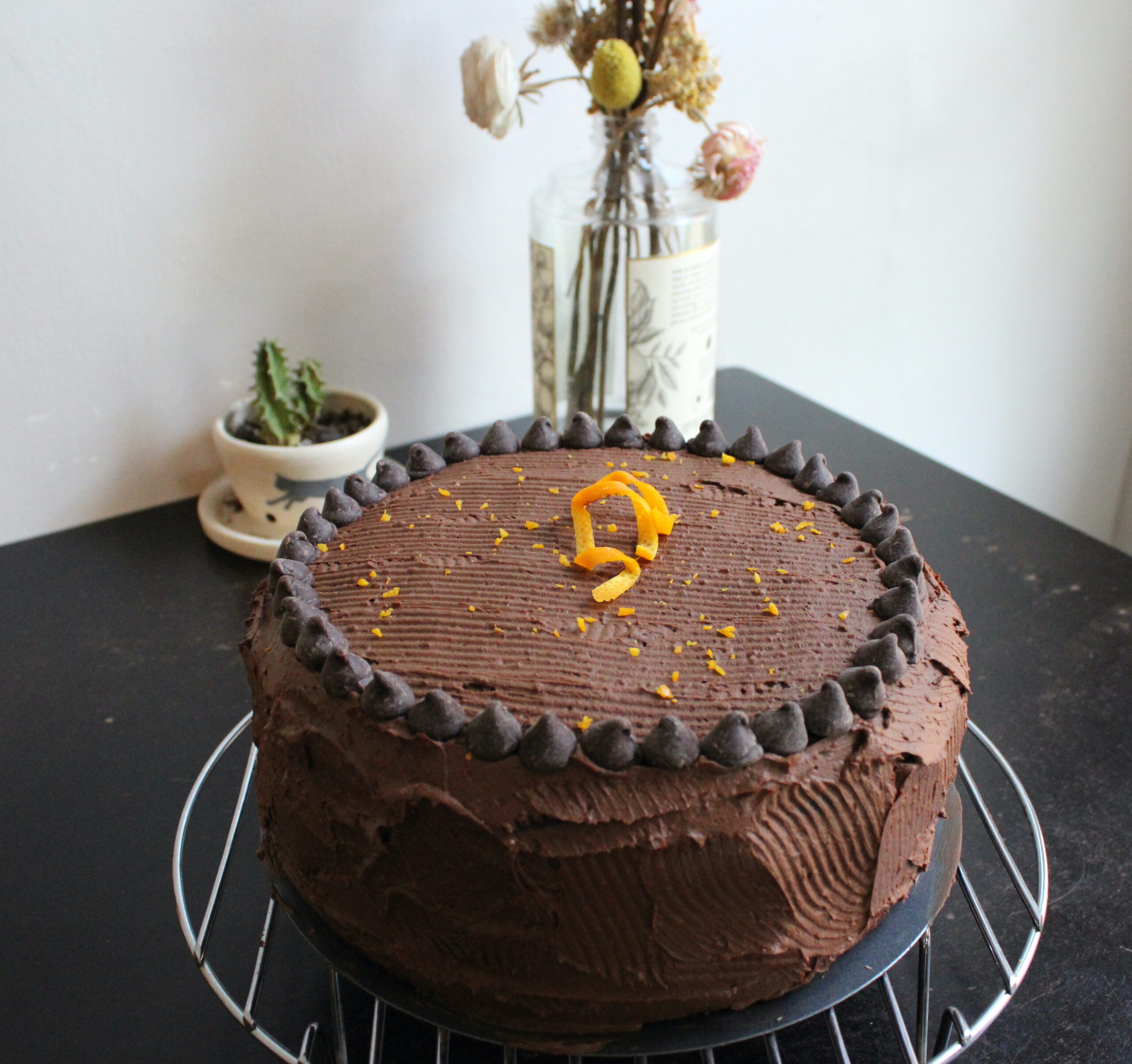 Dairy-Free Chocolate Orange-Spice Cake is a delicious and rich chocolate cake with a hint of spice and orange essence. This lightly-sweetened, dairy-free cake aims to please all crowds!
Ingredients
Dairy-Free Chocolate Cake Batter
2 cups non-dairy milk
2/3 cup coconut or olive oil
2 tsp orange juice
3/4 cup sugar
2 tsp apple cider vinegar
1 cup unsweetened cocoa powder
2 heaping cups of unbleached, all-purpose flour (or gluten-free flour)
2 tsp ground ginger
1 tsp five spice
1/4 tsp salt
2 tsp baking soda
1 tsp baking powder
Chocolate Orange-Spice Cream Cheese Frosting
1/4 cup smart balance, softened
1 tsp fresh orange juice
Zest of one orange (plus extra for decorating)
1 tsp ground ginger
1/2 tsp five spice
3/4 cup unsweetened cocoa powder
3/4 cup powdered sugar
Non-dairy chocolate chips (for topping)
Directions
Preheat the oven to 350ºF and prepare two 8-inch round cake pans by spraying with a nonstick cooking spray or lightly rubbing with a dash of olive oil and a paper towel.
Whisk together the flour, sugar, baking powder, baking soda, and spices in a large mixing bowl.
Create a well in the center, then add the non-dairy milk, oil, apple cider vinegar, and orange juice.
Gradually cream together all ingredients, ensuring the batter is smooth, creamy, and lump-free. Taste and adjust sweetness as desired.
Divide the batter evenly between your two baking pans and place in the oven.
Bake the cakes for 25-30 minutes or until the center of your cake comes out clean when pricked with a toothpick.
Preparing the frosting
While the cake is baking, combine softened smart balance and vegan cream cheese in a mixing bowl.
Use a mixer to cream together until fluffy. Then, mix in the cocoa powder, spices, zest, and orange juice. Add half of the powdered sugar and cream ingredients together until smooth.
Taste and add more powdered sugar as desired. Frosting should be smooth and creamy.
Place frosting in the fridge.
Assembling the cake
Allow the cake to cool completely before frosting.
Once the cake has, add a thick layer of cream cheese frosting between the top and bottom layers for a 2-layer cake.
Then, use a butter knife to apply the frosting on the top and sides of the cake.
Decorate the cake with chocolate chips and orange zest.
Serve and enjoy!
For storage, keep it covered in the refrigerator for up to 5-7 days. If you have excess frosting, you may add that to the cut side of the cake to retain its moisture and freshness.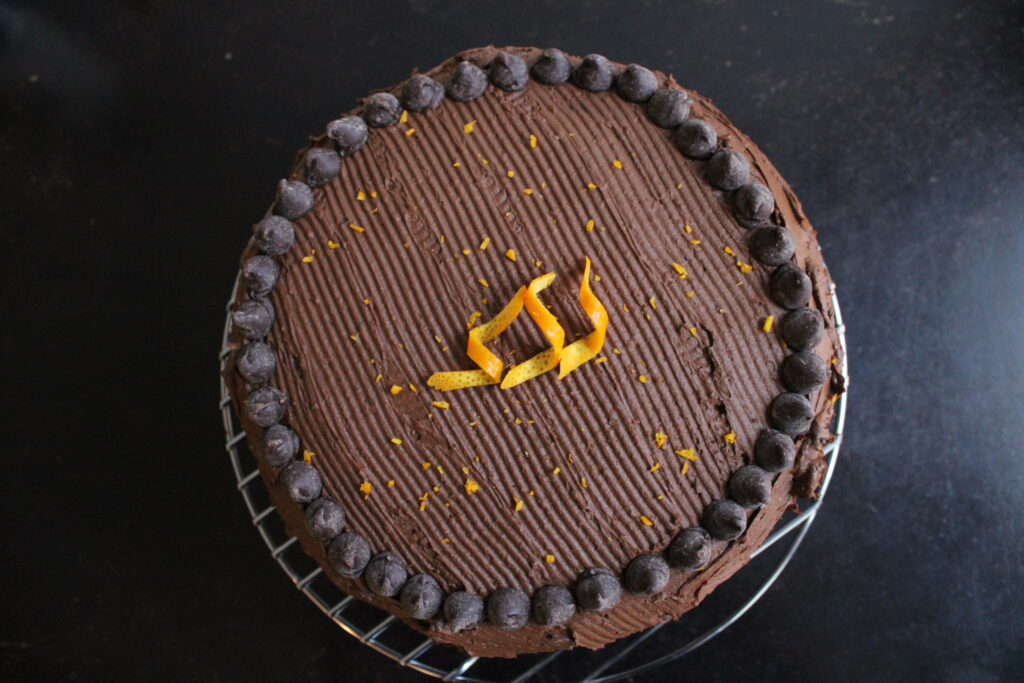 More Deliciousness
If you're looking for even more tasty recipes, keep browsing around Hearty At Home! And don't forget to share your favorite recipes with your friends, family, and loved ones.
For instance, if you find a recipe you like, pin it to your dinner inspiration board!
We share our recipes and recipe videos on Pinterest, Yummly, Youtube, Vimeo, and Facebook
---