Chipotle Ramen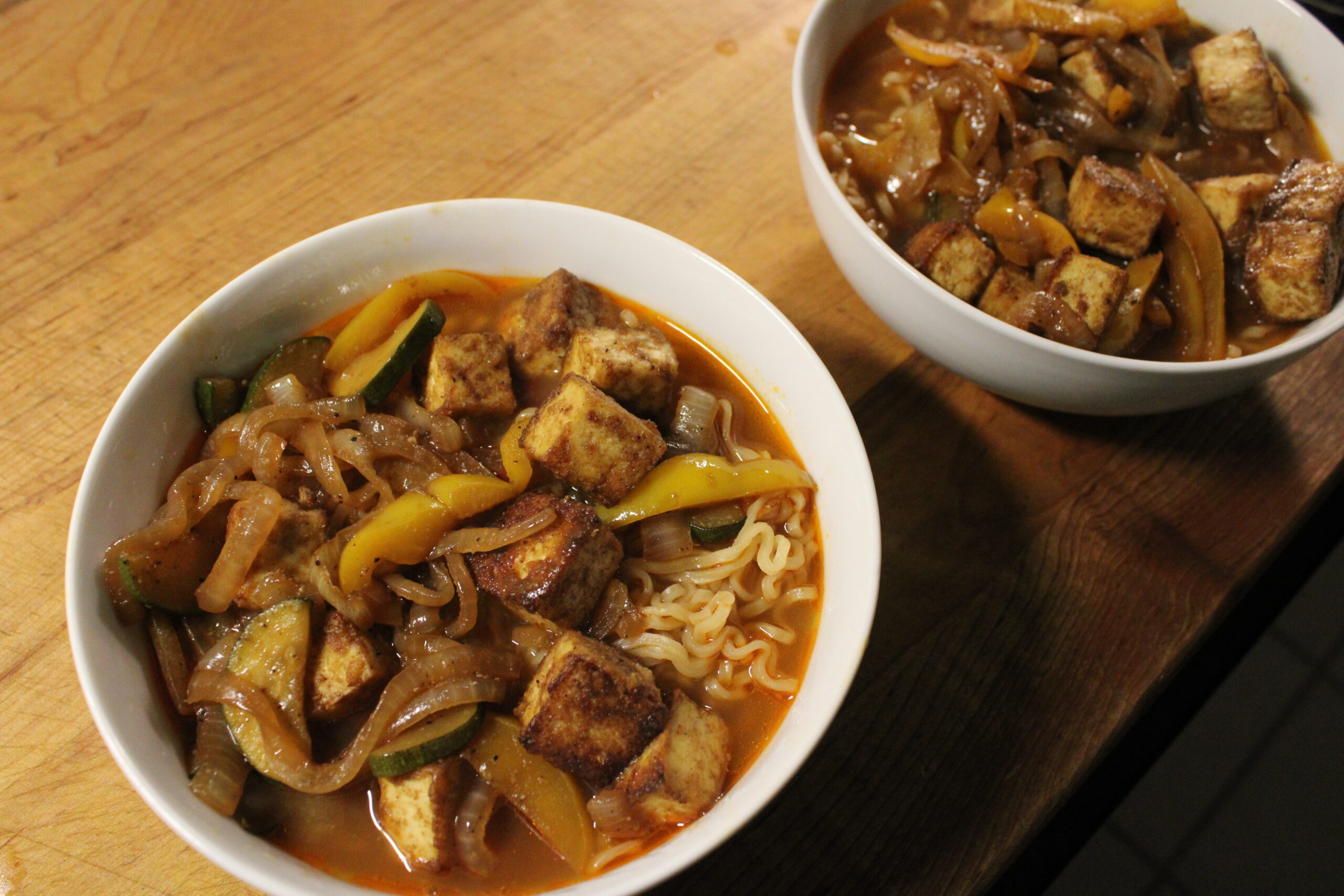 Chipotle Ramen is a spicy and easy dish to prepare! Dress up this ramen with your preferred vegetables and protein and control the spice level to your preference. This low-budget meal is quick to make and absolutely delicious! Chipotles may reduce the presence of cholesterol and triglycerides. Capsaicin in chipotle peppers widens and relaxes blood vessels, which can reduce blood pressure.
Ingredients
Serves: 2-3 Time: 35 minutes
Chipotle Ramen
2 packs instant ramen (seasoning packets removed)
4 cups vegetable broth
1-2 chipotle peppers in adobo sauce, chopped
1/2 yellow onion, thinly sliced
1/2 bell pepper, thinly sliced
1 small yellow squash or zucchini, thinly sliced
1 Tbs sesame oil
2 scallions, chopped
1/2 pack of extra-firm tofu, pressed and cubed*
1 Tbs corn starch
2 Tbs soy sauce
1/2 tsp Garlic powder
1 tsp Black pepper
1/2 tsp ground ginger
1/4 tsp Cumin
Rice vinegar
Optional toppings: lime juice chopped cilantro
*Substitute tofu for preferred protein. See our Guide to Stir Fry for alternatives
Directions
Preheat the oven to 400ºF and prepare your tofu (see pressing instructions).
In a large mixing bowl, combine the corn starch, soy sauce, and cumin for the tofu and stir together with a rubber spatula.
Carefully fold the drained tofu cubes into the bowl, evenly coating with the mixture.
Transfer the tofu to a lightly greased baking sheet and roast in the oven for about 25 minutes. You may flip halfway through to get an even crisp on both sides. Don't be discouraged if the tofu sticks to the pan, it will also roast fine if it isn't flipped.
Then, prepare the remaining vegetables.
In a medium pot, begin bringing the vegetable broth to a low boil and cook with the chipotle pepper, chopped scallions, and ginger.
In a medium skillet, set heat to medium-high. Once hot, begin sautéeing the onion, bell pepper, and squash.
Lightly season with black pepper, cumin, garlic, and ginger. Cook for about 7-10 minutes or until onions are translucent and vegetables are lightly tender. Deglaze the pan with a splash of rice vinegar.
Once the broth is boiling, cook the ramen noodles for about 5 minutes or until done.
Assemble the ramen bowls with noodles, broth, vegetables, and tofu.
Serve with a squeeze of lime juice and top with cilantro.
Enjoy!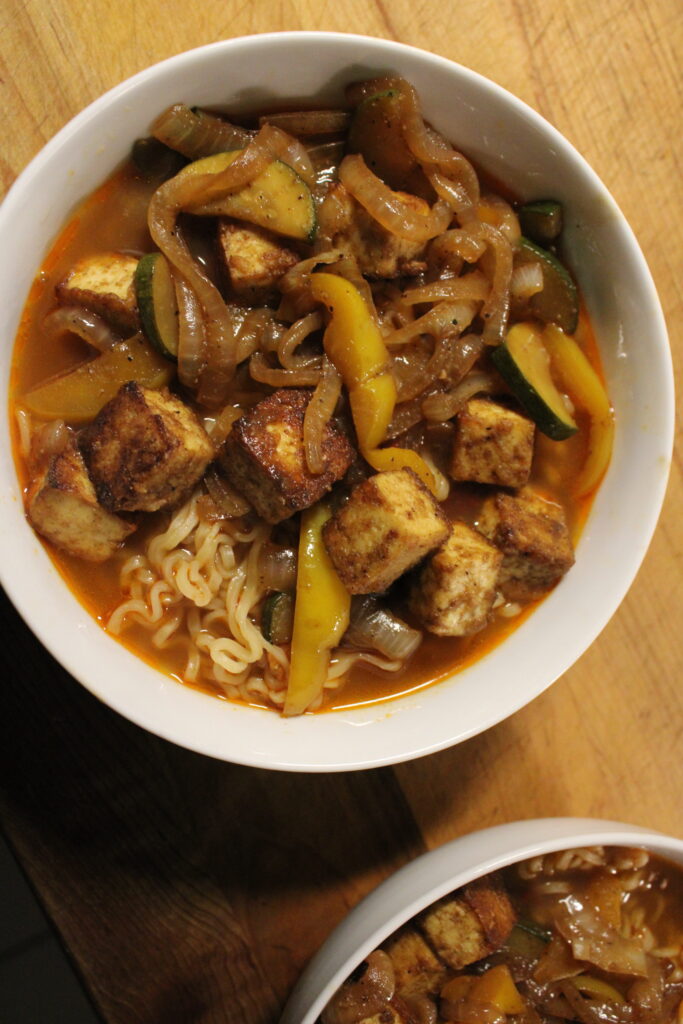 More Deliciousness
If you're looking for even more tasty recipes, keep browsing around Hearty At Home! And don't forget to share your favorite recipes with your friends, family, and loved ones.
For instance, if you find a recipe you like, pin it to your dinner inspiration board!
We share our recipes and recipe videos on Pinterest, Yummly, Youtube, Vimeo, and Facebook
---
---