An Easy Guide to Stir Fry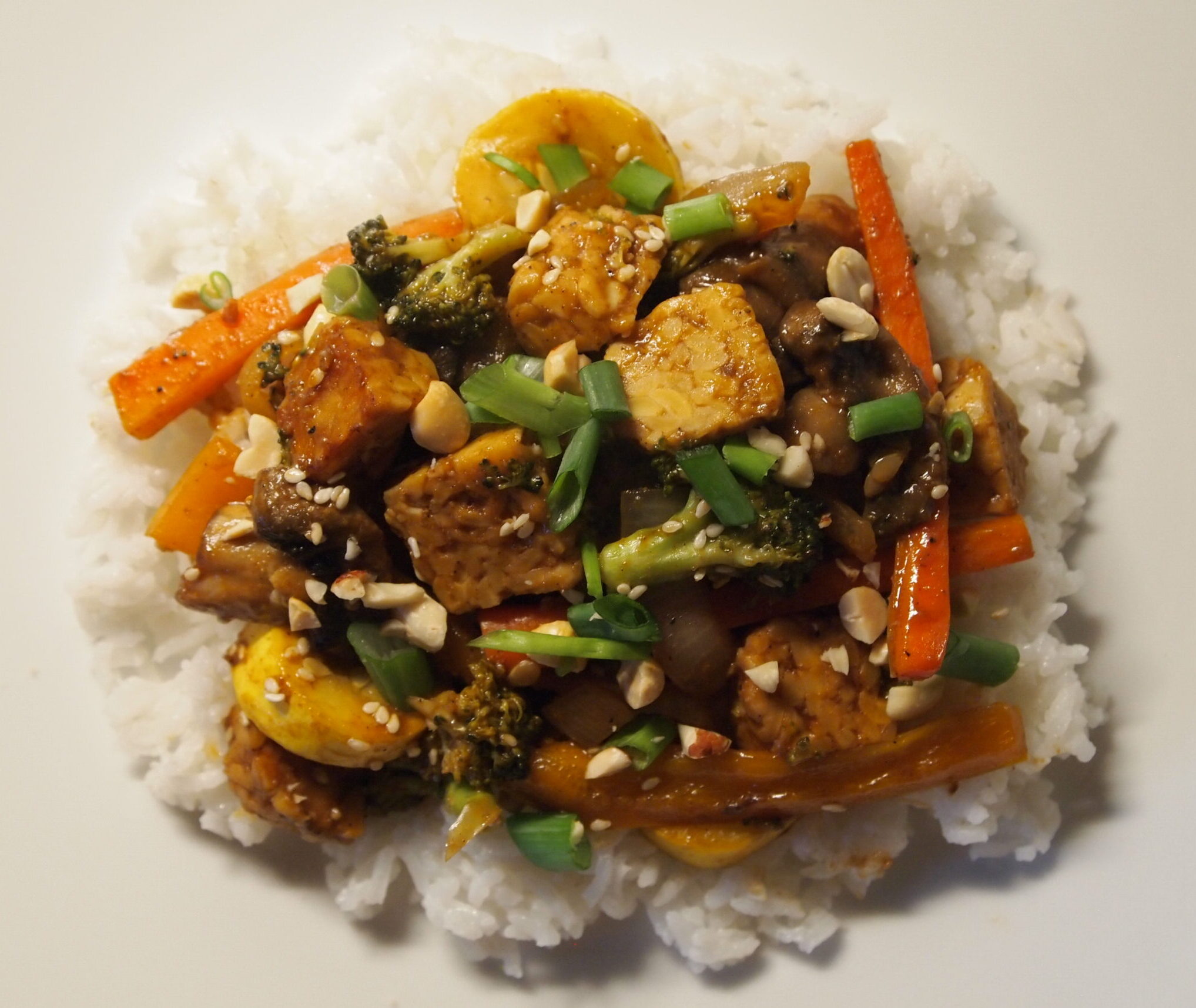 Cooking can be overwhelming with all of the planning, grocery shopping, and then making time at the end of the day. But our Easy Guide to Stir Fry helps make dinner a breeze! Stir fry is delicious, quick to make, and you can whip up a variety of combinations to keep things interesting.
Follow along this guide to find your favorite stir fry combinations!
Hearty At Home Cooking Tips
An Easy Guide to Stir Fry
Protein
Choose up to 1 pound for your meal's protein
| | | |
| --- | --- | --- |
| Meat | Seafood | Vegetarian/Vegan |
| *Chicken thighs or breasts, boneless, skinless (cubed) | Shrimp (rinsed, dry) | Tofu, extra firm (dried, pressed, cubed) |
| *Pork tenderloin (cubed) | Squid or calamari (sliced) | Edamame |
| *Flank or skirt steak (sliced against the grain) | Tilapia, Salmon (cubed or sliced) | Seitan or Tempeh (cubed) |
*If you are choosing meat, prepare ahead of time by seasoning and tenderizing with salt and pepper
Aromatics
Aromatics are optional but highly recommended for their flavor, choose up to 1 Tbs
| | | |
| --- | --- | --- |
| Garlic (minced) | | Shallots (thinly sliced) |
| Green onions (chopped) | | Ginger (peeled, minced) |
| Thai basil (chopped, garnish) | | Cilantro (minced, garnish) |
Vegetables
You can mix and match how every many vegetables you want, use up to 4 cups total of veggies
| | |
| --- | --- |
| Onions (thinly sliced) | Bok Choy (chopped) |
| Bell Peppers (thinly Sliced) | Carrots (thinly sliced) |
| Celery (small dice) | Mushrooms (White, Bella, or Shiitake) |
| Broccoli/Cauliflower (chopped) | Cabbage (any kind) |
| Bean Sprouts | Chinese Eggplants |
| Sugar Snap or Snow Peas | Water chestnuts (drained, sliced) |
| Zucchini or Yellow Squash | Frozen Peas or Corn |
| Tomatoes (diced) | Baby Corn (drained, rinsed) |
| Kale (chopped) | Baby Spinach (chopped) |
| Green Beans (small chop) | Asparagus (thick ends trimmed, chopped) |
Stir-Fry Sauce
Choose one kind of sauce to cook with your stir-fry and mix together in a bowl or measuring cup
Basic Sauce
Garlic/Black Pepper
Ginger/Orange
3 cloves garlic, minced
1 Tbs rice vinegar
1/2 cup water or stock
3 Tbs soy sauce or tamari
1 Tbs brown sugar
1 1/2 Tbs cornstarch
3 cloves garlic, minced
1 1/2 tsp black pepper
3 Tbs soy sauce or tamari
2 tsp rice vinegar
2 tsp brown sugar
1/2 cup water or stock
1 Tbs cornstarch
1 Tbs fresh ginger, peeled & minced
2 tsp grated orange peel
1/2 cup orange juice
3 Tbs soy sauce or tamari
1 Tbs rice vinegar
1 1/2 Tbs cornstarch
Try our Tofu Stir Fry with Peanut Sauce
Gluten-Free Garlic/Ginger
Teriyaki Sauce
Sweet & Sour
2 Tbs tamari
1/2 cup vegetable stock or water
2 Tbs corn starch
1 Tbs agave or brown sugar
1 tsp sesame seeds
2 tsp rice vinegar
1 Tbs garlic and ginger, minced
1 cup stock or water
3 Tbs brown sugar
1/4 cup soy sauce
1 Tbs honey
1 clove garlic, minced
1/2 tsp ground ginger
2 Tbs cornstarch
1/4 cup cold water
1 Tbs soy sauce or tamari
1 Tbs rice vinegar
2 Tbs tomato sauce or ketchup
1 Tbs brown sugar or agave
1/3 cup water or stock
2 Tbs cornstarch
Preparation
To get a headstart, you can save time by preparing your vegetables and proteins ahead of time and storing them in airtight containers in the fridge the day before cooking. You can also prepare your sauce and seal them in airtight containers stored in the fridge.
However, save your aromatics for cooking time.
And finally, if you're serving your stir-fry with rice, you can use leftover rice or cook your rice the day before and store in the fridge. Plus, leftover rice makes for the best fried rice!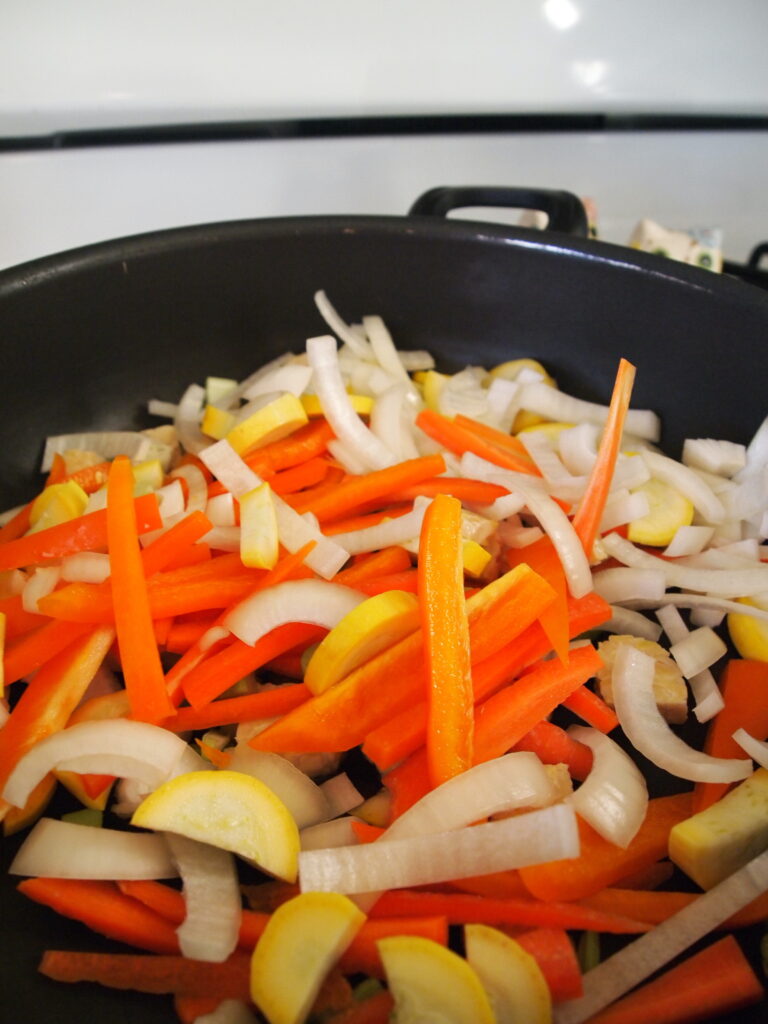 Cooking
After you've prepared your protein, sauce, and vegetables – being sure to chop, marinade, and mix ahead of time. For cooking, we recommend using sesame oil, but vegetable or olive oil will also work just fine!
To start, in a wok or large skillet, heat 2 Tbs of your selected oil on medium-high heat. Begin cooking your protein. Sauté until they are thoroughly cooked through and lightly golden (take temperature if you're using meat).
Set aside your protein once cooked.
Wipe your skillet with a paper towel and reapply oil as needed.
On medium-high heat, cook your aromatics for 1-2 minutes until their scent is released. Then begin sautéing your vegetables.
Cook vegetables for about 10 minutes or until tender.
Next, push the vegetables to the side of the pan, creating an empty center.
After, pour in your selected stir-fry sauce and allow it to sit until it darkens, bubbles, and thickens. Combine into your vegetables.
Then, add your protein back to the pan and stir well into the sauce.
Remove from heat once everything is tender.
Optional toppings
To conclude, we recommend sliced jalapeños, chopped dry roasted peanuts, lime juice, or minced cilantro, or Thai basil to top your stir-fry with. You can also use fresh sesame seeds or sriracha.
Serve with rice, rice noodles, or even with ramen.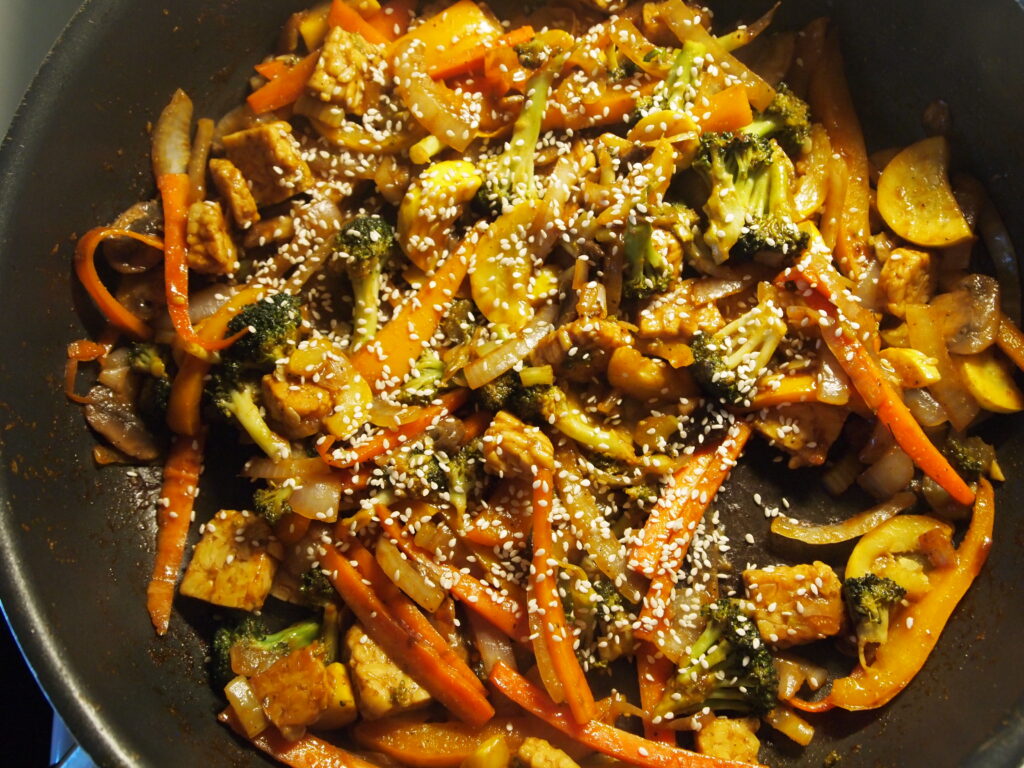 More Deliciousness
Finally, if you're looking for even more tasty recipes, keep browsing around Hearty At Home! And don't forget to share these recipes with your friends, family, and loved ones.
For instance, if you find a recipe you like, pin it to your dinner inspiration board!
We share our recipes and recipe videos on Pinterest, Yummly, Youtube, Vimeo, and Facebook.
---