Chana Dal Spinach Curry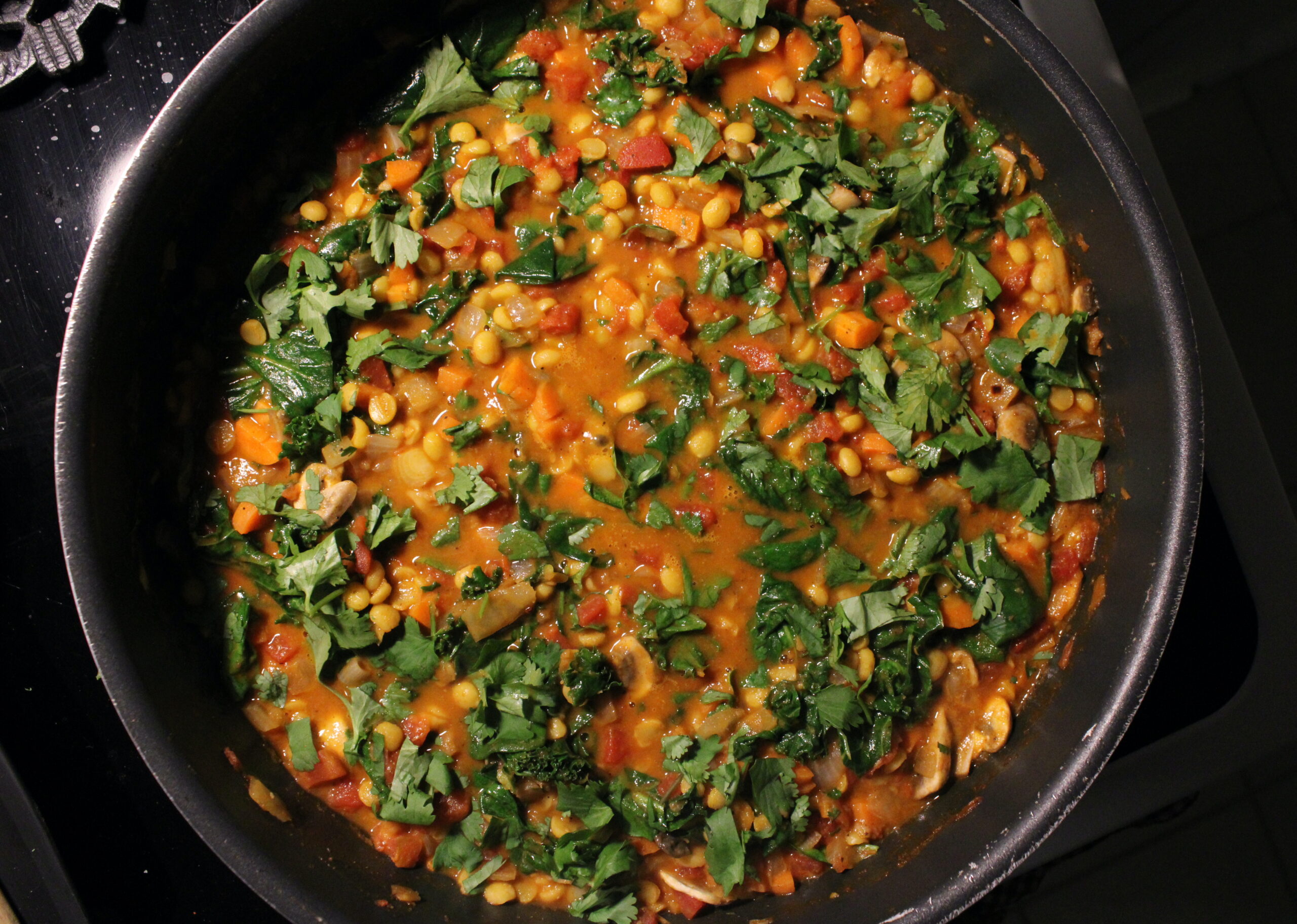 Chana Dal Spinach Curry over rice makes for a delicious, hearty, and lightly spicy dish that can be fairly easy to make with some preparation ahead of time.
Chana Dal is a Northern Indian dish made with split chickpeas. This dish can be made using a pressure cooker or instant pot, but you can also use a stovetop pot if you have the extra patience to thoroughly cook the split chickpeas.
If you don't have all of the spices for the simmer sauce, don't worry, you can get by with turmeric, cumin, and coriander, or using a storebought simmer sauce.
Ingredients
Chana Dal Spinach Curry
Cooking the Split Chickpeas
1 cup chana dal (split chickpeas)
2 1/2 cup water
1/4 tsp turmeric powder
Curry Ingredients
1/2 cup yellow onion, finely diced
3 garlic cloves, peeled & minced
2 large carrots, diced
1 can diced tomatoes
1/2 cup sliced mushrooms
2 cups spinach, stems removed
1 cup kale
Olive oil
Simmer Sauce*
13.5 oz. can lite coconut milk
1 tsp ground cumin
1 tsp fresh minced ginger
1/2 tsp chopped green chilies
14 oz. can diced tomatoes
1/2 tsp garam masala
1/4 tsp turmeric powder
1/2 tsp red chili powder
1/2 tsp amchur powder (dry mango powder)
1 pinch asafortida (hing) or corn starch
1 tsp coriander powder
Salt to taste
*You can also use a storebought simmer sauce to make this a really easy recipe on a busy day
Directions
First, soak the dal in water for at least an hour or soak it in hot water for 30 minutes. 
Once the dal has soaked, drain and transfer to a pot with 2 1/2 cups of water and bring to a boil together with the turmeric.
After the dal has reached a boil, reduce heat to low and cover with a lid, simmer for 35-40 minutes or until the dal is softened.
Once you're ready to make your curry, prepare your remaining ingredients.
In a large skillet, set heat to high and add about 1 Tbs olive oil.
After the skillet is hot, begin sautéeing the onion and garlic. Cook together for about 5 minutes.
Reduce heat to medium and add the carrots. Stir for another 5-7 minutes.
Next, add the dal, mushrooms, and tomatoes.
Then, add the ingredients for your simmer sauce or a store-bought sauce.
Cover the skillet with a lid and bring it to a low boil. Reduce to heat to low and allow it to cook for about 10-15 minutes.
Once the veggies are cooked and tender, add in the spinach and kale, stirring together until wilted.
Serve over rice and enjoy!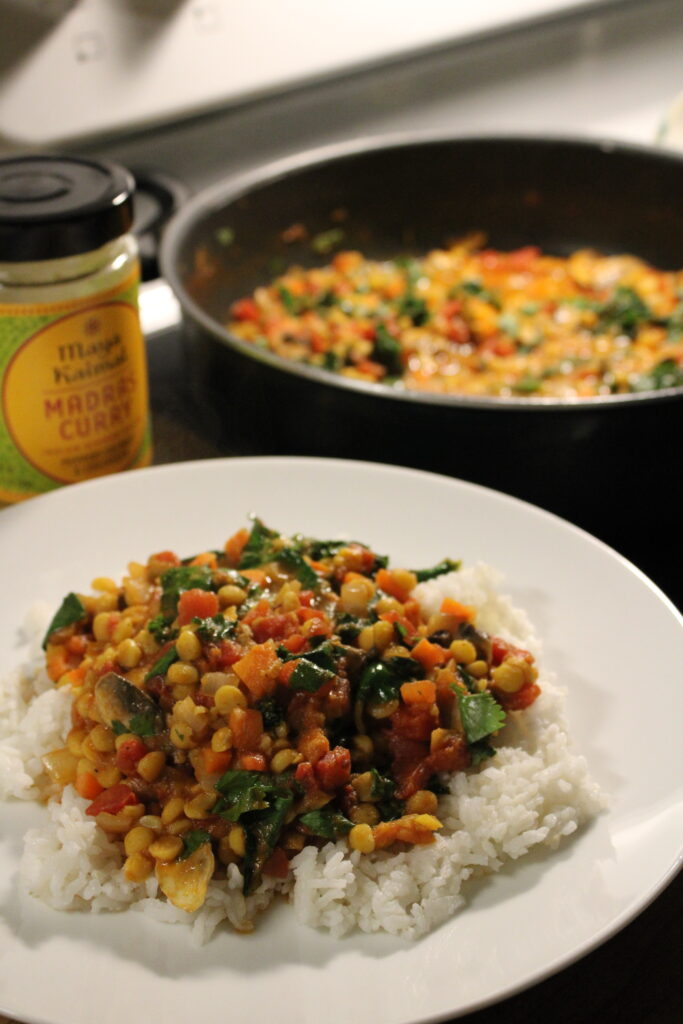 More Deliciousness
If you're looking for even more tasty recipes, keep browsing around Hearty At Home! And don't forget to share your favorite recipes with your friends, family, and loved ones.
For instance, if you find a recipe you like, pin it to your dinner inspiration board!
We share our recipes and recipe videos on Pinterest, Yummly, Youtube, Vimeo, and Facebook
---