Vegan Cinnamon Rolls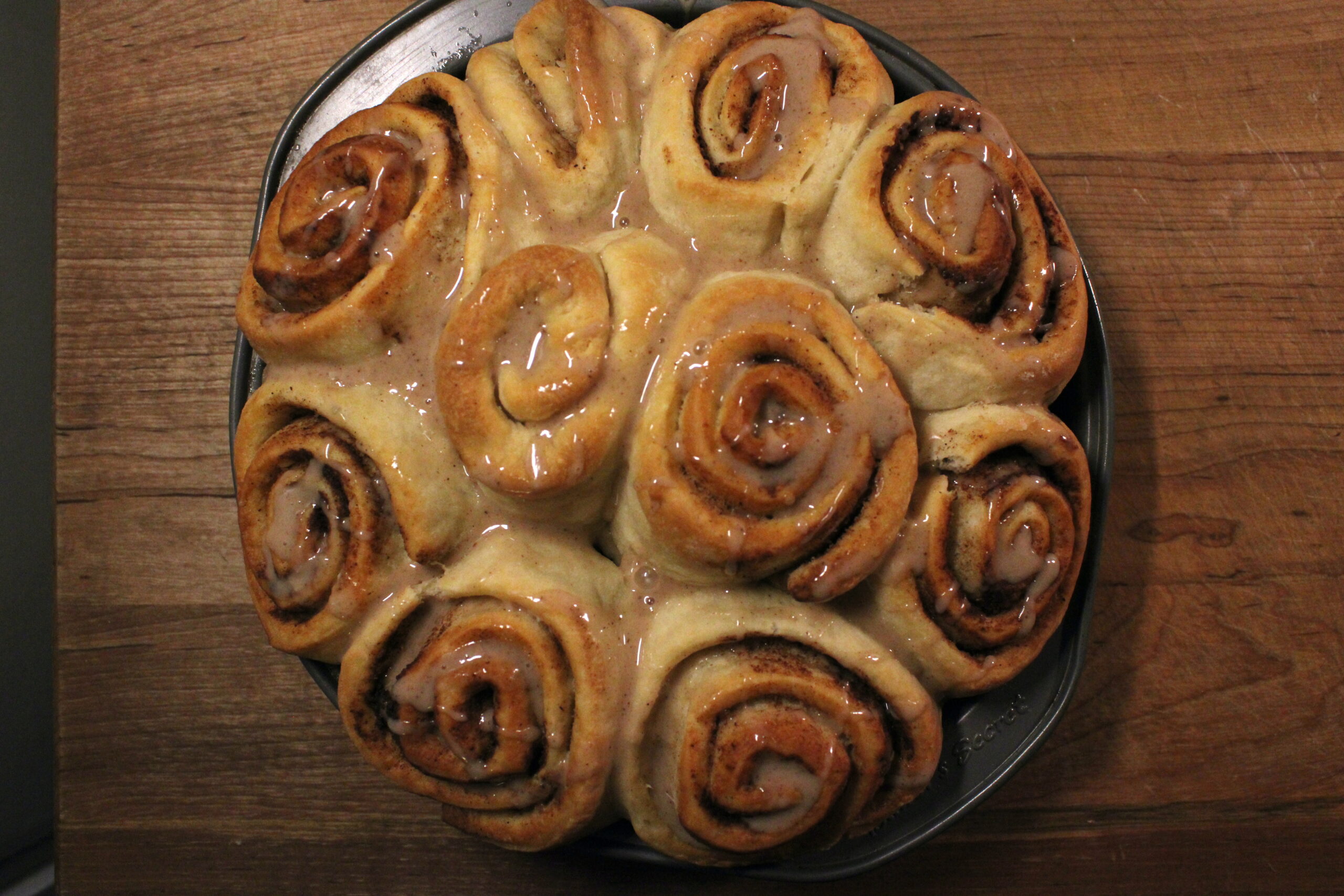 Vegan Cinnamon Rolls that are lightly sweet, easy to make, and perfect for sharing at a get-together for brunch or a holiday party. This is a great starter recipe for testing your baking skills as well!
Ingredients
Time: 1 hour 45 minutes Yield: 10 rolls
Vegan Cinnamon Rolls
Dough
3 Tbsp vegan non-dairy butter
1 pack of active dry yeast
1 cup unsweetened oatmilk
1 Tbs brown sugar
1/4 tsp salt
3 cups all-purpose flour
Filling
3 Tbsp vegan non-dairy butter, melted
1 heaping Tbs unsweetened applesauce
2 Tbs brown sugar
1 Tbs ground cinnamon
Icing Topping
2 Tbsp vegan butter* (such as Earth balance // melted)
ICING optional
Simple Powdered Sugar Glaze (see step 8)
Directions
To start the dough, heat the oat milk and vegan butter in a saucepan until warm and melted but never boiling. Remove from heat and allow it to cool to 110º F.
Transfer the butter-milk mix to a large mixing bowl and sprinkle in the active dry yeast. Allow it to rest and activate for 10 minutes.
Then, mix in the sugar and salt and stir.
Next, add 1/2 cup of flour at a time, folding in as you go with a rubber spatula until a sticky dough forms.
Once the dough is too thick to stir, transfer it to a lightly floured surface and knead by hand for one minute until it forms a loose ball.
Rinse out the mixing bowl, lightly coat it with a hint of olive oil, wiping it around the bowl with a paper towel.
Transfer the dough ball to the bowl, cover it with plastic wrap, and allow it to rest for 1 hour. The dough will have doubled in size when it's fully proofed.
Baking
When the dough is ready to roll, prepare an 8 x 8-inch square baking dish or a round pan of similar size by buttering it evenly.
In a small mixing bowl combine the melted vegan butter, applesauce, and brown sugar. Set aside.
On a lightly floured surface, roll the dough out into a thin 1/4-inch rectangle.
Brush the butter mix evenly over the entire rectangle and sprinkle the cinnamon over the butter completely.
Starting from the top, length-wise, tightly roll the dough up into a tube and position the seam to be at the bottom.
Using a serrated knife, cut the dough into about 1 1/2 – 2 inch sections, placing them in the middle of the baking dish, situating them next to each other going out from the middle. If there is extra room in the dish, don't worry. The additional proofing and baking will fill the space quickly.
Brush the tops with any leftover butter/sugar, and cinnamon.
Cover the dish with plastic wrap lightly and place it atop the oven. Allow it to proof for 10 minutes or while the oven preheats to 350ºF.
Once the oven is hot, bake the cinnamon rolls for 25-30 minutes or until the tops are slightly golden brown.
To create the icing topping, combine the powdered sugar, oat milk, cinnamon, and ginger. Allow the buns to cool completely before topping them with sugar.
Best served fresh but you may leave them out at room temperature for 2-3 days, warming them up in the microwave when enjoying again!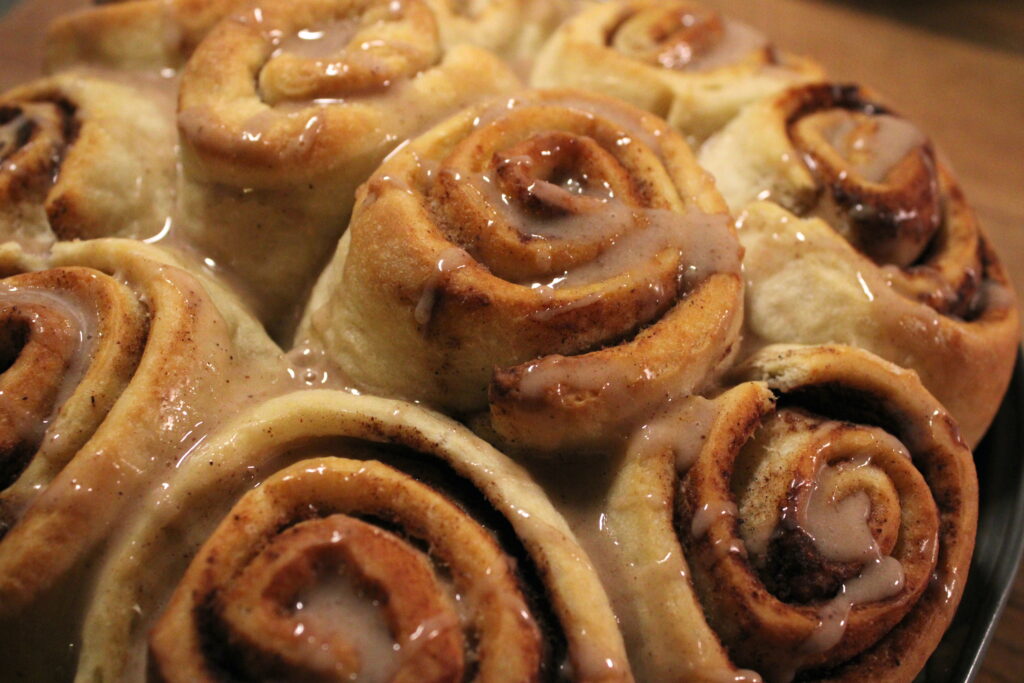 More Deliciousness
If you're looking for even more tasty recipes, keep browsing around Hearty At Home! And don't forget to share your favorite recipes with your friends, family, and loved ones.
For instance, if you find a recipe you like, pin it to your dinner inspiration board!
We share our recipes and recipe videos on Pinterest, Yummly, Youtube, Vimeo, and Facebook
---