Vegan Apple Pie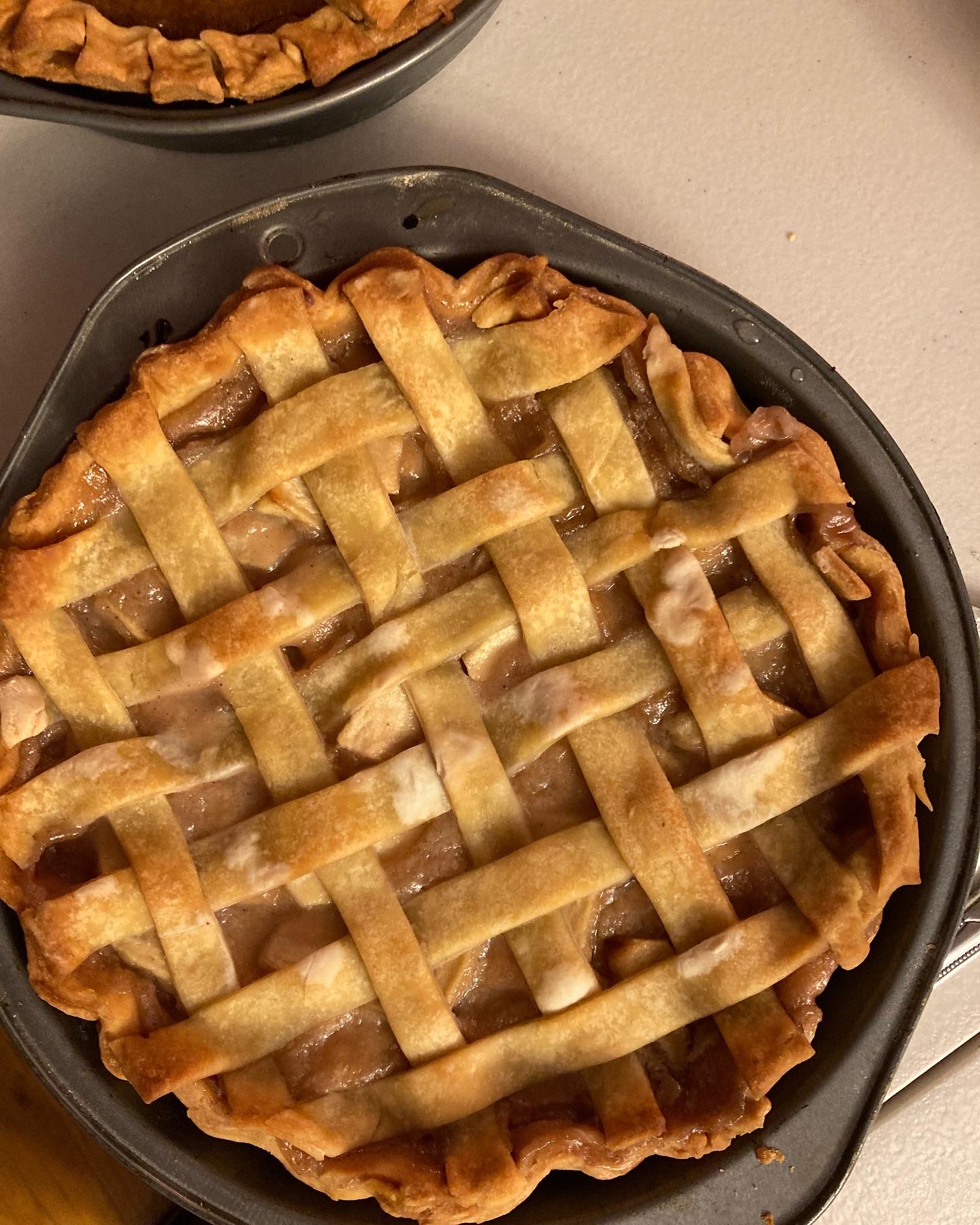 Vegan Apple Pie is a plant-based take on the classic pie. This dish is easier than it looks and is absolutely delicious. A hearty contender to any other traditional pie with a delightfully flaky crust and scrumptious filling. This is perfect for the fall and winter holiday seasons or in the summertime.
Ingredients
Vegan Apple Pie
Apple Pie Filling
1 cup vegan sour cream
2 Tbs flour
1/4 tsp salt
1 tsp vanilla extract
1/2 tsp cinnamon
1 Tbs vegan butter, melted
3 cups green apples, peeled & thinly sliced
1 Tbs fresh lemon juice
Pie Dough & Lattice Topping
1 Tbs melted vegan butter
1 Tbs non-dairy milk
1 Tbs brown sugar
For a lattice, roll out excess pie dough and cut even strips that are the length of your tin. Using parchment paper, you may arrange your lattice ahead of time and carefully transfer it onto the pie after the filling is complete.
Combine the butter, brown sugar, and milk in a small bowl to wash the strips with after they're layered onto the pie.
Crumb Topping
1 cup old-fashioned oats
2 Tbs melted vegan butter
1 Tbs brown sugar
1 tsp cinnamon
In a medium bowl, combine the crumb top ingredients and evenly top on the pie once filled.
Directions
Begin by following the steps for the Vegan Pie Crust
After your dough has chilled and is ready to roll out, begin preparing your apples and tossing them in a bowl with lemon juice to keep them fresh. Preheat the oven to 400ºF.
In a separate mixing bowl, combine the remaining ingredients for the apple pie filling.
Roll out your dough and place it in the pie tin, cut off any excess to re-roll if using a lattice topping, and reduce oven to 375ºF.
Blind bake your pie crust at 375ºF for about 10-15 minutes. After the crust has baked, bring the heat back up to 400ºF. Meanwhile, prepare your lattice or crumb topping (see instructions above)
Carefully layer the apples in a circular arrange from starting from the middle of the pie crust. Then, evenly pour the filling into the apples.
Top the pie with the topping of your choice.
Place the pie in the oven and bake at 400ºF for 15 minutes, then reduce the heat to 360ºF and bake for another 20-30 minutes or until the top and sides are a light golden color and the filling is bubbling.
Allow it to cool for 15-20 minutes before cutting, serve with a vegan whipped topping or ice cream, and enjoy!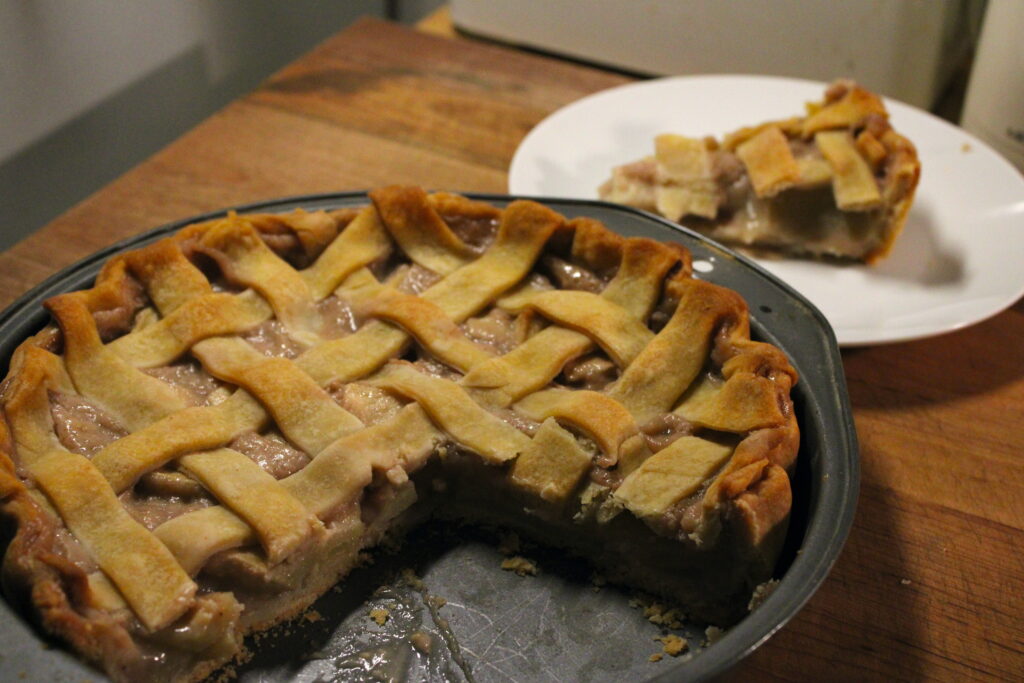 More Deliciousness
If you're looking for even more tasty recipes, keep browsing around Hearty At Home! And don't forget to share your favorite recipes with your friends, family, and loved ones.
For instance, if you find a recipe you like, pin it to your dinner inspiration board!
We share our recipes and recipe videos on Pinterest, Yummly, Youtube, Vimeo, and Facebook
---