Roasted Lentil Balsamic Bowl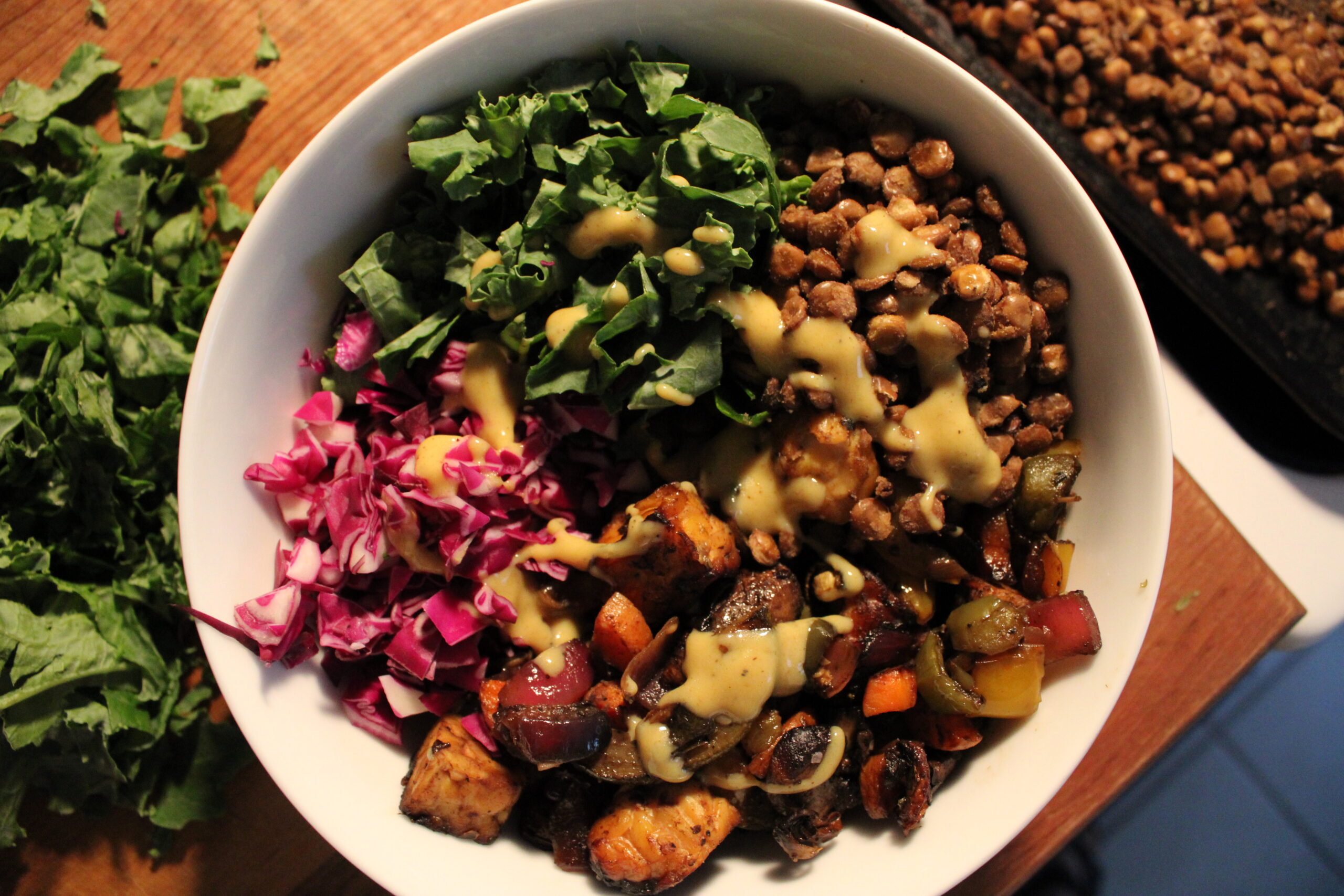 Roasted Lentil Balsamic Bowl, a delicious grain & greens bowl with toasted lentils and balsamic roasted veggies served over a bed of fresh greens. This dish is great to enjoy for dinner or meal prep earlier in the week to have for lunch. This dish can be served as a hot or cold grain bowl.
Ingredients
Serves: 4-5 Time: 55 minutes
Roasted Lentil Balsamic Bowl
1 can or cup of cooked brown lentils (if cooking lentils see note below)*
1 small red onion, diced
2 small zucchinis or yellow squash, diced
1 bell pepper, diced
1/2 cup mushrooms, sliced
1 package tempeh, cubed (optional)
Balsamic vinegar
Olive oil
Salt
Black pepper
Italian seasoning
Garlic powder
2 cups purple cabbage, chopped
2-3 cups kale, chopped
Optional topping: mustard vinaigrette or other dressing is desired
*If you are cooking your lentils, use 1 cup dry lentils & 2 cups of vegetable broth. Combine on the stove in a medium pot, bring to a boil, and cover with lid and reduce heat to low and allow them to simmer for about 25-30 minutes. Drain excess liquid before proceeding with step 6.
Directions
Preheat the oven to 400ºF
In a large bowl, combine the prepared onion, bell pepper, zucchini, mushrooms, and tempeh.
Mix in about 1 Tbs of olive oil and 2 Tbs of balsamic vinegar and season with a generous dash of salt, black pepper, italian seasoning, and garlic powder. Stir together until the vegetables are fully coated.
Transfer the vegetables to a roasting pan and place them in the oven, roast for about 35-45 minutes, checking on them and stirring halfway through.
Meanwhile, prepare your cabbage and kale & set them aside.
After your vegetables have been cooking for about 25-30 minutes, drain and lay out your lentils on a baking sheet. Lightly coat with a touch of olive oil, about 1/2 Tbs.
Place lentils in the oven and roast for the remainder of the time while your vegetables roast, flipping after about 10 minutes.
Remove lentils and roasted veggies from the oven.
Combine equal lentils, roasted veggies, chopped cabbage, and kale in a bowl for serving and top with the desired topping.
Serve & enjoy!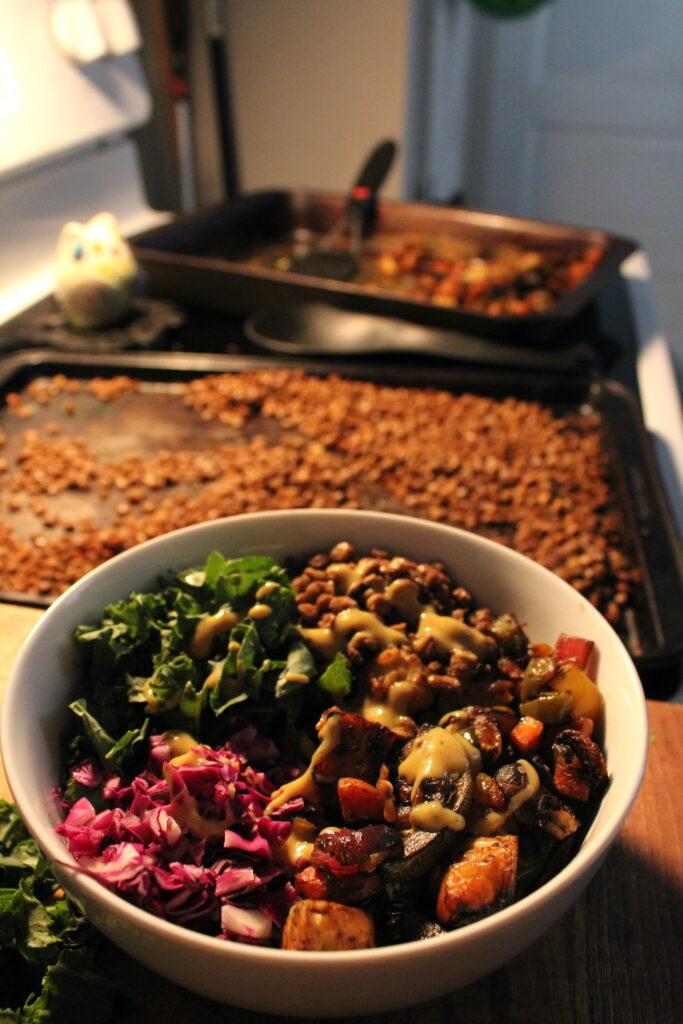 More Deliciousness
If you're looking for even more tasty recipes, keep browsing around Hearty At Home! And don't forget to share your favorite recipes with your friends, family, and loved ones.
For instance, if you find a recipe you like, pin it to your dinner inspiration board!
We share our recipes and recipe videos on Pinterest, Yummly, Youtube, Vimeo, and Facebook.
---