Grits & Green Beans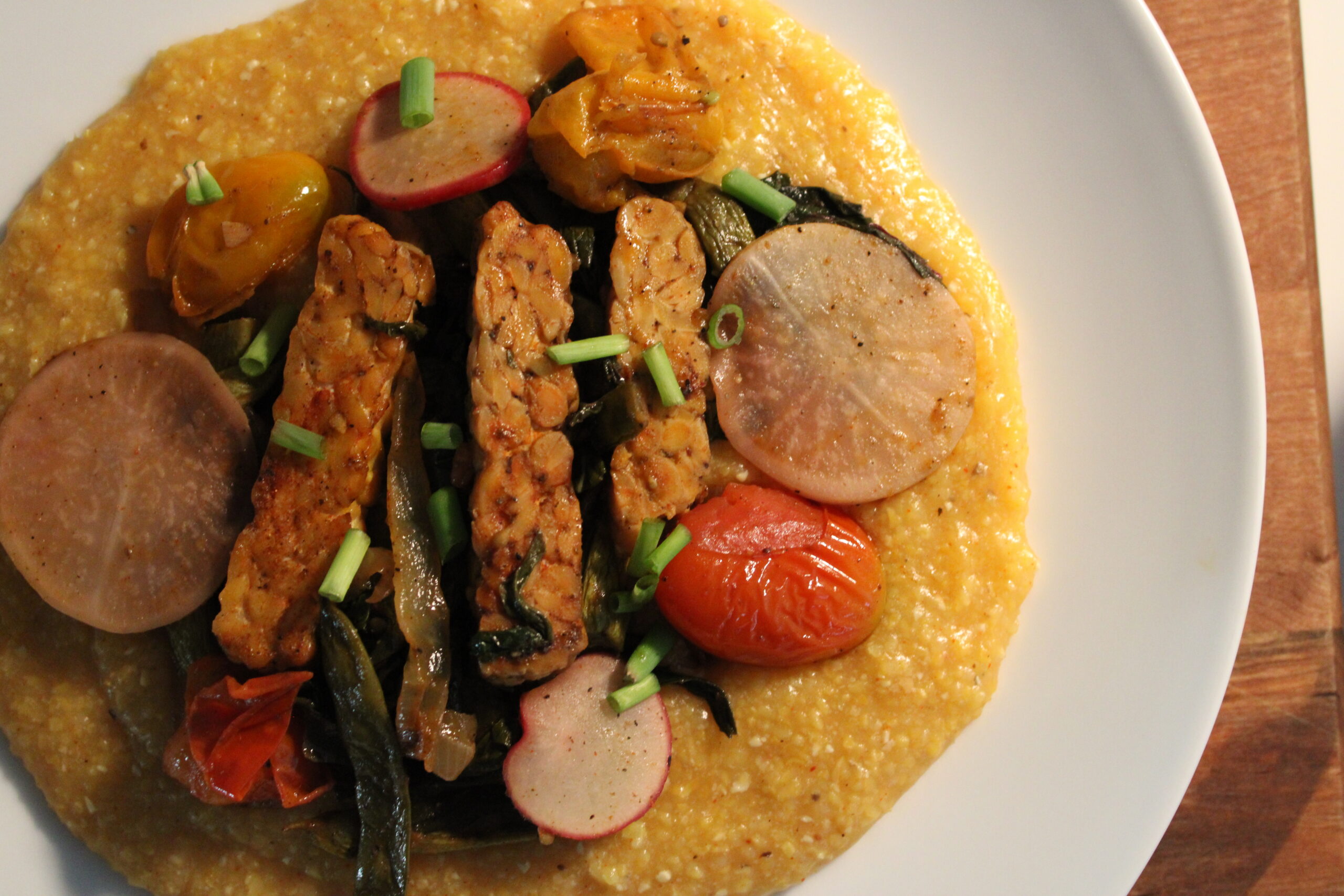 Grits & Green Beans make for a creamy, rich, and vegetable-dense entree to enjoy! This dish is perfect for using a variety of summer harvest vegetables such as squash, chard, and turnips, but try mixing and matching with your favorite vegetables.
Ingredients
Grits & Green Beans
1/2 lb green beans (we used a variety called 'rattlesnake' pole beans), stems removed & halved
1 small yellow onion, chopped
2/3 cup cherry tomatoes
1/2 package tempeh (optional)
1 large bunch rainbow chard, stems removed
3-4 garlic cloves, minced
2 small turnips
1-2 radishes
1 cup yellow grits
4 cups water or vegetable broth
Olive oil
Apple Cider Vinegar
Salt
Black Pepper
Paprika
Garlic Powder
Chili Powder
Ground Mustard
Ground Sage
Directions
Begin by preheating the oven to 400ºF and preparing your vegetables, setting the chard, garlic, turnips, and radishes aside.
Then, add the green beans, onion, cherry tomatoes, and tempeh to a roasting pan and mix in with 1 Tbs olive oil and apple cider vinegar, 1 tsp salt and black pepper, 2 tsp paprika, 1/2 tsp chili powder & ground mustard, and sage. Mix together and place in the oven, roast for about 35-40 minutes, checking on it and stirring halfway through.
Meanwhile, in a medium-large pot, add the vegetable broth or water. Add in a pinch of salt.
Once boiling, stir in the grits along with a dash of black pepper, paprika, and garlic powder. Mix together for 1-2 minutes, then reduce heat to low, cover with lid, and allow it to simmer for 20 minutes, stirring occassionally to ensure the grits aren't clumping together at the bottom.
Then, when your grits are nearly done, add a splash of oil to a medium skillet.
Once hot, add in the garlic and rainbow chard. Stir together for 5-7 minutes until chard lightly wilts. Then add the turnips, radishes, a dash of salt, black pepper, and ground mustard.
Cook together for about 12-15 minutes, adding a splash of apple cider vinegar to deglaze the pan towards the end.
Turn off the heat on the chard, and once the vegetables in the oven are done roasting, remove from the oven and combine with the rainbow chard mix.
Remove grits from heat once fully cooked* and serve together with vegetables and enjoy!
*For some creamy grits, add about 1 Tbs of non-dairy or dairy butter towards the end of cooking, we also like to add 1-2 Tbs of nutritional yeast and a generous dash of old bay seasoning.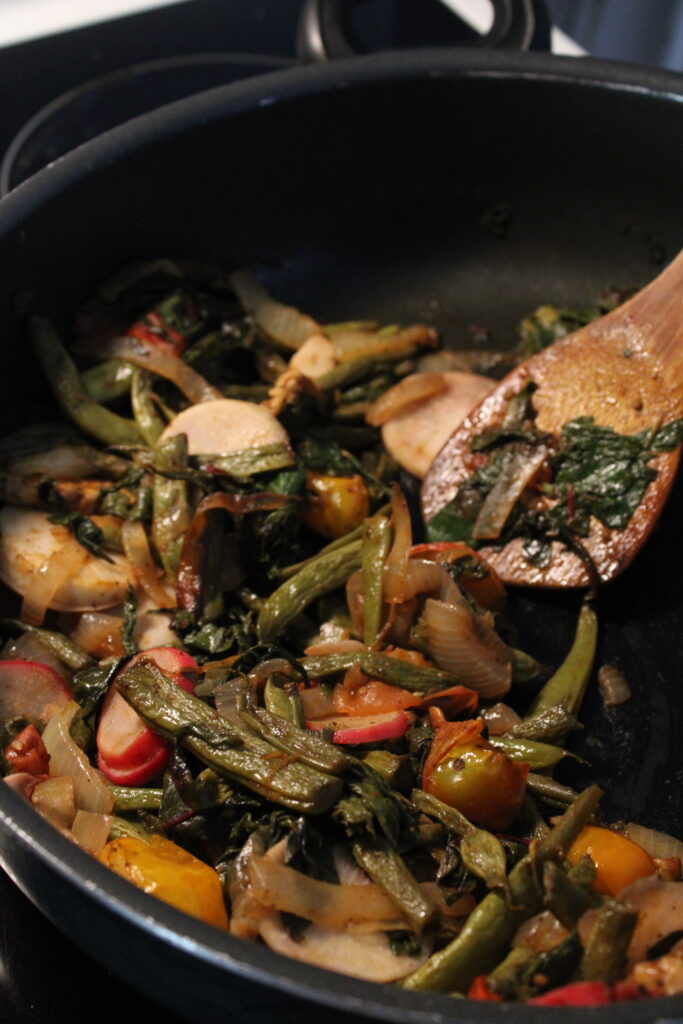 More Deliciousness
If you're looking for even more tasty recipes, keep browsing around Hearty At Home! And don't forget to share your favorite recipes with your friends, family, and loved ones.
For instance, if you find a recipe you like, pin it to your dinner inspiration board!
We share our recipes and recipe videos on Pinterest, Yummly, Youtube, Vimeo, and Facebook.
---