Pinto Fajita Rice Bowl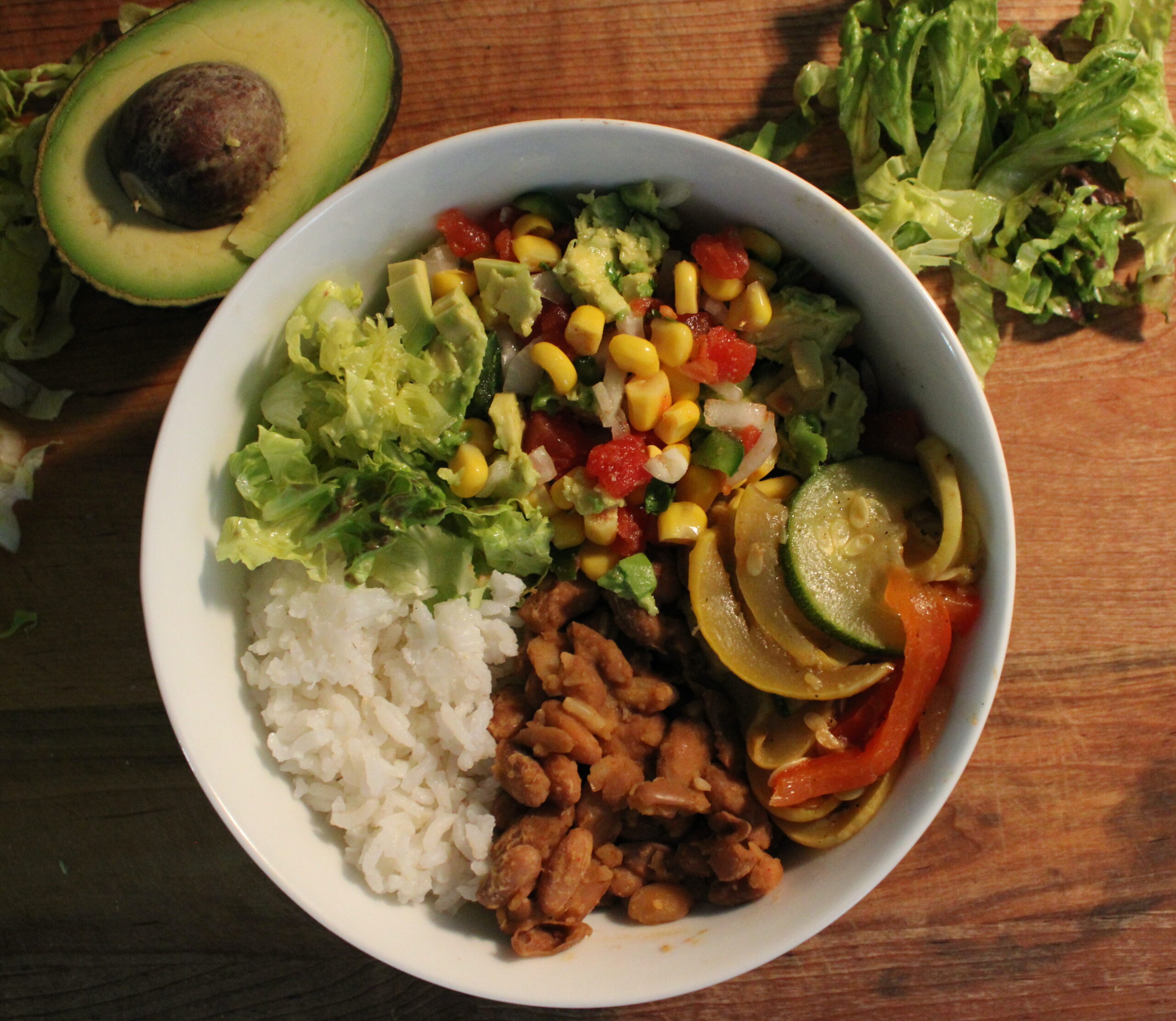 Pinto Fajita Rice Bowl is a delicious meal to enjoy for dinner or prep for lunch later in the week! Enjoy this dish with another salsa if you prefer, like our homemade pico de gallo, or include another protein in addition to the pinto beans such as chicken, chorizo, steak, or tofu.
Ingredients
Serves: 4-5
Pinto Fajita Rice Bowl
1 1/2 cup pinto beans (soaked overnight, or use canned beans)
1/2 yellow onion, thinly sliced
1 medium bell pepper, thinly sliced
1/2 large zucchini, halved & thinly sliced
1/2 large yellow squash, halved & thinly sliced
1 can corn, drained & rinsed
1 can diced tomatoes, drained & rinsed
1/4 cup chopped cilantro
2 small jalapeños, seeds removed
Remaining half of yellow onion, small dice
3 garlic cloves, minced
Cumin
Black pepper
Salt
2 limes
1 Avocado, sliced
Chopped lettuce
1 cup rice, dry
2 cups water
Olive oil, for cooking
Directions
First, prepare your vegetables, chop them and set them aside.
In a large bowl, combine the canned corn, diced tomatoes, diced jalapeño, diced onion, minced garlic, and chopped cilantro.
Mix the corn salsa together with the juice of 1 lime, 1 tsp of salt, 1/2 tsp black pepper, and 1 tsp ground cumin.
Place the corn salsa in the fridge once mixed.
Meanwhile, cook your rice in a rice cooker or stovetop pot.
Next, drain & rinse your beans, whether you're using overnight soaked or canned beans.
Then, in a medium pot, add about 1 Tbs olive oil to the pot and set the heat to high.
Add in the beans and about 1/2 cup of water or vegetable stock.
Season with a dash of salt, black pepper, and ground cumin.
Once hot, stir the beans occasionally and reduce heat to low after the first 5 minutes. Cover pot with lid and check on it after about 10-15 minutes for another stir.
Then, in a large cast iron skillet, add another tablespoon of olive oil to the pan and set the heat to high.
Once hot, add the onion, bell pepper, zucchini, and squash for your fajitas. Cook for about 7-8 minutes and stir occasionally, allowing for a bit of char on the vegetables.
Continue cooking vegetables until fully softened and then remove from heat.
Monitor your beans and cook until they're at the desired softness. You can add more water as needed to remove any bean paste that may have stuck to the bottom of the pan. Taste and adjust seasoning to the beans as needed.
Once your rice, beans, and fajitas are done, distribute evenly in bowls with chopped lettuce, a spoonful of corn salsa, and top with sliced avocado.
Serve & enjoy!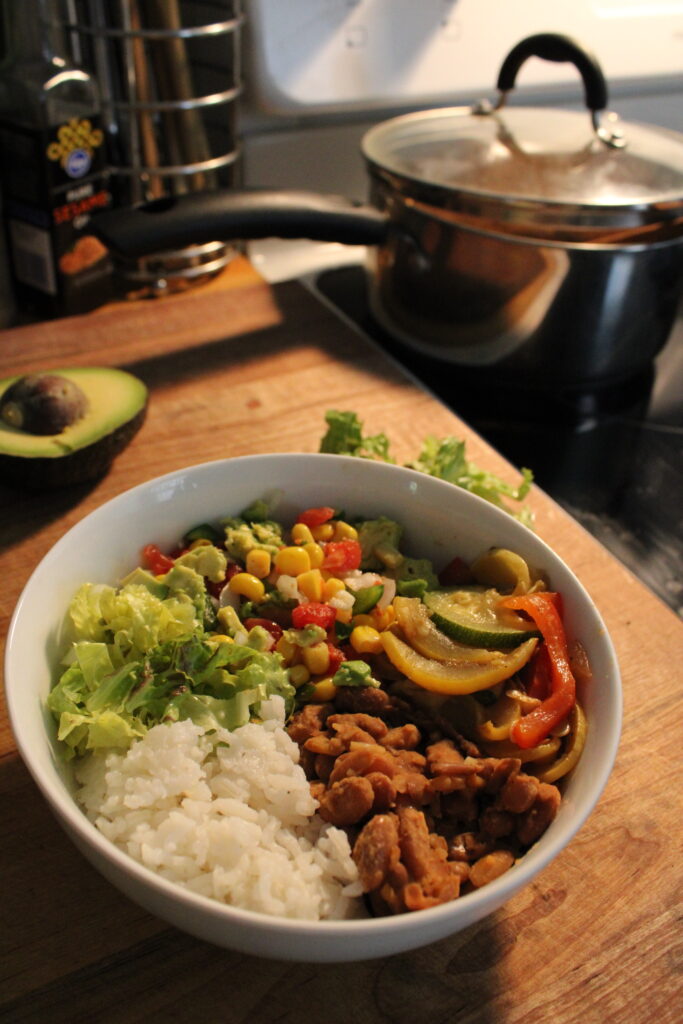 More Deliciousness
If you're looking for even more tasty recipes, keep browsing around Hearty At Home! And don't forget to share your favorite recipes with your friends, family, and loved ones.
For instance, if you find a recipe you like, pin it to your dinner inspiration board!
We share our recipes and recipe videos on Pinterest, Yummly, Youtube, Vimeo, and Facebook.
---