Vegan Chili Verde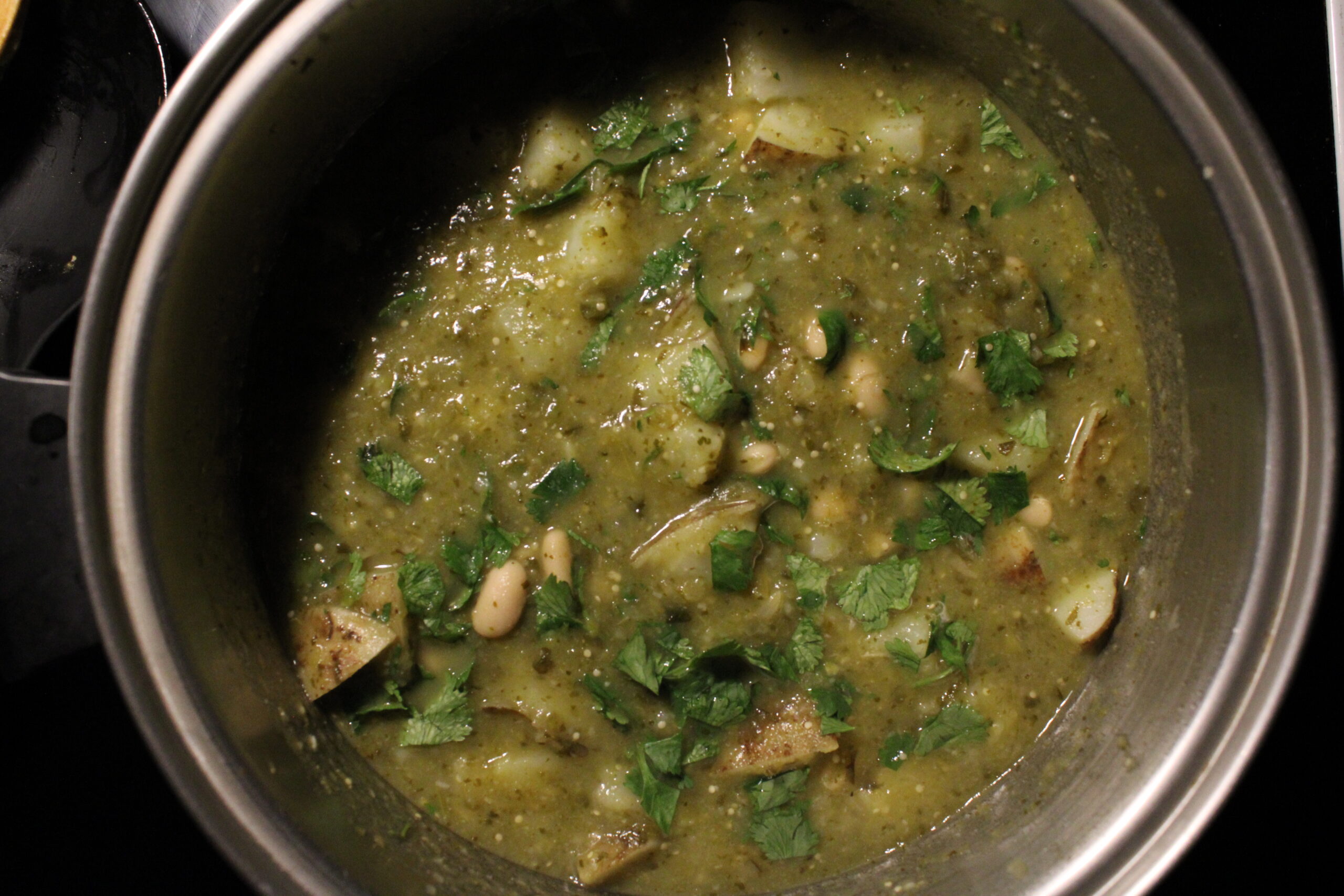 Vegan Chili Verde, another peak into the Veganomicon gets us this delicious dish that is perfect for feeding a large group. All it takes is a little prep and patience. Although this dish calls for jalapeños, it is well balanced with the remaining ingredients to ensure it is not very spicy. However, you may leave out the jalapeño (and cilantro if desired) or reduce the quantity if you're sensitive to heat. Try serving it with the Jalapeño Cornbread!
Ingredients
Serves: 4-6 Time: 1 hour
Vegan Chili Verde
1 lb russet or yukon potatoes, chopped into 1/2-inch pieces
1 large yellow onion, small dice
3 jalapeños, seeded and thinly sliced
2 poblano peppers or 1 large green bell pepper, seeded & chopped
4 garlic cloves, minced
1-2 Tbs Olive oil
3 tsp ground cumin
1 tsp dried oregano
1 tsp salt
1/3 cup dry white wine
1 lb tomatillos, paper skin removed, rinsed and quarter cut
2 small green apples, small dice
2 cups vegetable broth
1 cup fresh cilantro, chopped and divided in half
1/4 cup chopped scallions plus extra
1 lime, juiced
1 can cannellini beans, drained & rinsed
Avocado for serving
Directions
Begin by preparing your vegetables, starting with the potatoes and setting them aside.
Next, keep the onion, jalapeño, and poblano together once prepped.
Then, prepare the tomatillo and apples and set aside.
Measure out your seasonings and set aside with the minced garlic.
In a large enough stovetop pot, add the potatoes and cover with water, enough to cover the potatoes.
Bring the potatoes to a boil, cover with them a lid and boil for about 17-18 minutes or until soft and easy to poke through with a fork.
When the potatoes are done, drain and set aside.
Meanwhile in a stockpot, set heat to medium-high and add the olive oil, enough to coat the bottom of the pan. Once the oil is hot, begin sautéeing the onions, jalapeño, and poblano. Cook for about 10 minutes.
Next, add the seasonings and garlic to the pot, cooking for 1 minute.
Then, add the white wine and tomatillos, stir together for 5-7 minutes.
Add the apples, vegetable broth, scallions, and 1/2 of the cilantro.
Lower the heat to a simmer and cover with a lid, cooking for 20 minutes.
Once cooked, transfer to a blender or use an immersion blender to pulse the chili verde to a partial purée.
Return the soup to the stove, add in the lime juice, remaining cilantro, potatoes, and beans, simmering for an additional 5 minutes. Taste and adjust seasoning as desired.
Serve with topped scallions and sliced avocado and enjoy.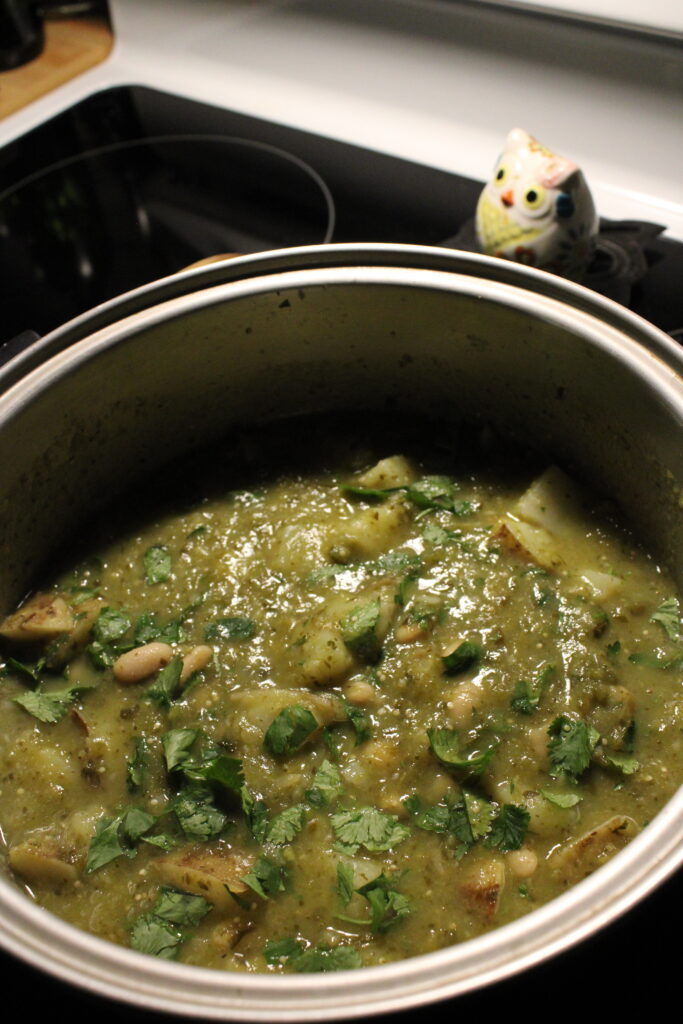 More Deliciousness
If you're looking for even more tasty recipes, keep browsing around Hearty At Home! And don't forget to share your favorite recipes with your friends, family, and loved ones.
For instance, if you find a recipe you like, pin it to your dinner inspiration board!
We share our recipes and recipe videos on Pinterest, Yummly, Youtube, Vimeo, and Facebook
---