Creamy Tofu Pasta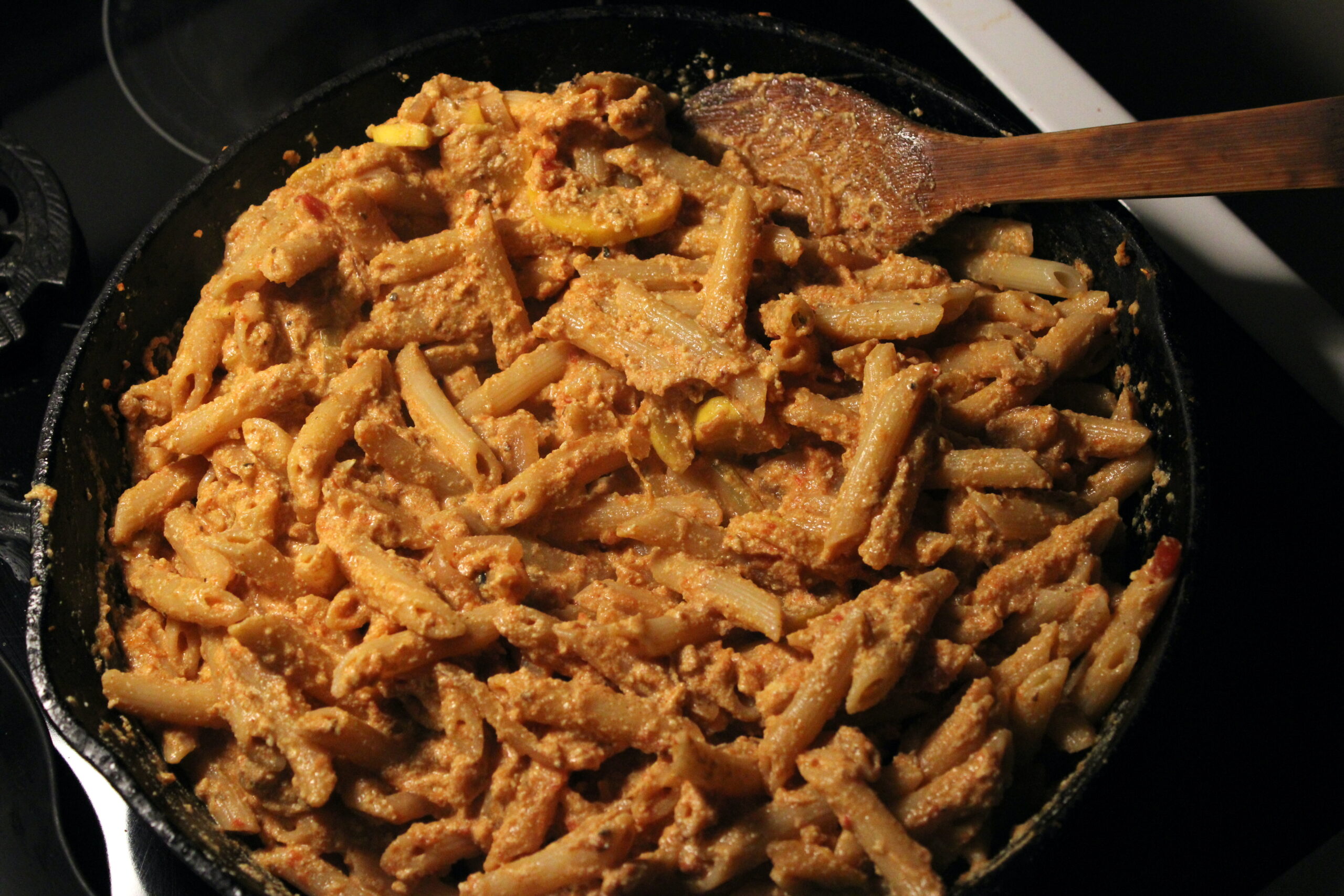 Creamy Tofu Pasta is an easy plant-based dish to make that is an excellent recovery meal after a big workout. A delicious recipe that you can modify to your liking, try sautéeing some bell pepper or broccoli to mix in with the pasta sauce along with onion and zucchini. For a gluten-free option, substitute for gluten-free pasta, and for a vegetarian version, top with dairy parmesan
Ingredients
Serves: 6 Time: 40 minutes
Creamy Tofu Pasta
2-3 garlic cloves, minced
1 Tbs olive oil
1/2 tsp paprika
1/2 tsp chili powder
1 tsp salt
1/4 tsp old bay seasoning
1 tsp dried basil
1/2 tsp dried oregano
¼ tsp red pepper flakes
1/2 tsp black pepper
1 can diced tomatoes
1 (8 oz.) package of tofu of any variety, drained
1/4 cup lite coconut milk or creamy cashew milk (unsweetened)
16 oz. box of pasta
1/2 yellow onion
1 small yellow squash or zucchini
Optional topping: nutritional yeast, plant-based parmesan, red pepper flakes
Directions
First, prepare your ingredients. Set aside the onion and squash or zucchini from the rest.
In a large skillet or pan on medium heat, add olive oil. Once hot, sauté the garlic for about 2 minutes or until lightly golden.
Then, reduce heat to medium-low and add the herbs, salt, and pepper, and stir together for 1 minute.
Next, add the diced tomatoes and cook for another 5-7 minutes. Add in the tofu and stir in well, continuing to cook for another 3-4 minutes.
Then, using an immersion blender or transferring the mix to a food processor or blender, blend the tofu mixture until smooth. Add in the coconut milk or cashew milk until creamy. Taste and adjust seasoning.
Return sauce to the pot once mixed and set heat to low and cover with a lid.
Then begin boiling water for your pasta.
In a small skillet, heat another dash of olive oil and cook the onion and squash until the onion is translucent and the squash has softened.
Drain the pasta water once it is cooked to the desired texture/doneness.
Mix the onion and squash in with the tofu sauce and then mix in the pasta until fully combined.
Top with optional toppings if desired
Serve and enjoy!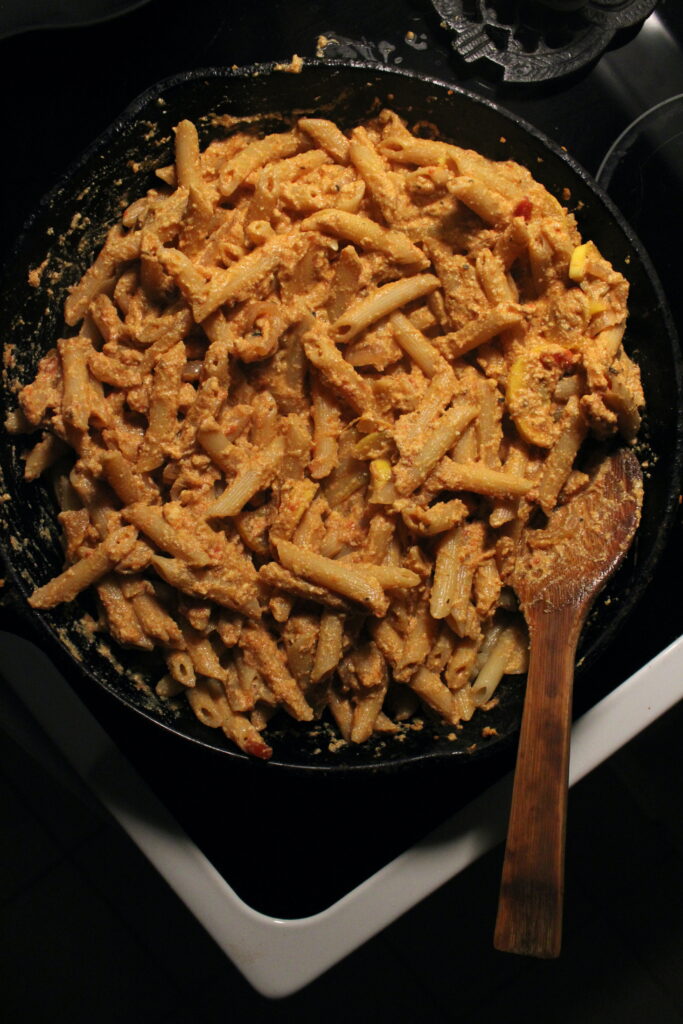 More Deliciousness
If you're looking for even more tasty recipes, keep browsing around Hearty At Home! And don't forget to share your favorite recipes with your friends, family, and loved ones.
For instance, if you find a recipe you like, pin it to your dinner inspiration board!
We share our recipes and recipe videos on Pinterest, Yummly, Youtube, Vimeo, and Facebook
---