Cancer Prevention Diet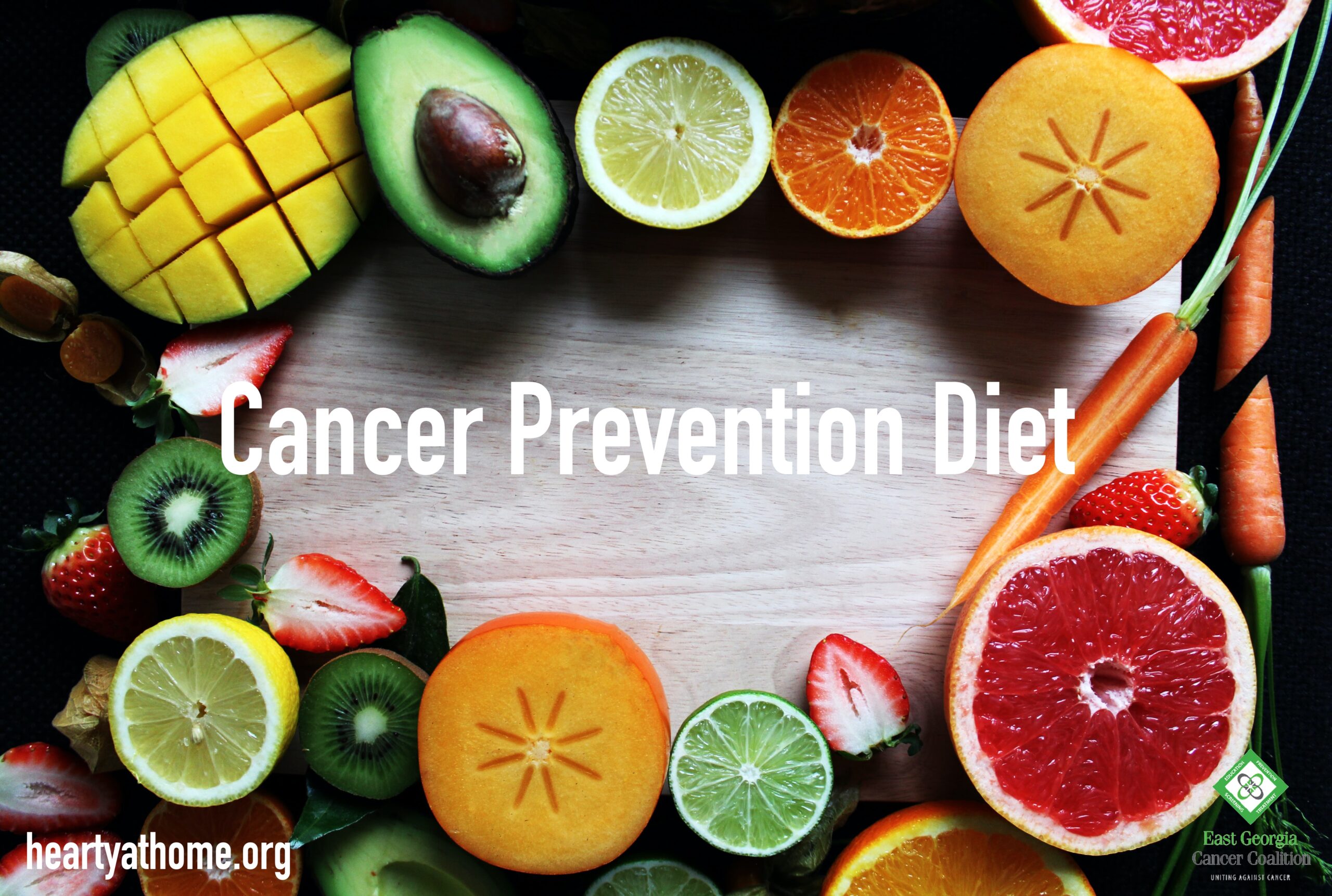 At the East Georgia Cancer Coalition, we work toward cancer prevention through information, referrals, and uniting resources. That is why at Hearty at Home we provide you with delicious recipes to help you build a healthy diet.
According to the American Cancer Society, cancer risk factors that we can change and monitor are body weight, exercise, and diet. Therefore, eating a well-balanced diet can contribute to long-term health and wellness. And so, with this diet guide, we've selected general recommendations to help you plan out your next grocery list.
Getting started
To begin, your cancer prevention diet should consist of a wide array of fruits, vegetables, nuts, healthy fats, beans, and whole grains that are rich in antioxidants. And in accordance to the food pyramid, it is wise to limit the intake of processed or fried foods and refined carbs.
Nutritional Foods
As you'll notice, our website consists heavily of plant-based recipes because plants are rich in nutrients and antioxidants which boost our immune systems, thus helping our bodies protect against cancer cells.
A balance of regular fruit intake may lower the risk of stomach and lung cancer.
Vegetables containing carotenoids, such as carrots, brussels sprouts, and squash, may reduce the risk of lung, mouth, pharynx, and larynx cancers.
Non-starchy vegetables, such as broccoli, spinach, and beans, may help protect against stomach and esophageal cancer.
Foods high in vitamin C such as oranges, berries, peas, bell peppers, and dark leafy greens like kale and collards may also protect against esophageal cancer.
Foods high in lycopene, such as tomatoes, guava, and watermelon, may lower the risk of prostate cancer.
Fiber
Furthermore, it's important to take in plenty of fiber which can be found in vegetables, whole grains, and fruit. Fiber is key for your digestive system and helps keep cancer-causing compounds from sticking around in your digestive tract.
Healthy Fats
It is important to choose healthy fats, or unsaturated fats, which are found in fish, olive oil, nuts, and avocados. Additionally, Omega-3 fatty acids, common in salmon, tuna, and flaxseeds, can fight inflammation and support a healthy brain and heart.
Avoid trans fats or partially hydrogenated oil which are common in packaged foods and fried foods.
And limit your intake of saturated fat from red meat and dairy. This should make up no more than 10% of your daily intake.
Sugar and Refined Carbs
When doing your grocery shopping, be sure to look at the labels. When purchasing packaged foods like cereals and granola, check to make sure there are not added refined sugars.
Avoid sodas, sweetened cereals, white bread, and frozen pizza.
Unrefined whole grains without added sugars are ideal for your diet, such as oatmeal and multigrain bread. Brown rice, quinoa, and non-starchy vegetables are also wise choices.
Processed and Red Meat
Like other aspects of a healthy lifestyle, we need to exercise moderation. While we do promote many plant-based meals here, the safest strategy to consuming animal-based products is to limit the amount of processed meat you consume.
Consider seeking other protein sources such as chicken, eggs, fish, nuts, and soy. Processed meats such as bacon, sausage, hotdogs, and salami can be dangerous for our health when consumed in excess and could increase the risk of colorectal cancer.
Planning Your Meals
Although the daily recommended minimum for servings of fruits and vegetables is five, most of us tend to fall short in reaching that goal. Here are some ways to make sure we obtain extra nutrition throughout the day:
Breakfast: A bowl of whole-grain overnight oats topped with fresh banana and flax seeds not only adds potassium but also fiber, omega 3 fatty acids, and antioxidants.
Lunch: A Mediterranean salad has the right balance of healthy fats, beans, and vegetables to keep you fueled throughout the day. Pair it with a small serving of roasted carrot hummus and extra cucumber slices for dipping.
Snacks: Keeping around whole nuts such as almonds, cashews, or walnuts is a great snack filled with fiber, healthy fat, and protein. Or grab an apple or banana on your way to work!
Dinner: Whether your main course is chicken or steak (or if you're entirely plant-based), an addition of beans & greens, or roasted brussels sprouts make for lovely nutritional sides to any meal.
Preparing food in healthy ways
Choosing the right foods is only the beginning. Preparing, storing, and cooking food properly is also necessary to fully achieve the healthiness they provide.
Boost the cancer-fighting benefits
Be sure to eat at least some raw fruits and vegetables throughout the day.
Some cooking processes take away the vital nutrients from fruits and vegetables that our bodies need. So prepare some raw carrots and an apple before you start your day!
And choose steaming over boiling when it comes to vegetables.
Overcooked vegetables result in a loss of vitamins and minerals, so be sure to only cook vegetables until they are slightly tender.
Before eating or cooking, remember to wash all fruits and vegetables to reduce any and all pesticide residue.
While cooking, season your food with immune-boosting spices and herbs!
Not only are they delicious, but garlic, turmeric, ginger, basil, rosemary, coriander, and other herbs and spices have their own nutritional benefits that can aid your body in fighting off cancer cells.
Careful shopping choices
When you're making your grocery list, it's help to have a plan. As we've mentioned, be sure to avoid processed foods and remember to look at nutrition labels.
Also, if it's feasible for you, try to shop organically or from local farmers. That way, you can reduce the amount of GMOs (genetically modified organisms) in your diet.
Locally grown produce is also less likely to have been treated with other preservation chemicals.
And if you're dining out, there are ways to be strategic in ensuring you're getting healthy options!
Alternative Food Sources
Whether you're too busy with work or have a family to take care, we understand that grocery shopping and preparing meals can be time consuming or stressful.
That's why we also recommend these alternative sources to help you get healthy meals:
Green Chef
Green Chef guarantees to serve you certified organic meal kits. Each kit contains 3 dinners for 2-4 people. They're also known for being able to deliver on speciality diet meal plans; whether it's Paleo, Vegan, Keto or Gluten-Free, Green Chef is there for you.
$80 off, including free shipping!
Thrive Market
Thrive Market believes in making healthy living accessible and affordable for everyone. Their online marketplace offers non-GMO, Organic, Gluten-free, Vegan food, and healthy products at 25-50% below retail price and all shipped right to your front door. For every paid membership Thrive Market receives, they provide a free membership to a low-income family, teacher, or veteran.
Blue Apron
Their mission is to make incredible home cooking accessible to everyone. With Blue Apron you get to choose the types of meals you want, then you'll receive fresh ingredients with detailed instructions on how to prepare deliciously healthy meals.
Meal Prep with Blue Apron! One prep. Eight Servings. Options for days.
Sources
---