One-Pot Vegan Chili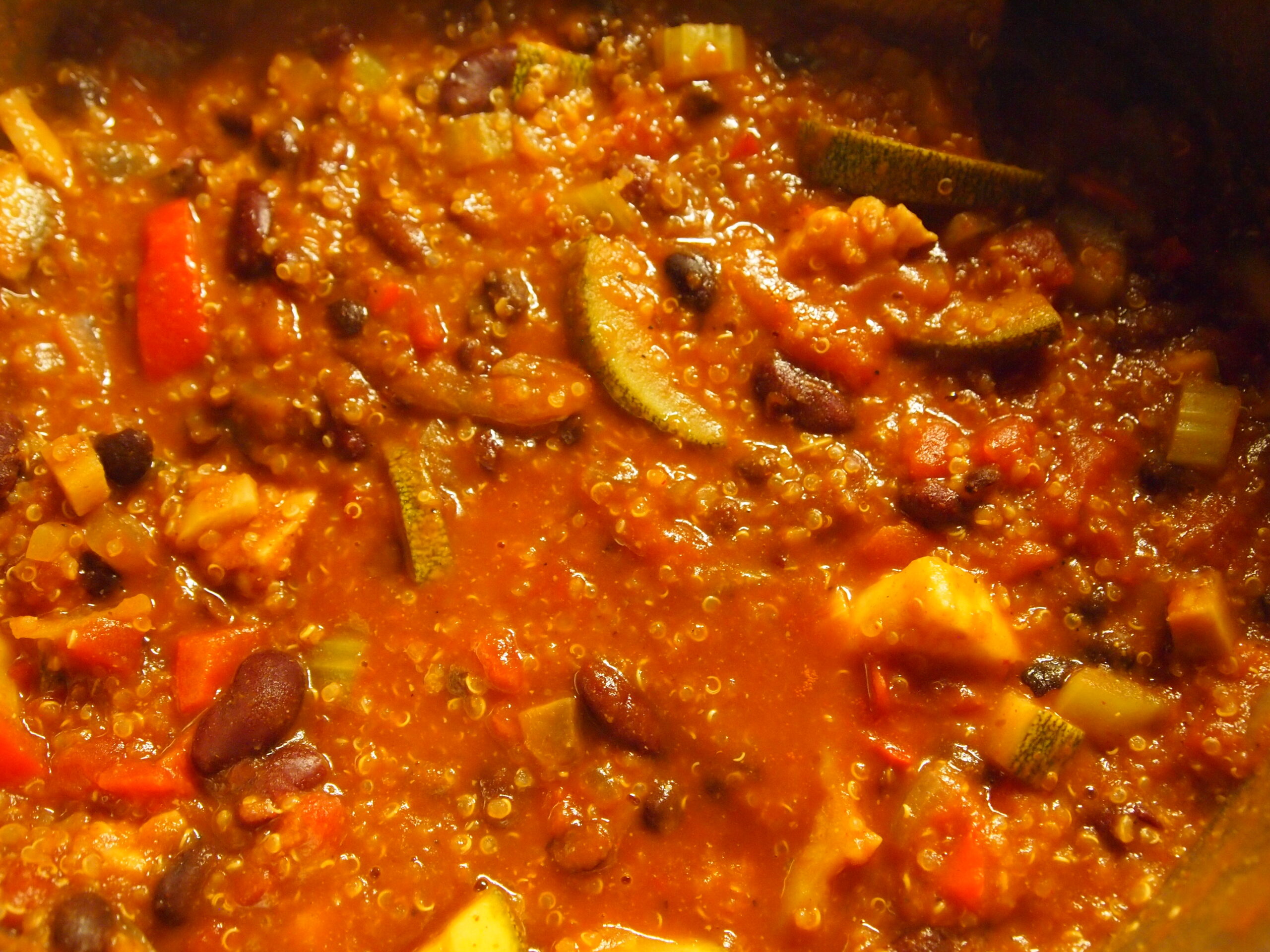 Try your hand at this quick and easy recipe for a one-pot vegan chili. This is the perfect solution for dinner when you're not looking for a complicated recipe or making excess dishes.
Ingredients
Serves 5-6 Time: 1 Hour
One-Pot Vegan Chili
1 Tbs Olive Oil
1/2 Onion, Diced
2 Garlic Cloves, Minced
1 Small Red Bell Pepper, Diced
1 Zucchini, Sliced
2 Celery Stalks, Diced
1/2 Cup White Mushrooms, Sliced
1/2 Pack of Tempeh, Cubed
1 (15 oz) Can Black Beans, Drained and Rinsed
12 oz Can Diced Tomatoes, Drained and Rinsed
1 (15 oz) Can Red Kidney Beans, Drained and Rinsed
2 (8 oz) Cans of Tomato Sauce
1 tsp Chili Powder
1 tsp Paprika
1/2 tsp Black Pepper
1 tsp Salt
1/2 tsp Cayenne Pepper
1/2 tsp Cumin
1-2 Bay leaves
1 Cup Uncooked Quinoa
1-2 Cups Water
Optional: Green onions, hot sauce, cheese, nutritional yeast, jalapeño, corn bread
Directions
Begin by preparing all of your vegetables and set them aside.
Prepare your beans and tomatoes by draining and rinsing them in a colander.
Next, in a large stove-top pot, set heat to high and add a tablespoon of olive or vegetable oil. Once hot, begin sauteing onions and garlic. Stir until they are translucent.
Afterward, add the remaining vegetables and tempeh.
Continue to stir the vegetables until they soften, cooking on high-medium.
Once the vegetables are soft, add the beans, tomatoes, tomato sauce, and quinoa. Stir together and begin by adding 1 cup of water.
Depending on how liquidy you want your chili, you can add the second cup of water now or just play it by ear once you hit the simmer phase.
But for now, stir together everything and add in your seasonings.
The water should reach a low boil before reducing heat to low. At that point, cover your pot with a lid and let simmer for about 30-45 minutes or until quinoa is thoroughly cooked and vegetables are very soft.
Now you've got a big pot of heartwarming, vegan chili! Serve with the optional toppings if desired or enjoy as it is.
More Deliciousness
Finally, if you're looking for even more tasty recipes, keep browsing around Hearty At Home! And don't forget to share these recipes with your friends, family, and loved ones.
For instance, if you find a recipe you like, pin it to your dinner inspiration board!
We share our recipes and recipe videos on Pinterest, Youtube, Vimeo, and Facebook.
---