Hearty Banana Bread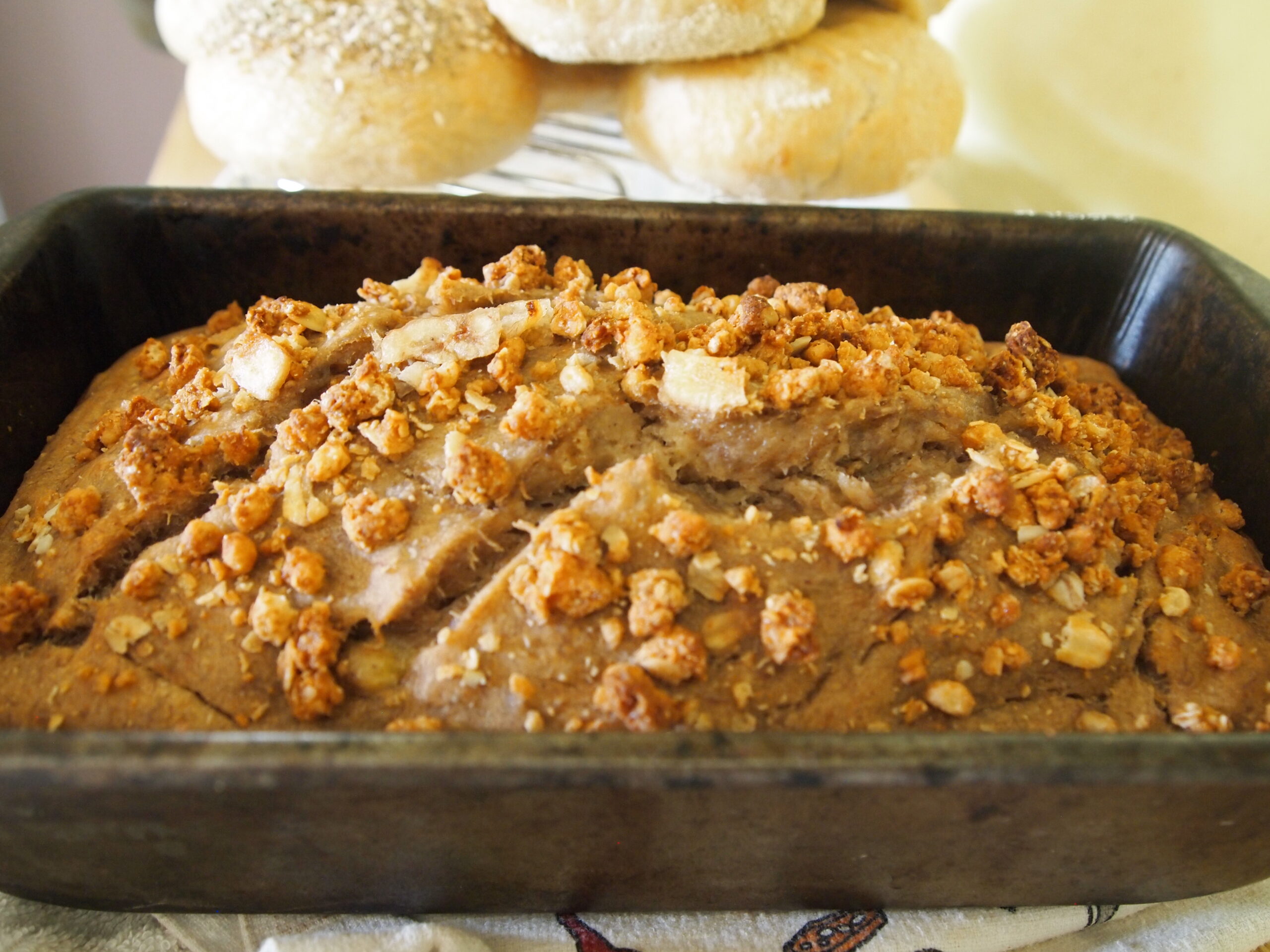 This recipe for Hearty Banana Bread is vegan-friendly and a healthy way to get your sweet tooth satiated without sacrifice!
Ingredients
Hearty Banana Bread
1 Tbsp ground flaxseed + 2.5 Tbsp water, combined
3 medium ripe bananas 
1/4 heaping cup almond butter or peanut butter 
3 Tbsp vegetable oil or melted vegan butter
1/4 cup brown sugar
2-3 Tbsp honey
1/2 tsp sea salt
3/4 cup dairy-free milk
1/2 Tbsp baking powder
1 1/2 cup flour 
1 cup oats
1/2 cup chopped raw walnuts (optional) 
Directions
Preheat oven to 350ºF 
In a large mixing bowl, combine flaxseed, water, nut butter, vegetable oil, sea salt, honey, and brown sugar. Mix well with a whisk. Peel and add bananas, mash them with a fork and mix them into the other ingredients. 
In a separate bowl, whisk together flour, oatmeal, and baking powder. Fold dry ingredients into wet ingredients with a rubber spatula. 
Add dairy-free milk and thoroughly combine the ingredients. 
Once mixed, fold in ¼ cup of the chopped walnuts if desired.
Pour batter into a bread pan, top with remaining walnuts 
Bake for 1 hour to 1 hour and 15 minutes. The loaf should be firm and golden brown at the top. Stick with a toothpick or knife, if it comes out clean, it is done. 
Remove from the oven and let cool before cutting. Store in the refrigerator for up to 4-5 days. 
Green Chef
Green Chef guarantees to serve you certified organic meal kits. Each kit contains 3 dinners for 2-4 people. They're also known for being able to deliver on speciality diet meal plans; whether it's Paleo, Vegan, Keto or Gluten-Free, Green Chef is there for you.
$80 off, including free shipping!
Thrive Market
Thrive Market believes in making healthy living accessible and affordable for everyone. Their online marketplace offers non-GMO, Organic, Gluten-free, Vegan food, and healthy products at 25-50% below retail price and all shipped right to your front door. For every paid membership Thrive Market receives, they provide a free membership to a low-income family, teacher, or veteran.
Blue Apron
Their mission is to make incredible home cooking accessible to everyone. With Blue Apron you get to choose the types of meals you want, then you'll receive fresh ingredients with detailed instructions on how to prepare deliciously healthy meals.
Meal Prep with Blue Apron! One prep. Eight Servings. Options for days.
Hearty At Home may earn an Affiliate Commission if you purchase something through these recommended links.
---