Stuffed Delicata Squash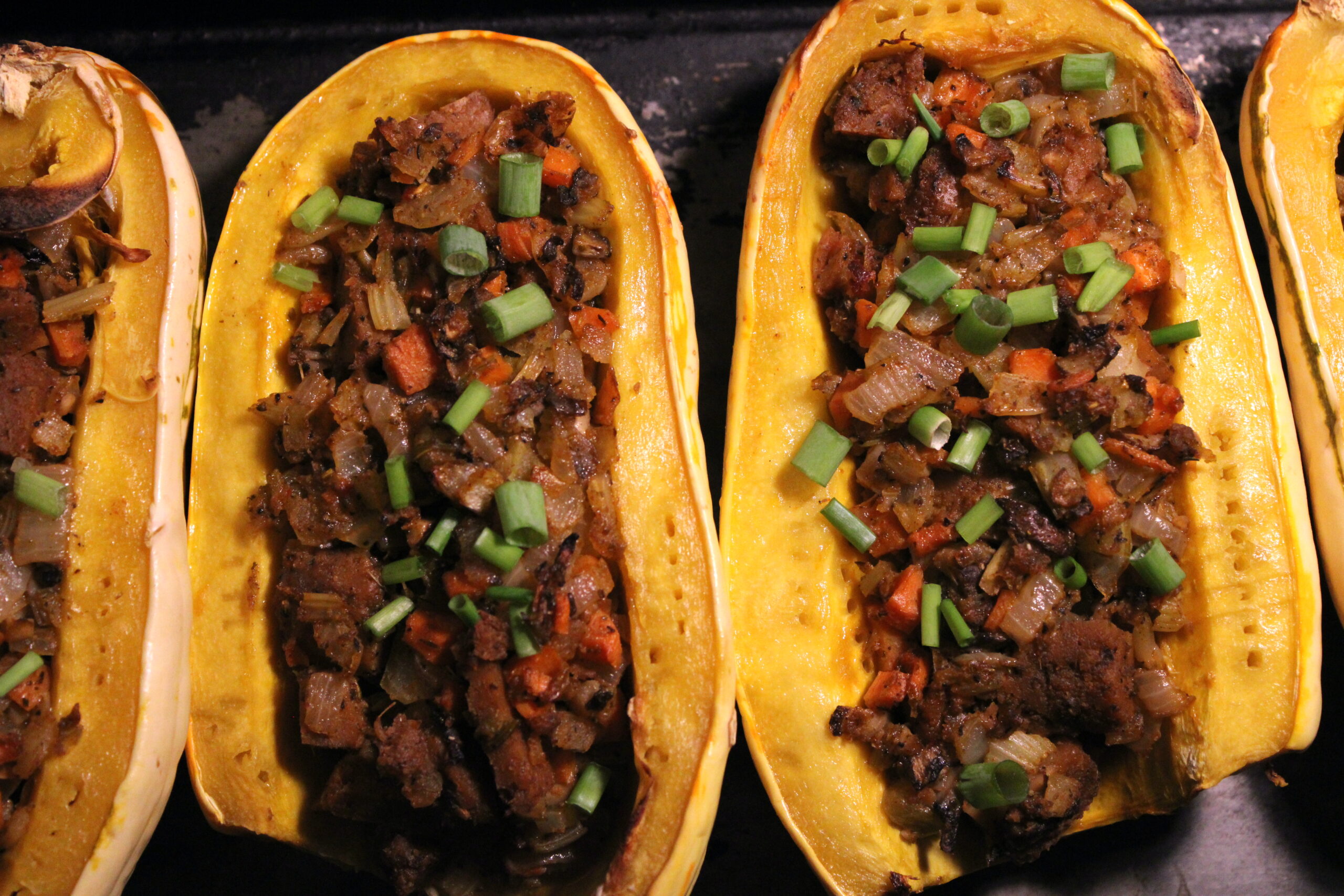 Stuffed Delicata Squash with plant-based sausage and mirepoix makes for a delicious and nutrient-rich meal. Try serving with grains such as quinoa or brown rice. You may also substitute for meat and dairy-based products in this recipe.
Ingredients
Time: 1 Hour 20 Minutes Serves: 2-4
Stuffed Delicata Squash
2 medium delicata squash
2 Tbs apple cider vinegar
Olive oil
2 plant-based or meat-based sausage, chopped

1/2 yellow onion,

finely diced
1 small carrot, finely diced
1/4 cup baby bella mushrooms, diced
1 celery stalk, finely diced
1 tsp paprika
1/2 tsp ground thyme
1/2 tsp ground sage
1 tsp garlic powder
Salt & black pepper to taste
Optional toppings: chopped scallions, shredded mozzarella (vegan or non)
Directions
Begin by preheating the oven to 375ºF.
Then, cut the squash in half lengthwise and scoop out the seeds.
Lightly oil the inside of the squash, then place them on a baking dish, skin-side down.
Place the squash in the oven and bake for about 40 minutes or until tender.
Once the squash has been baked, brush lightly again with oil.
While the squash roasts, prepare the vegetables and sausage and set a skillet to medium heat.
Once the skillet is hot, lightly coat it with oil and begin sautéeing the onion, celery, and carrot.
Cook for 5 minutes before adding the mushrooms, then stir for another 4-5 minutes.
Next, add the sausage and seasonings, stir for another 5 minutes, and lightly splash with apple cider vinegar.
Remove the squash from the oven and evenly fill it with the veggie sausage mix. Cover the squash lightly with foil.
Return the squash to the oven and bake for another 15-20 minutes or until the squash is plenty tender and the veggies are lightly roasted.
After the squash is baked, top with optional toppings if desired, serve and enjoy!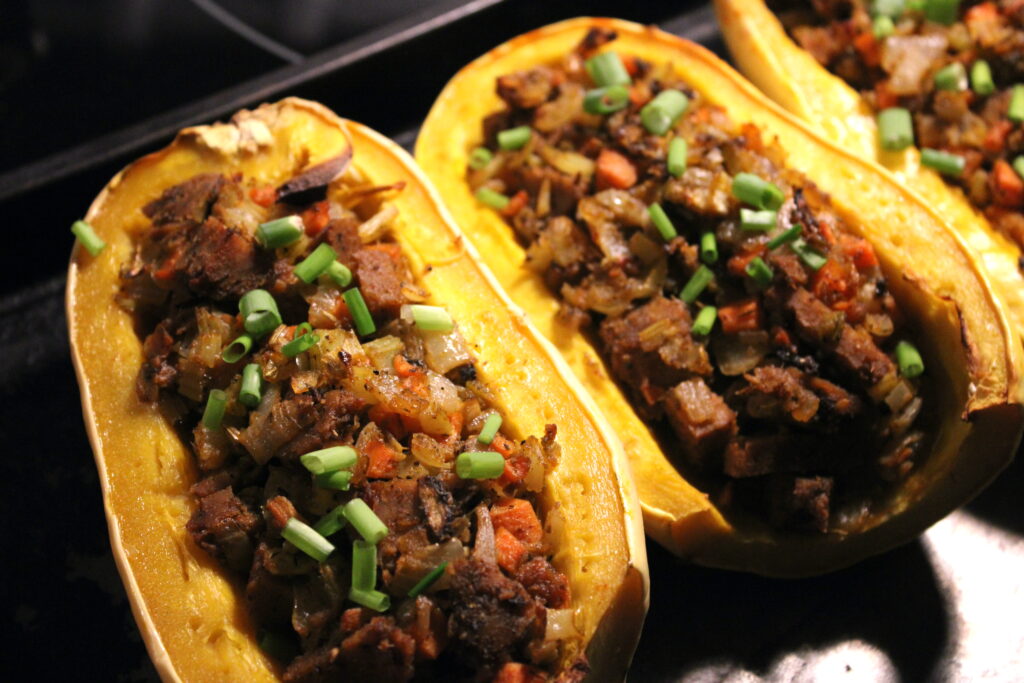 More Deliciousness
If you're looking for even more tasty recipes, keep browsing around Hearty At Home! And don't forget to share your favorite recipes with your friends, family, and loved ones.
For instance, if you find a recipe you like, pin it to your dinner inspiration board!
We share our recipes and recipe videos on Pinterest, Yummly, Youtube, Vimeo, and Facebook.
---