Tofu Mushroom Korma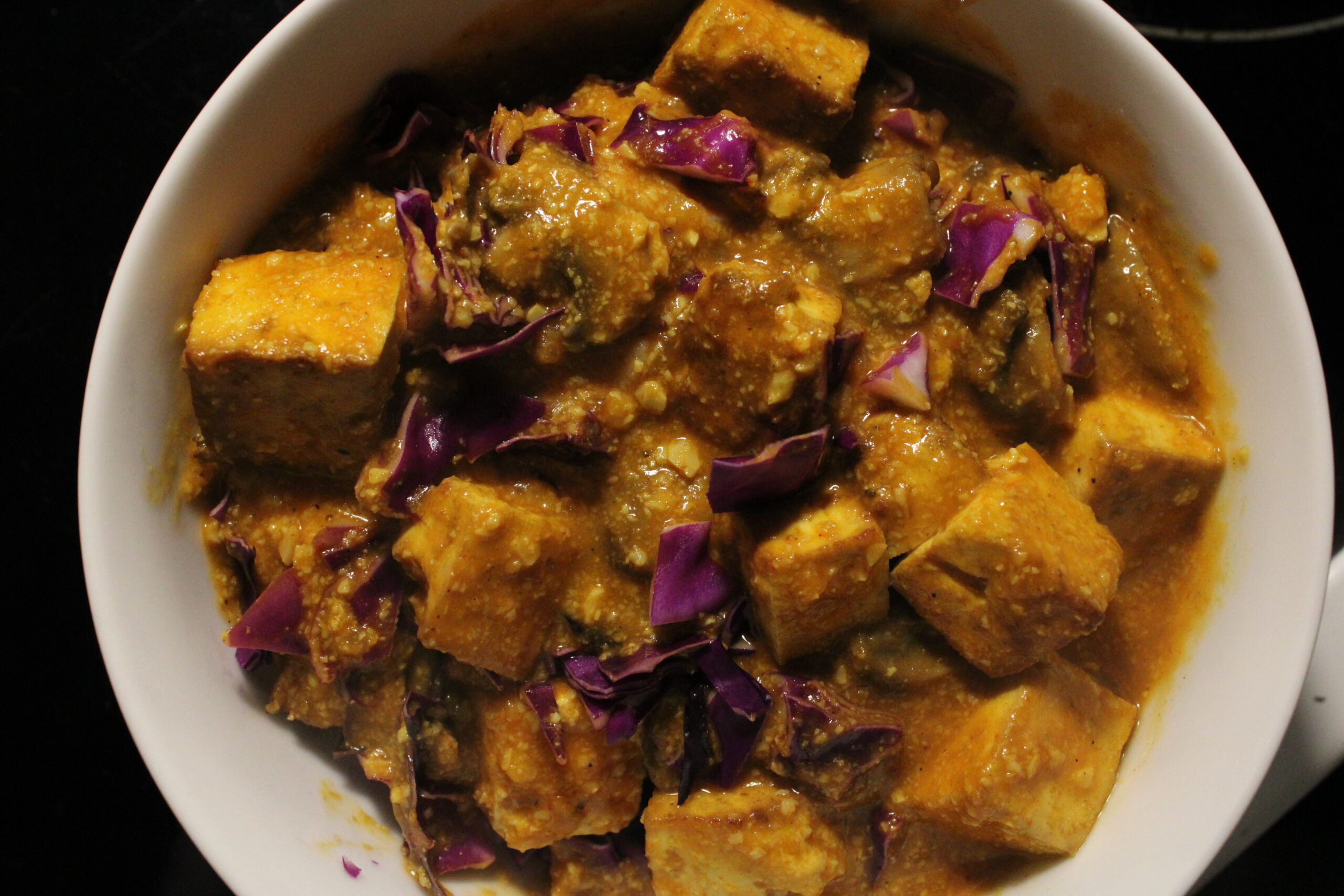 Tofu Mushroom Korma is inspired by a dish originating in the Indian subcontinent. This dish can be modified for those who are lactose intolerant or not, and for a nut-free version, try replacing the cashews with plain yogurt.
Ingredients
Serves: 4-5 Time: 45 minutes
Tofu Mushroom Korma
4 oz. white mushrooms, sliced
Olive oil
1 cup rice, uncooked
2 cups water
1/2 lemon, juiced
1/2 cup red cabbage, chopped
Curry Sauce
1/2 yellow onion, diced
3-4 garlic cloves, minced
1 tsp minced ginger
1/2 cup raw cashews
2 Tbs tomato paste
1 (13.5 oz) can lite coconut milk*
1/2 cup vegetable broth
1 Tbs red curry paste
1 tsp salt or to taste
1/2 tsp ground cumin
1 tsp black pepper
1 Tbs curry powder
2 tsp garam masala
1/2 tsp ground turmeric
Optional: 1/4 tsp chili flakes
Tofu
1 package extra firm tofu, pressed and cubed
1 Tbs cornstarch
1/2 tsp turmeric
1 Tbs curry powder
2 Tbs soy sauce
Olive oil
Directions
Preheat the oven to 400ºF and prepare your tofu, mushrooms, and sauce ingredients.
Begin cooking rice on the stove or in a rice cooker.
In a mixing bowl, combine the tofu ingredients, mixing together the cornstarch, turmeric, curry powder, and soy sauce. Then, fold in the tofu cubes.
Transfer the tofu to a lightly greased sheet pan with olive oil.
Place tofu in the oven and bake for about 20-25 minutes, flipping halway through.
Next, in a medium stovetop pot, add a drizzle of olive oil and set heat to medium-high.
Sauté the onion for about 5 minutes, then add the garlic and ginger. Stir together for 2 minutes.
Then, add the remaining sauce ingredients, reduce heat to low and simmer for 15 minutes.
After the sauce has simmered, transfer to a blender or use an immersion blender and mix until smooth and creamy.
Return the sauce to the stove and set heat to low, mix in the lemon juice.
Sauté the mushrooms in a separate skillet in olive oil until tender.
Add the cabbed, cooked mushrooms, and tofu to the sauce and stir together. Taste and adjust seasoning as desired.
Serve korma over rice and enjoy!
*Lite coconut milk is a low-fat alternative. You may also substitute for unsweetened, unflavored soy or nut milk, cow's milk (for non-vegan), or you may dilute regular coconut milk with water (i.e. 2/3 cup coconut milk + 1/3 cup water for a recipe that calls for 1 cup)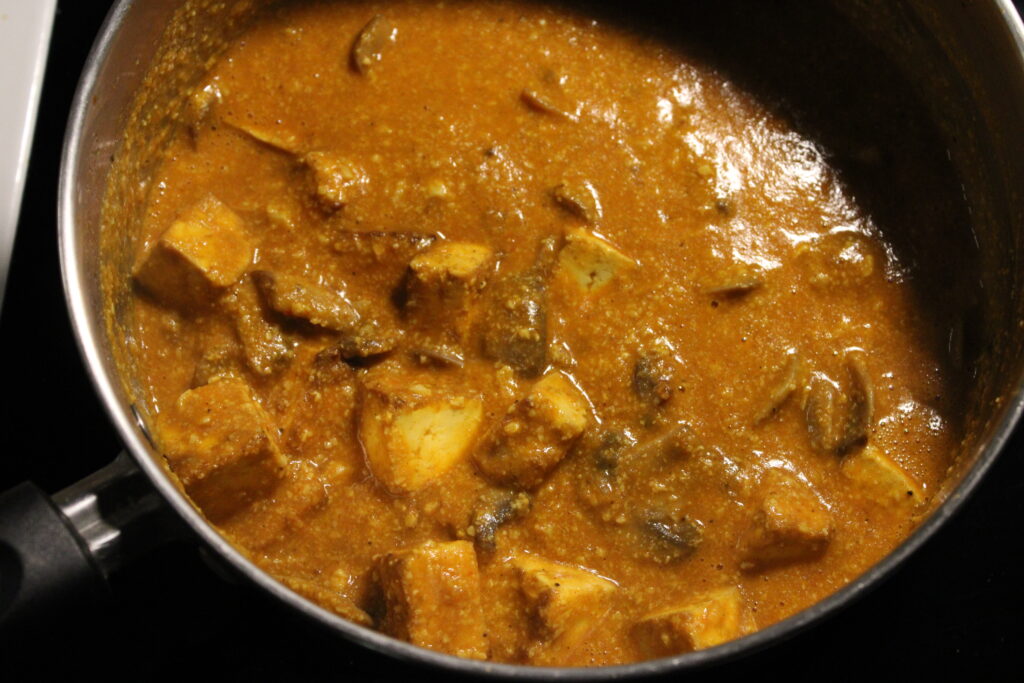 More Deliciousness
If you're looking for even more tasty recipes, keep browsing around Hearty At Home! And don't forget to share your favorite recipes with your friends, family, and loved ones.
For instance, if you find a recipe you like, pin it to your dinner inspiration board!
We share our recipes and recipe videos on Pinterest, Yummly, Youtube, Vimeo, and Facebook
---