Jelly Donut Cupcakes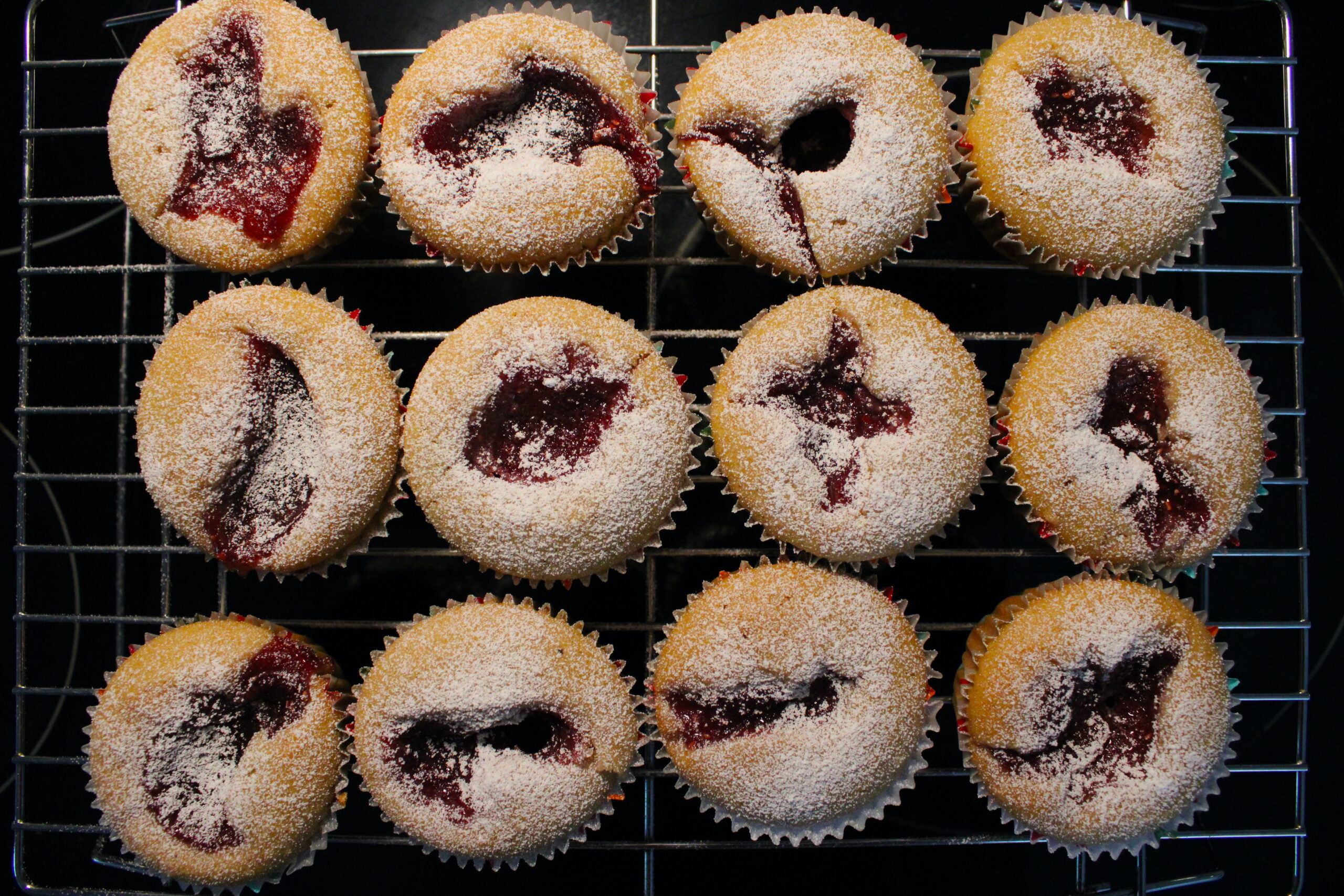 Jelly Donut Cupcakes, the deceptively delicious cupcake that's all dressed up like a donut. These are the perfect pastry to bring to a morning meeting, potluck brunch, or for enjoying at home! Serve with coffee in the morning or after dinner for dessert. Adapted from the Veganomicon, you can make these pastries vegetarian by using cow dairy and butter, or try making them gluten-free with a gluten-free flour substitute.
Ingredients
Yield: 12 cupcakes Time: 35-40 minutes
Jelly Donut Cupcakes
1 cup non-dairy milk (we used Planet Oat Original)
1 tsp apple cider vinegar
2. Tbs cornstarch
1 1/12 cup all-purpose flour
1/2 tsp salt
1/4 tsp baking powder
1/2 tsp baking soda
1/3 cup vegan butter, melted (we used Smart Balance)
3/4 cup granulated sugar
2 tsp vanilla extract
Raspberry jam or preserves (or another jam of your choosing)
Confectioner's sugar (for topping)
Directions
Preheat the oven to 350ºF and line a 12-muffin tin with cupcake liners.
Then, in a small mixing bowl, combine the non-dairy milk, apple cider vinegar, and cornstarch. Whisk together until well-combined and then set aside.
In a large mixing bowl, sift or whisk together the flour, baking powder, baking soda, and salt.
Once the dry ingredients are mixed, create a well in the center of the bowl by parting the flour around to the sides of the bowl.
Then, pour the milk mixture into the well and begin to whisk together, being sure to remove clumps of flour.
Next, whisk in the melted vegan butter, vanilla extract, and sugar and combine until the batter is smooth.
Evenly distribute the batter into the muffin liners. Each should be filled about 3/4 of the way full.
And then, with your jam, take a heaping teaspoon of jam and plop it on top of the batter in the center. Don't push the jam down into the batter.
Place the cupcakes in the oven and bake for 21-23 minutes.
Once baked, remove them from the oven and allow them to cool completely on a wire rack. It is best to leave the cupcakes out at room temperature (preferably overnight) to allow the top to dry a bit, like a donut. But, you can serve immediately once cooled.
Top with powdered sugar before enjoying and serve with coffee if desired!
Store at room temperature for up to 4 days or in the refrigerator for 5-7 days.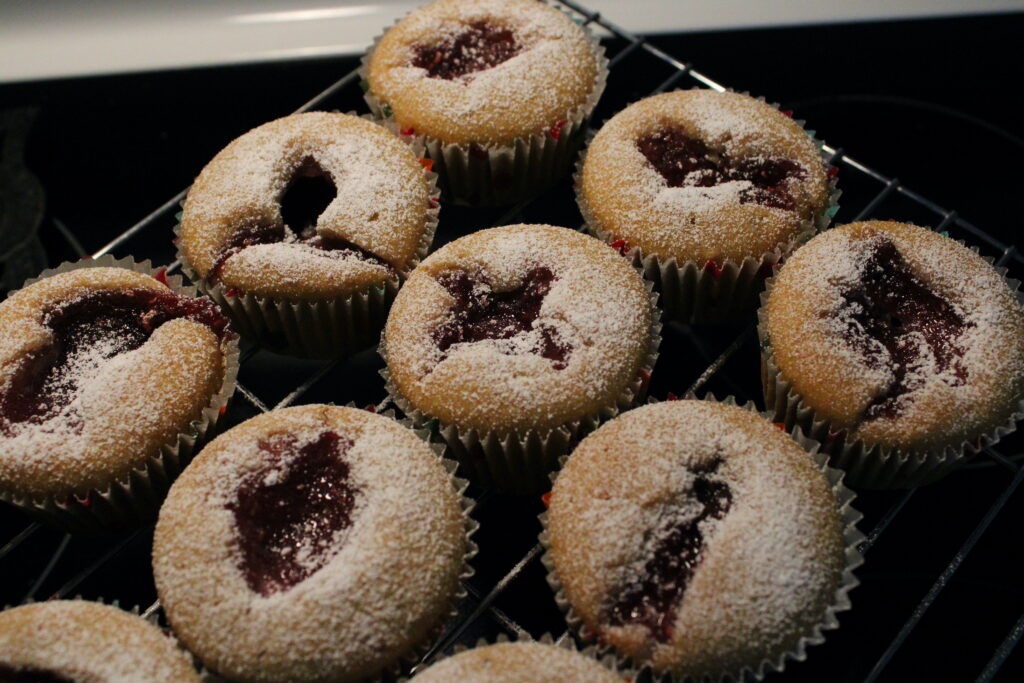 More Deliciousness
If you're looking for even more tasty recipes, keep browsing around Hearty At Home! And don't forget to share your favorite recipes with your friends, family, and loved ones.
For instance, if you find a recipe you like, pin it to your dinner inspiration board!
We share our recipes and recipe videos on Pinterest, Yummly, Youtube, Vimeo, and Facebook.
---