Sweet Potato Pasta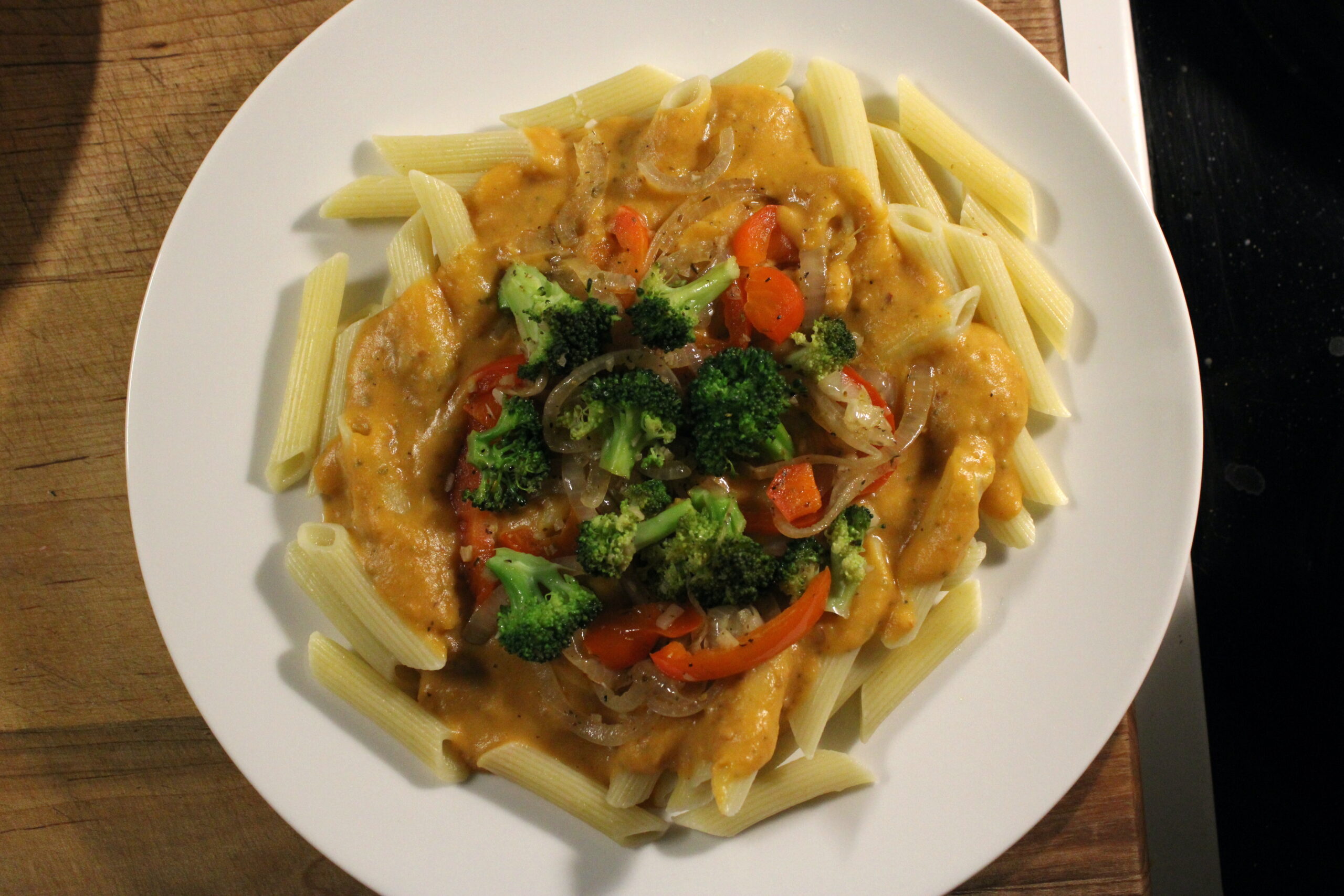 Sweet Potato Pasta makes for a creamy & delicious dish that is easy to prepare. We topped this dish with sautéed vegetables, but you could also try adding tempeh for additional protein. For a gluten-free version, substitute for gluten-free pasta.
Ingredients
Serves: 4 Time: 45 minutes
Sweet Potato Pasta
2-3 sweet potatoes (medium-small), chopped
1/2 yellow onion, sliced
1/2 bell pepper, sliced
2 garlic cloves, minced
1 cup broccoli florets
1/4 cup nutritional yeast
2 cups non-dairy milk
Olive oil
Salt to taste
1/2 tsp black pepper
1/2 tsp red pepper flakes
1 tsp paprika
1 tsp oregano
8 oz. uncooked pasta
Directions
Preheat the oven to 350ºF and prepare your sweet potato.
Lightly coat the sweet potato in olive oil and sprinkle lightly with salt in a mixing bowl. Toss and spread the sweet potato out onto a baking sheet.
Place the sweet potato in the oven and roast for 20-25 minutes.
Meanwhile, prepare your veggies for sautéeing and prepare a pot of water for boiling your pasta.
Cook your pasta according to the package, then drain & set aside once cooked.
After the sweet potato has roasted, place in a food processor or blend in a pot with an immersion blender and blend with the non-dairy milk, nutritional yeast, red pepper flakes, paprika, black pepper, and oregano. Return the sweet potato sauce to a pot and simmer on low.
Meanwhile, sauté the onion, pepper, and garlic in a small skillet.
In a small pot, boil water and cook the broccoli florets for 2-3 minutes, then drain and add to the sautéed vegetables.
Lightly season the vegetables with salt, pepper, and Italian seasoning or dried oregano, and add a splash of white vinegar or water to deglaze the pan.
Serve the pasta with the sweet potato sauce and sautéed veggies on top, and enjoy!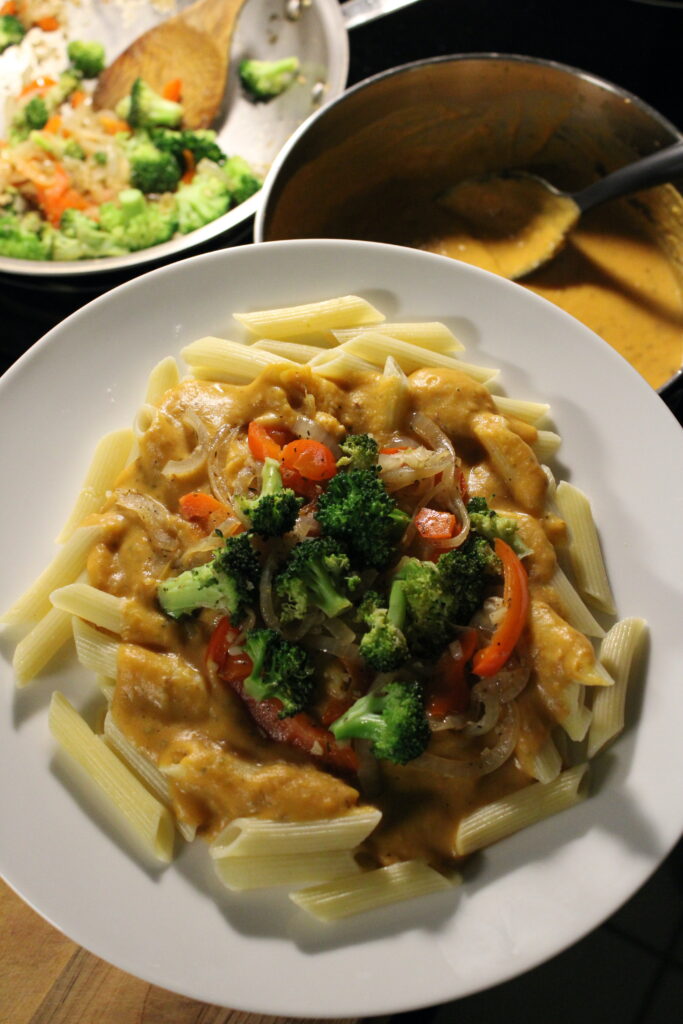 More Deliciousness
If you're looking for even more tasty recipes, keep browsing around Hearty At Home! And don't forget to share your favorite recipes with your friends, family, and loved ones.
For instance, if you find a recipe you like, pin it to your dinner inspiration board!
We share our recipes and recipe videos on Pinterest, Yummly, Youtube, Vimeo, and Facebook.
---