Eggplant Peanut Soup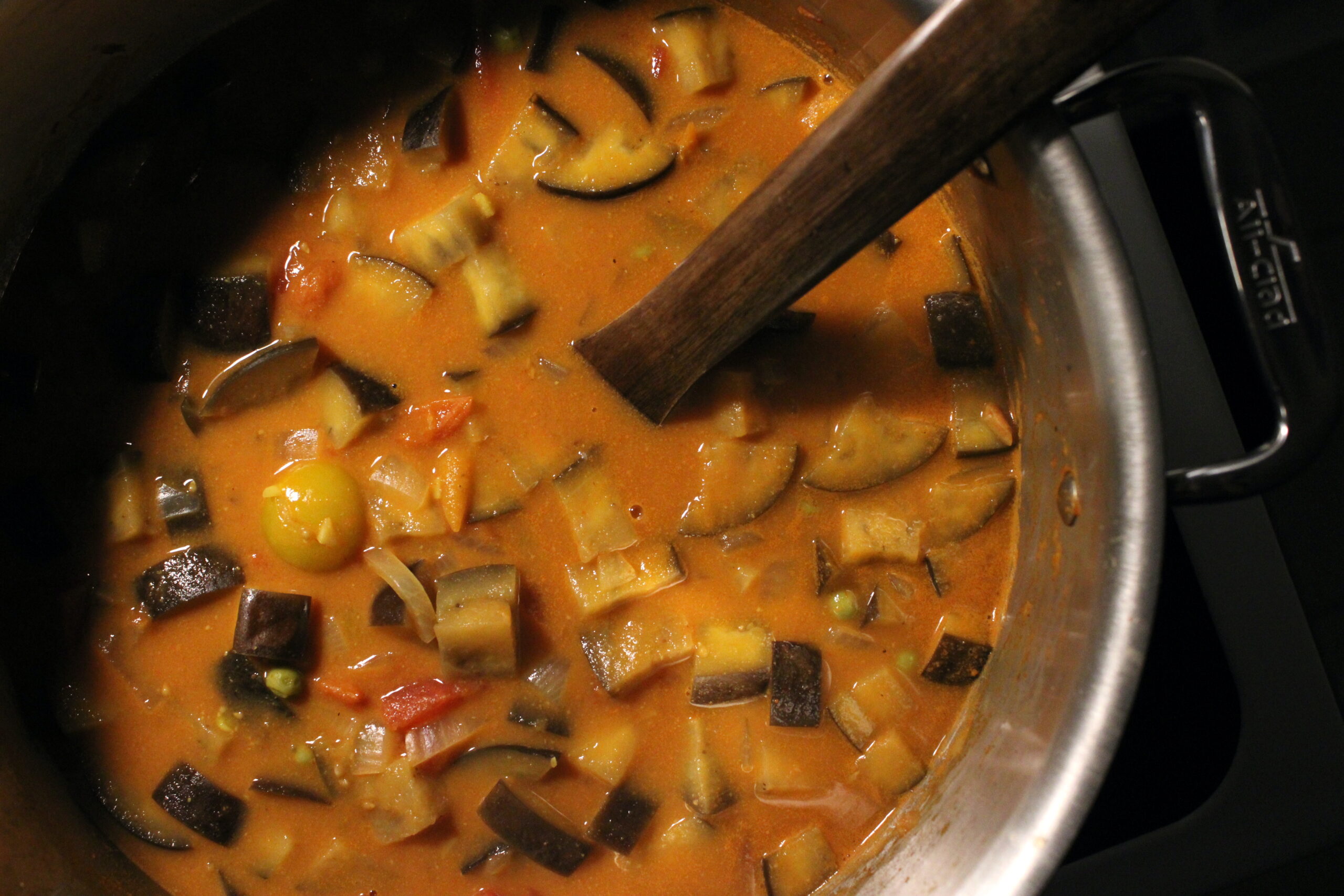 Eggplant Peanut Soup is the epitome of hearty winter soups. This dish is best enjoyed if you roast the eggplant and tomatoes before adding to the soup, but you may also cook them on the stove.
Ingredients
Serves: 6-8 Time: 1 Hour
Eggplant Peanut Soup
1.5 lb. eggplant, diced and brined
16 oz. cherry tomatoes, roasted
1-2 Tbs olive oil
1/2 yellow onion, diced
2 cloves garlic, minced
1/2 cup green peas
1 inch fresh ginger, peeled and minced
6 cups vegetable broth
1/2 cup peanut butter, creamy or crunchy
1/4-1/2 tsp thai chili flakes
1 tsp tumeric
1 1/2 tsp ground cumin
1/2 tsp black pepper
2 tsp coriander
Directions
Begin by preparing your eggplant by dicing it and tossing it into a bowl with about 1 1/2 tsp talk. Mix well and spread out onto a baking sheet and allow it to rest for 30 minutes.
Meanwhile, preheat the oven to 375ºF and prepare remaining ingredients.
Then, rinse and drain the eggplant and toss with tomatoes in olive oil. Spread out onto a baking pan.
Place in the oven and roast for 25-30 minutes or until lightly roasted.
While the vegetables are roasted, in a large stock pot set heat to medium and add enough oil to lightly coat the bottom of the pan once hot.
Sauté the onion for about 5 minutes, or until translucent.
Then, add in the garlic and ginger and stir together for another 2-3 minutes.
Next, add the seasonings to the pot. Stir for one minute and then mix in the tomato paste, stir together for another minute.
Add in the vegetable broth and green peas. As soon as the eggplant and tomatoes are roasted, add to the pot as well with all their juices.
Bring the soup to a boil and boil for 5 minutes.
Ladle some of the soup broth to a small bowl with the peanut butter and mix well until fully emulsified. Then add the peanut butter mixture to the soup, reduce heat to low and cover with a lid.
Simmer for the soup for 20-30 or up to 45 minutes and taste and adjust seasoning and spice level once done.
Serve with a squeeze of fresh lime juice, cilantro, or chopped roasted peanuts if desired.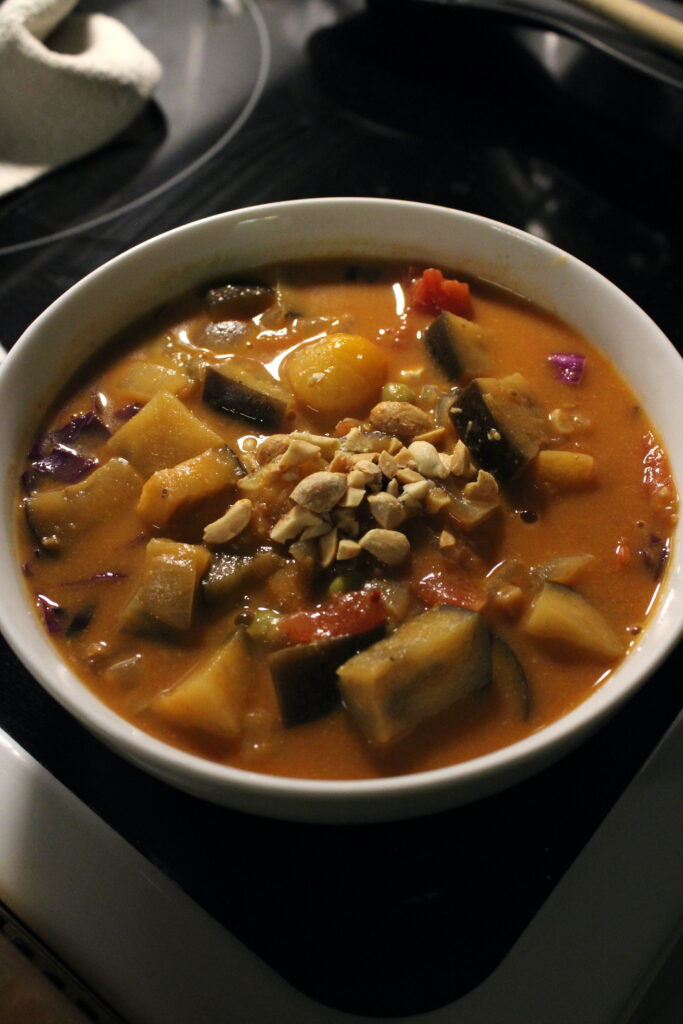 More Deliciousness
If you're looking for even more tasty recipes, keep browsing around Hearty At Home! And don't forget to share your favorite recipes with your friends, family, and loved ones.
For instance, if you find a recipe you like, pin it to your dinner inspiration board!
We share our recipes and recipe videos on Pinterest, Yummly, Youtube, Vimeo, and Facebook
---