Tofu Palak Paneer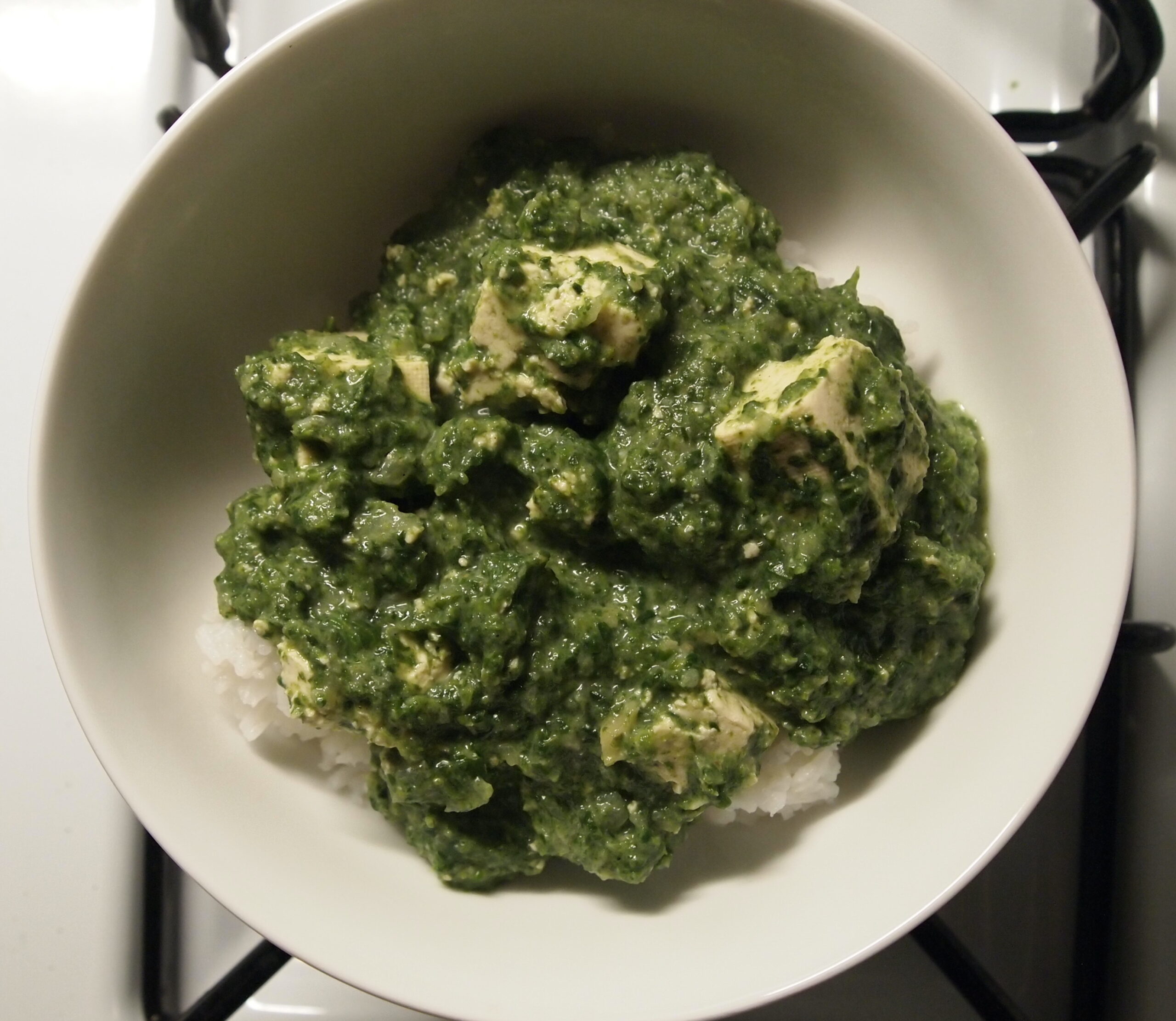 This recipe for Tofu Palak Paneer offers a low-fat, low-carb, but high protein alternative to the traditional recipe. See substitutions for a fully vegan, gluten-free option. Serve over rice and enjoy!
Ingredients
Tofu Palak Paneer
1 package extra-firm tofu, pressed and cut into 1/2 inch cubes
2 Tbs olive or canola oil
1/2 large yellow onion, diced
3 garlic cloves, minced
1/2 inch fresh ginger, peeled and minced
1 jalapeño, sliced
1 cup vegetable broth
2 tsp ground cumin
1/2 tsp black pepper
Pinch of cayenne pepper and nutmeg
1 tsp salt
Package of frozen spinach, thawed and excess liquid drained
6 oz. plain yogurt (or plain, soy yogurt for fully vegan option)
Directions
In a large pan, bring about 4 cups of salted water to a boil.
Once boiling, add in tofu, reduce heat to low, and simmer for 4 minutes. Remove from heat, drain, and set aside.
In the same pan, heat olive oil and sauté the onion, garlic, ginger, and jalapeño for 5 minutes on high heat.
Add the seasoning and broth and simmer for 5 more minutes.
Turn off heat and transfer to a food processor or use a hand blender to mix in the spinach until thoroughly blended.
Return to pot on medium-low heat and stir in the yogurt. Taste and adjust seasoning as desired.
Cook for a few minutes and mix in the tofu.
Serve over rice and enjoy!
Optional toppings include a squeeze of lime juice or sriracha.
More Deliciousness
Finally, if you're looking for even more tasty recipes, keep browsing around Hearty At Home! And don't forget to share these recipes with your friends, family, and loved ones.
For instance, if you find a recipe you like, pin it to your dinner inspiration board!
We share our recipes and recipe videos on Pinterest, Yummly, Youtube, Vimeo, and Facebook.
---